The bathroom can become one of the most elegant and impressive rooms in the house with the proper care, and more often than not, bathrooms get a lot of attention when it comes to design. Maybe it has something to do with the privacy and comfort we seek, which makes a well designed bathroom seem like the luxury we deserve after a long day.
For a bathroom makeover, we're not thinking only in adding, but also changing, evolving, going above and beyond in visual design. 
"Do not dwell in the past, do not dream of the future, concentrate the mind on the present moment. – Buddha
1. Natural vibrance
White walls are common in bathrooms because they emanate a clean look, but in this case, we're using it to create contrast. The wooden sink and potted plants stand out much more against a white background and make for a vibrant setup that's reminiscing of nature.
Wood itself might not be advised for most bathrooms (since wood can mold and absorb humidity), but you can still use the wood look. Even bathroom tiles can be used to create details and accents with a wood texture to retain the look without sacrificing practicality!
2. Elegant and warm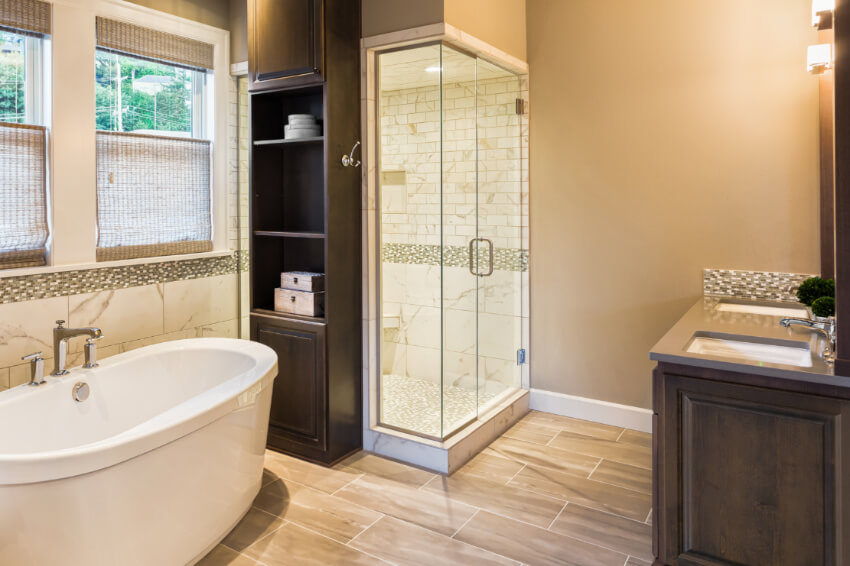 Neutral tones of beige against dark accents work wonders for creating a warm and cozy atmosphere – especially with the help of warmer lights.
But the elegance doesn't stop there. A shower box in the corner with a glass door, combining enough privacy for a comfortable shower with the beautiful look of glass so the shower doesn't feel claustrophobic. 
Finally, a bathtub for those days where you just need to lay low and relax for a while. Keep in mind that for saving some money on a makeover, you can refinish your bathtub instead of replacing it!
3. Vintage luxury
An old-timey bathroom that still feels complete and elegant for the new age. The neutral blue along the upper half of the wall makes for a soft contrast that helps bring the look together, but we mustn't neglect to mention the eccentric tile pattern on the floor that works to create that vintage look we're looking for.
Also worth mentioning is the subway tile setup behind the tub – excellent for protecting that portion of the wall from humidity while creating a small zone for the shower area.
4. Clean white
Going all white is actually very practical for a bathroom makeover. It makes the place look clean, spacious and bright – which for a bathroom are all good things.
The large mirror really helps in bringing some extra dimension for an otherwise narrow bathroom, and you can tell how one bright light can illuminate the entire place. The bathtub area is once again protected by subway tiles all around – excellent idea for protecting the walls and creating an area that's easier to clean overall.
For the sink, stick to bright white or light grey as a way to maintain consistency, but don't be afraid to add a houseplant in there for a lovely touch of nature.
5. Marble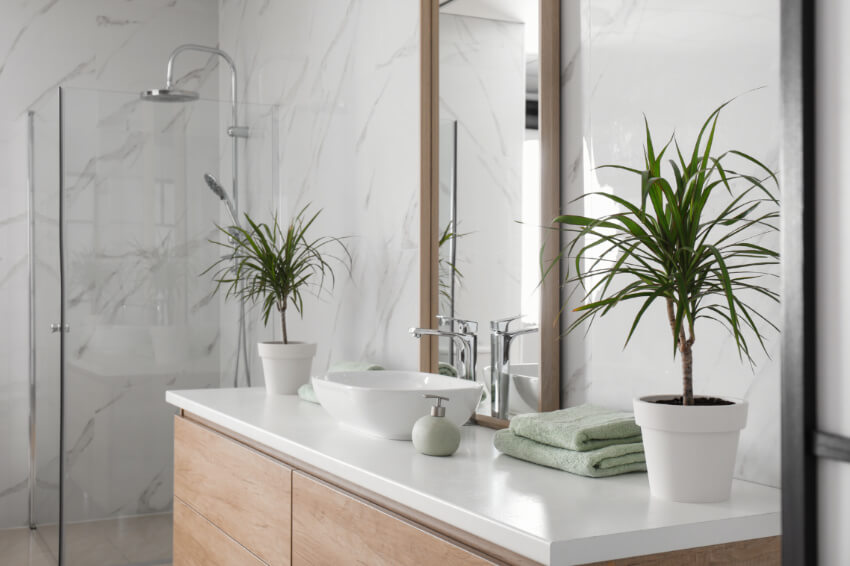 Marble walls are some of the most beautiful additions you can bring to a bathroom. They look stunning, like a bathroom made for deities. Combine that with tall mirrors for more brightness and space in the room, and you've got yourself a bathroom like no other. 
The shower box made of mostly transparent glass helps in keeping the visual clean and clutter free. It's almost minimal, letting the imposing marble walls speak for themselves – but a couple houseplants are, once again, welcomed to make the place less cold.
Want to upgrade your bathroom? Get free quotes from a bathroom remodeling expert from your area today!
---
MORE FROM HOMEYOU
6 Home Maintenance Tasks You Should Never Forget
5 Steps For a Budget-Friendly Bathroom Remodel
6 Essential Tips To Improve Indoor Air Quality