Hiring pressure washing professionals is extremely beneficial to your home, and there are a few reasons for that. 
To start with, pressure washing is an effective and eco-friendly way of cleaning most surfaces and structures. It uses no chemicals and saves twice as much water when compared to traditional cleaning.
Even better, the results are instant and the process itself is rather quick. Here are other benefits of scheduling a pressure wash you should know about!
1. Amazing results with no chemicals
Cleaning typically involves the use of cleaning solutions that may contain harsh or toxic chemicals. These can be harmful to pets, children, and even adults, let alone when the excessive use damages the structures and surfaces you're trying to clean.
Hiring professional pressure washers is great because the cleaning process uses only water. You can eradicate the use of toxic substances entirely and still be sure your home will be perfectly clean. 
Certain cleaning products are abrasive and can leave a lingering smell in the home. Using these can also damage the appearance of the house, such as removing paint and staining surfaces, as well as harming your lawn and garden if not used with care.
Because pressure washing only uses water, there is no such risk!
2. Curb appeal boost
If you are thinking of selling your home, pressure washing is a great investment to start with, as it will make your home look brand new in an afternoon at the most.
But even if you're not looking to sell, there's a huge benefit in just having your home's exterior looking as good as possible for you and your neighbors to admire.
A lot of dirt can accumulate on your roof, siding, and walls, and it's really hard to notice as it happens slowly over time. This is why before and after photos of pressure washing are so impressive – it may not look like it will make a big difference, but the change is massive.
In fact, you could take a picture before and after for yourself, you won't be disappointed!
3. Cleans almost any surface instantly
Pressure washing is an extremely useful way of cleaning as it works on almost all surfaces (roof, walls, siding, wooden deck, and more). Pressure washing also works for prepping walls before they are painted, since it removes grease, oil, and dirt effectively.
The power washing service is often used as a kickstart for other projects. For example, if you want your home to look good before a family visit, or you plan on painting your exterior, or even as a first step into your spring cleaning efforts. It's really versatile and affordable, making it an attractive project all year round.
4. Pros will do it right
Cleaning professionals are experienced in using pressure washing equipment, so they know how to clean without damaging your property. 
This is important to note because many homeowners assume they can purchase or rent pressure washing equipment themselves to get the job done. Honestly, that's not a bad investment! But using this equipment requires a lot of care and training because the high pressure can damage your property when used incorrectly.
For example, thinner surfaces like vinyl siding require a different pressure setting than a wooden deck. And if you haven't replaced your roof shingles in a long time, some of them might be fragile enough to break with the water pressure. A pro will be aware of these situations and use the equipment properly to avoid damage!
5. Save water
By pressure washing, you are investing in the planet because when we clean in the traditional way we use up to twice as much water to get the same results. 
Basically, the strength of the water makes up for the significantly smaller amount you will need to use. And this is another reason why hiring a professional is the better option since they will not waste water when getting the job done.
Many pressure washing companies can bring water to your home, which is especially useful for customers who use water from a well and need to budget water usage more carefully than others.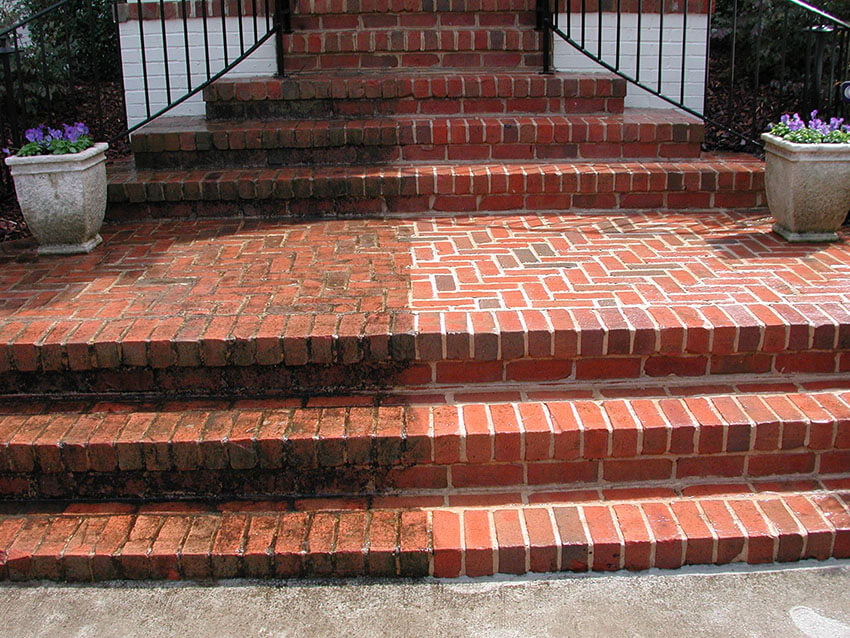 6. Save money
Many homeowners that hire a pressure washing service to prepare their home for painting are so surprised by the cleaning that they realize painting is unnecessary – the exterior was just dirty! And a pressure wash cost is far less than a full exterior paint job. 
Besides, cleaning by traditional means takes longer and usually requires more products, while pressure washing can be done quickly and with a single piece of equipment – no extra products are required.
Consider talking to pressure washing companies near you and try out this incredible service for yourself. Your home will look brand new for an affordable investment and you can see the results in one day!
---
MORE FROM HOMEYOU
Everything You've Wanted to Know About Power Washing
How To Power Wash Your Deck The Right Way
10 Oddly Satisfying Power Washing Before and After Pictures