There's no better way to get ready for October 31st than to bring some spooky decoration into your home. We can achieve this by using paper crafts, candles, and all sorts of simple DIY projects to transform your home into a scarier yet adorable place just in time for Halloween.
And since the holiday is still a few weeks away, there's plenty of time to get the house ready for a party full of treats, ghosts, spiders, and witch's brews! There's no shortage of creative indoor halloween decor ideas.
Since most of these have different scopes and can be applied to different places, you can easily combine many of them for a more comprehensive Halloween themed home. But hey, just picking out one or two will still be super effective!
"If you obey all the rules you miss all the fun. – Katharine Hepburn
Spooky town
Turn your mantle into a haunted Halloween town by using a few black lanterns, pumpkins, candles, and the ghosts themselves. To create these little houses, simply cut out some windows and doors on black paper and either tape it or glue it to the sides of a painted lantern.
Tip: To light the lanterns hassle-free, use LED tea candles. They run on battery and are much safer and convenient than using real flames.
Glowy-eyed kitties
Light strings are always a great addition to decoration – easy to put up and fairly inexpensive. But how about we give an extra twist for Halloween?
Cut out a few abstract cat heads from black paper and poke holes where the eyes would be. Then push the lights through the hole and create a garland of black cats with glowy eyes. And that's pretty much it. Indoor Halloween ideas don't have to be super complicated!
Looks even cooler when the lights are out in the room and all you can see are the glowy eyes in the dark.
Bats
A swarm of bats has invaded the dining room! To create this simple but awesome DIY decoration, all you need is black paper and some scissors. If the paper is big enough you can fold it in half and cut the entire bat at once.
If not, you can cut each half individually and then attach them together with transparent tape – which you can also use to glue them to the wall without leaving any marks.
Living room party
We can always spice up the living room with Halloween decorations without making it too crazy. Simple changes, big results, right?
For this one, you can use orange pillow cases to bring a little bit of color – orange is often related to Halloween because of the pumpkins. A simple garland across the wall will make things more interesting too, and you can either take this idea or use one of the other two wall ideas from before (the swarm of bats or the glowy eyed cats).
Finally, some string and plastic spiders to spook up a white door or wall nearby – not too overbearing and gives it a nice touch!
Pick your poison
Don't worry, none of it is real poison… at least not in moderate amounts.
All you need are dark glass bottles of different sizes and shapes, and then print out some labels on adhesive paper (easily found in the office supplies department of a local store). 
The labels can be crudely designed on any pc or mobile app, but I'm sure you can find pre-made printables as well to make your life even easier. For an even better effect you can fill the bottles with water, just to make it look like they actually have poison in them!
Abandoned living room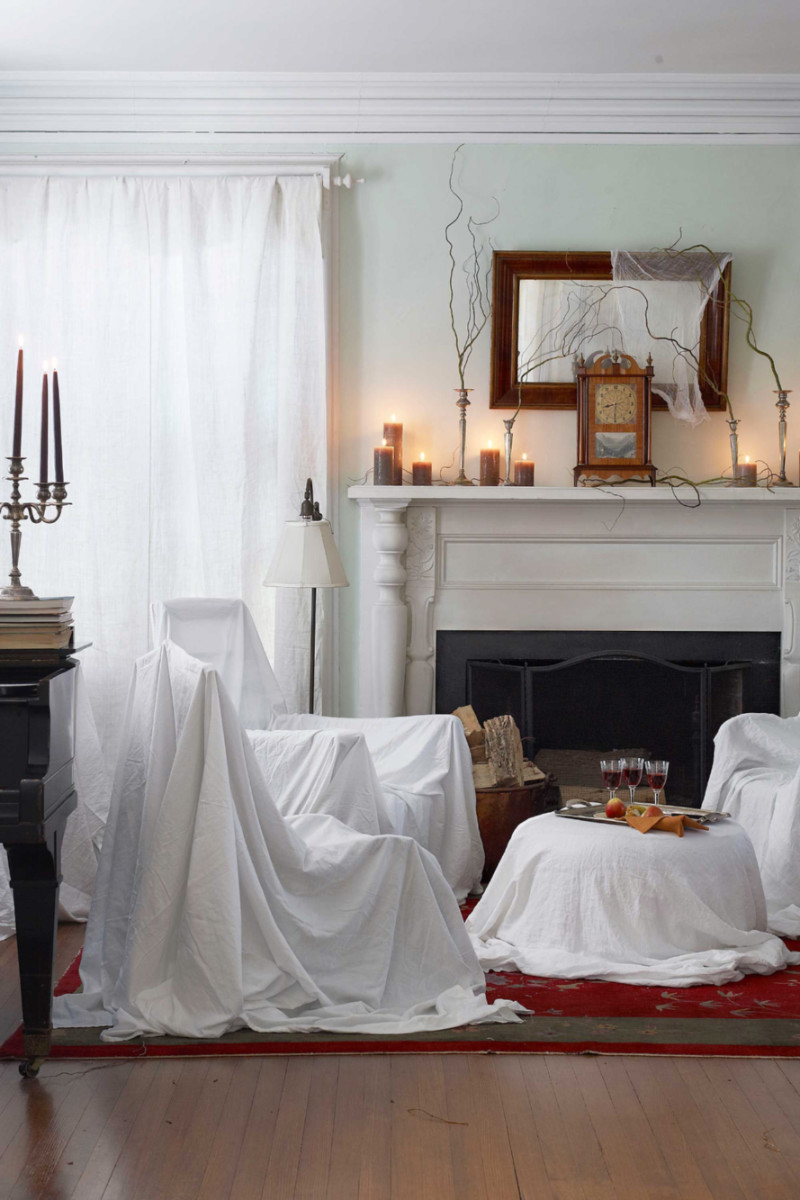 This is an immersive way to decorate for Halloween: making your living room look like a room long abandoned. Cover the furniture with white bed sheets, add some decorative twigs and candles to the mantle to drive home a decrepit look.
You can also add white see-through sheets as a way to mimic cobwebs. No spiders to be seen here though… maybe they're hiding…
BEHIND YOU!
Just kidding.
Unless...
The heads of the family
You can probably find plastic or ceramic skulls for purchase easily at any gift shop, especially near Halloween. Once you find those, it's time to get creative! Here are some ideas to customize your skulls:
Paint it black for a simple Halloween style prop

Use gold or chrome spray paint for a stylish gothic look

Use a brush and different colors to create a pattern inspired by the spanish Day of the Dead

Use facial accessories to give your skulls some personality (like fake glasses, hats, earrings, and so on)
You can also make your own skulls with clay, though that would obviously take longer and require some prior knowledge of clay work!
Mason jar
Mason jars are super fun to customize. You can make almost anything with a handful of mason jars and a bit of paint, like this friendly ghost. Combine it with other jars of different sizes and you'll have a varied collection of ghosts to haunt your mantle all October long!
Aesthetic
There's nothing wrong with the traditional Halloween aesthetic, but it can be a bit too much for some people – not everyone likes to decorate their homes with aggressive orange and black, right? You can definitely stay within the theme yet enjoy a much lighter aesthetic. It's an easy mantle Halloween decoration idea that's sure to impress!
For this DIY craft you'll need:
MDF boards

Leather cord

Spray paint (white)

Nails

Hammer
With some MDF boards, nails and some leather cord you can create cute letter art with the only three letters you'll need – "BOO!
Fancy printable
Finally, take a large frame with a Halloween themed printable to make a bold statement over the mantle. Decorate around with smaller items and let the frame speak for itself – and as for the printable itself, you can find tons and tons of options out there, especially on Pinterest. You can even go for a chalkboard and try your hand at drawing and typography yourself, if it fancies you!
Is your home ready for the cold season Get free quotes from professional contractors near you today and kickstart your plans!
---
MORE FROM HOMEYOU
10 Creative Outdoor Halloween Decoration Ideas
How To Prep Your Fireplace For The Cold Season
Here's How To And Why You Should Plant a Tree This Fall