There are tons of free assets and resources available today for desktop and mobile devices alike. We've separated the very best free apps you can use on your daily business as an independent contractor, from simple list-makers and reminders to financial management, you can a long way with these resources.
Some of these will have premium versions, but none of them have limited test periods after which you're forced into paying – at the time of writing, these are all either totally free, or free to use for an unlimited period of time on a basic version that contains most features. You only have to pay if you want more advanced and specialized features, but in most cases, that won't be necessary. 
Feel free to experiment with these apps to see which one works best for you!
Todoist
Todoist is still the king when it comes to list-making and reminders. The app goes for a clean design that keeps things simple, but don't let the simplicity fool you – you can manage large-scale projects with this thing.
One of the many advantages of Todoist is that it's only as complex as you need it to be. If all you need are simple lists to dump some reminders on, you can do that. But if you want to manage multiple large scope projects, delegate tasks, add comments and deadlines, you can also do that.
Along with that, Todoist is available on basically any platform you can imagine. Android and iOS are a given, but it also offers add-ons for browsers and integration with a ton of other productivity apps to make your life even easier.
Todoist is free to use and offers a premium version with added features like pinning documents and comments to each note.
Evernote
Evernote has everything you need when it comes to note taking. You can create several different notebooks for different purposes – like separating personal from work stuff, but also separate projects.
Each note is written in rich text, allowing for attached documents, images, drawings, and so on. Even better, on your phone, notes can be images that you can immediately take notes on before saving. Notes can also become reminders, to make sure you remember what's important. 
But, something extremely useful for contractors, notes can be documents. You can add PDFs or scanned documents to your Evernote account, which means your most important documents are always available in any device you use Evernote on.
Evernote has a free version with most of what you need, 2GB of free cloud space, and a limitation of only 2 synced devices per account, but that's not a big issue – sync it on your preferred desktop and work phone, and you won't have a problem.
All-in-one calculator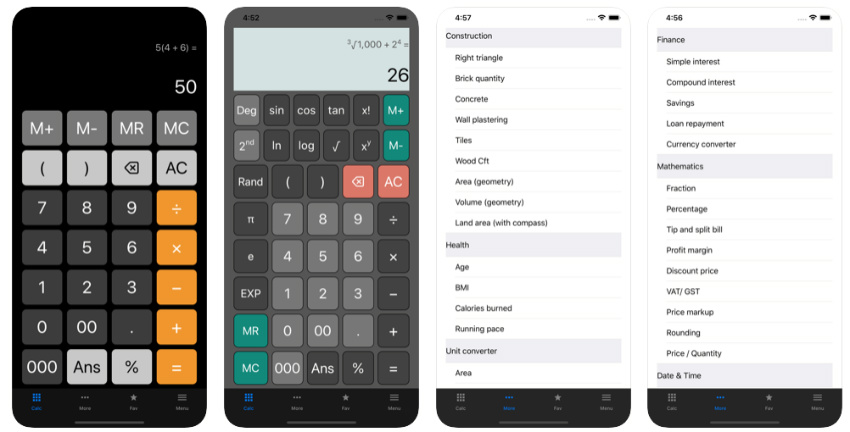 There are plenty of alternatives when it comes to calculators, but this one stands out for contractors as it offers a variety of unit conversion tools that are super useful on the field.
Obviously it's also a handy tool for figuring out costs and handing out quotes, but being able to quickly convert meters into feet or square foot into square meters will help you out tremendously. Always have this on you – it's totally free.
Google Docs
The immense power of Google Docs should not be underestimated. Think about it: you can have templates for estimates, contracts, price guides, everything saved to your account for maximum convenience.
But even better: these documents are saved to your Google account. Which means you can have them on your phone or in ANY computer you come across, as soon as you log in.
Docs itself is already perfect for typing contractors and such, but you also have Google Sheets – an excellent alternative to Microsoft Excel that allows anything from financial sheets for planning and budgeting projects or your own business accounting, to complex large project management.
Plus, if you have a Google account (which you most likely already do), you have all of this available already. Be sure to use it, it's excellent for contractors. 
Mint
Mint is a great free financial tracker that works well for personal accounting but also business endeavors. The free version has most features you need to keep your finances on track, the interface is simple and intuitive, and having it on your phone is an added benefit to make sure you never forget to track your spending and investments.
However, if you're looking for something more business-oriented, the paid Quickbooks is probably more to your liking. Along with all the financial tracking you're expecting, it also allows for easy estimate writing and tracking, which is the bread and butter of contractors. It's not free, but the amount of time and effort it saves you might be worth the investment.
Alternatively, if you have some experience with creating sheets in Excel, you can make a pretty good financial tracker on Google Sheets and use that instead. It's not as convenient and easy to use, but it's free.
---
Take the first step towards growing your business today and start receiving leads that will make you money. — Sign up with homeyou!