Upgrading the living room can be intimidating. There's a lot to consider when choosing where to start, which can muddle your objectives. There's furniture, lighting, colors, decoration… It's a lot to take in.
But what if you could upgrade your living room by only changing one thing?
Obviously we're talking about smaller scale changes, but trust me when I say any one of these can make a huge difference. If you're able to combine more than one, then expect even better results!
"Life is what happens while you are busy making other plans." – John Lennon
Lighting
You can have the most beautiful living room ever, but if it's not properly lit it will never look good.
First, make sure light can really enter the room. Consider what's your most accessible window and how much it brightens the room. If that's not enough, perhaps a stronger light bulb (or more than one) would help. Finally, opting for bright colors on the walls and the clever use of mirrors can also help.
Once all of that is taken care of, you're free to add lighting adornments, like string lights or even a standing lamp. Perhaps even candles. It's amazing how much good lighting installation contributes to a living room upgrade.
Frames
You can quickly upgrade your decoration by adding a few picture frames to your living room. The frames themselves are super cheap and easy to install, especially because there are many ways to hang them up without damaging the walls.
As for what to put on the frame, it's really up to personal preference. You can go for your favorite family or travel photos, or just beautiful artwork you can find online in print quality.
Wallpaper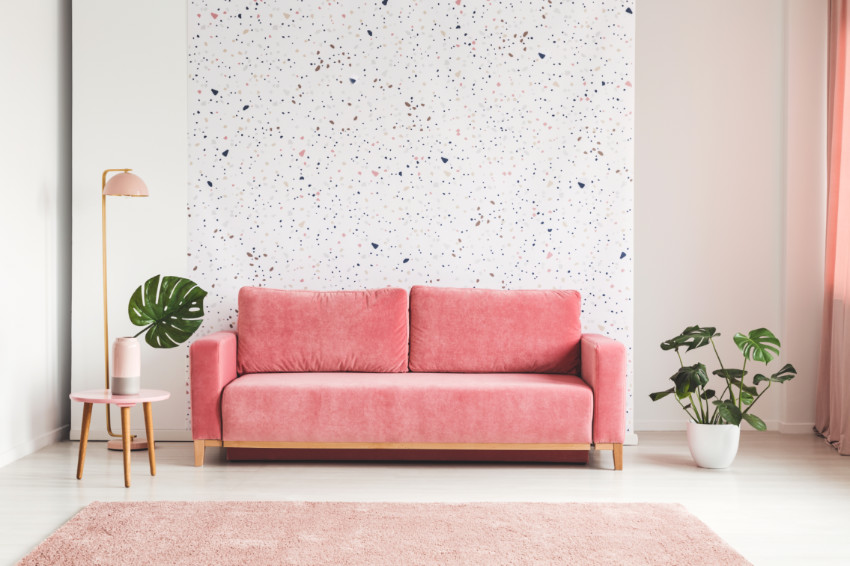 Painting a wall is always a great change, but it can be very time consuming. Simply choosing the right color can take time, but then you have to rearrange the living room, protect the furniture, prime the wall, etc. The results are fantastic, obviously, but we're looking for faster solutions.
You can instead apply wallpaper to a single wall – the one on the back of your main couch is usually a good choice. Wallpapers come in a variety of colors and patterns, giving your living room a really nice touch.
Even better, when properly applied, wallpapers are non-permanent. You can always remove it later for a new one, or if you decide to paint your wall as usual.
Rearrange
More often than not, simply rearranging your furniture is enough to get a fresh new living room design. Take a look at what you have and consider your main issues. Maybe the TV gets glare from the window, maybe the center table gets in the way – take notes to start making a plan.
And hey, since we're moving things around, you can consider resealing your wooden floors. It makes a world of difference and ensures they last much longer. 
Coffee table
Adding a coffee table (or center table) is quite simple and unobtrusive, but the best part is that it can add to your visual style. It's more than just a piece of decoration by itself, as you can also use it to add houseplants, books, candles, and any other small objects that go with the room.
Besides, a coffee table often works as a nice focal point to draw your eye, especially if you decorate it cleverly.
Living room upgrades don't have to be large scale remodels. Even a small addition like a coffee table does a lot for your interior design efforts!
Learn more decor trends to decorate your home!
New rug
Very similar to the coffee table, a new rug can really bring the room together. A living room without a central rug almost feels naked.
But visuals aside, it's also about comfort. That feeling of a new rug can last for a long time if you take care of it, and will do wonders for your well-being. Perhaps combine this with a center table (if you don't already have one) and it's a simple change that makes a big difference.
Ready to decorate your home with fun summer trends? Get free quotes from interior designers in your area today!
---
MORE FROM HOMEYOU
Interior Design: How to Plan Your Entire Home
10 Crucial Tips For a More Relaxing and Peaceful Home
7 Expert Design Ideas for Open Floor Plan Homes