There are many reasons why a homeowner would want to upgrade a home's exterior – some people like that sweet curb appeal, others are trying to sell their house and want it to look more attractive, and some people just want to make it look nicer. 
Whatever your intention is, upgrading your home's exterior can be a very simple project if you know where and how to start. Sure, there are all kinds of large scale projects that would update your home considerably, but you'll find that there are also tons of easy ideas that show great results without breaking the bank.
Keep reading to find out more! 
"The secret of getting ahead is getting started. – Mark Twain
Paint the front door
Alright, let's get the obvious one out of the way: front door painting is by far the most common idea when it comes to a home exterior revamp, but it's that popular for a reason.
Usually the front door is the focal point of your home – it's where everyone's eyes are drawn to when they glance over from the street. So it makes sense that an exterior upgrade would involve a new coat of paint on your front door.
The general idea is to consider your home's color palette and pick a front door color that makes it stand out. Natural wood is a nice rustic option, but you can paint it red or yellow for a much more dramatic look. And better yet, since you're only painting the door, the project ends up being almost inexpensive.
Garage door upgrade
The garage door may not be a focal point, but it sure is a big deal. There's no denying garage doors take up way more visual space than a front door, sometimes up to 30 or 40% in terms of ratio. With all that, it goes without saying that if you want a big change, you should consider updating your garage door.
Obviously you can also paint it in most cases, but other upgrades aren't off the table. Consider a new design, new color, new style – whatever you change here surely won't go unnoticed and will instantly boost your curb appeal.
Potted plants
Potted plants are great additions to your home's exterior. There are many native species that are low-maintenance and easy to handle even for beginners, but you can also go for faux plants if you don't want the commitment. Don't worry, visually they will still work!
It's hard to go wrong with potted plants. Especially if your home's exterior feels a bit drab and lifeless (and if you don't want to commit to a full paint job), potted plants might just bring the vibrance and life your home needs.
Window boxes
Window boxes are classic touches that look beautiful from the outside, but can also be seen and enjoyed from the inside – it really makes a difference to wake up, open the windows and have flowers right there to greet you. And from the outside, they call a lot of attention to your windows, bringing some much needed richness to your home's look!
Besides, you can achieve the same look with faux flowers if you don't want the maintenance – however you look at it, it's one of the best home exterior ideas!
Hide your trash
We've been talking a lot about additions, but sometimes you can do a lot for your curb appeal by subtracting. Case in point: hiding your trash. Or at least, being more elegant about it.
In short, avoid leaving exposed garbage bags in front of your house, since that really stinks up (no pun intended) your visuals. Instead, put them inside a garbage can and have that be an asset in some way.
I know it sounds weird to worry about how your trash can looks, but hey, we are talking about looks after all. You can find a trash can in a nice color or in an aesthetic that matches your home's exterior, thus making it blend in!
Repaint window trims
Window trim painting is often neglected when it comes to home exterior upgrades because in most cases they are hard to see, and thus, any minor flaws could be easily ignored since they can't be seen from the curb.
But in reality, they can. Peeling paint, scratched wood, stains or uneven coloration (sometimes due to sun exposure) are very noticeable – especially by someone who may want to purchase the house.
Luckily, minor scratches and peeling paint can be solved rather easily by simply applying a new coat of paint. You can bring a new color into the mix too and make it stand out even more!
Lighting
The front of your house greatly benefits from good lighting, and that goes for outside observers but also for you and your family. This will ensure your home and all its assets are perfectly visible even during nighttime, and also provide comfort for enjoying the porch in a summer evening. This is particularly effective if you've added other home exterior ideas already and want them to look great all throughout the day!
Doormat
If you're looking for cheap home exterior ideas, this is probably the easiest and cheapest of all the ideas here, but it's one that can add a lot of charm and personality to your home's exterior. There are tons of awesome doormats, including some with pop culture references, handcrafted artwork, and in many different materials. It's a simple change, sure, but charm goes a long way in creating the perfect first impression!
Reseal the driveway
Now for a more thorough project that can massively boost your curb appeal – resealing your driveway. Driveways suffer all kinds of damage over time: they can crack, change coloration, and become uneven due to the weight of your vehicle.
Resealing the driveway will make it look brand new, along with extending its protection for decades!
Pressure wash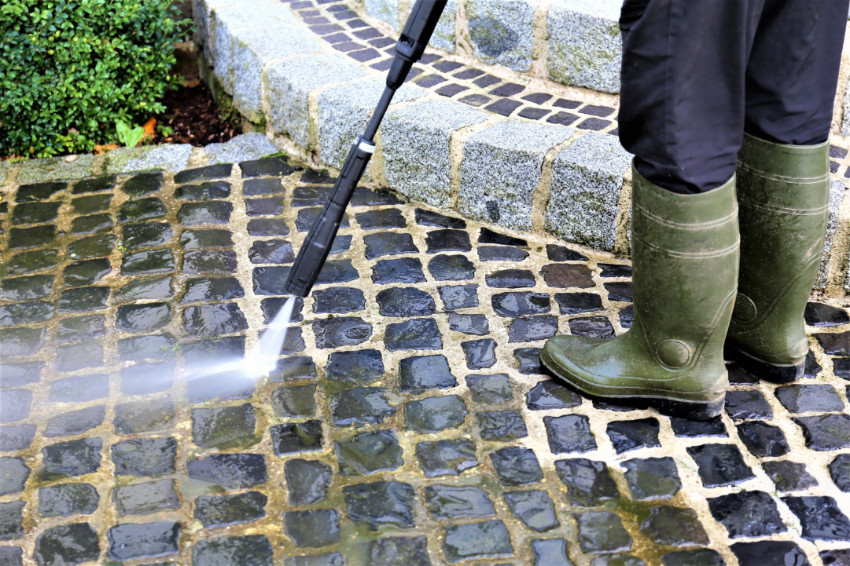 Pressure washing is an extremely versatile service that can help you revamp your exterior in many ways. Decks, porches, driveways, even your home's exterior walls can be power washed and to great effect. In some cases you can even do this yourself as long as you can borrow or rent the necessary tools, but a power washing service is always at your disposal!
Want to revamp your home's exterior with a new coat of paint? Get free quotes from professional painters in your area today!
---
MORE FROM HOMEYOU
How to Create a Neighborly Front Yard in 7 Ways
6 Gorgeous Before-and-After Curb Appeal Makeovers
8 Guaranteed Ways To Boost Your Curb Appeal