What usually happens when homeowners get tired of that old chair that they don't know what to do with? They usually decide to either get rid of it or buy a new one – I mean, look at it! The color is all yellowish, the foam is too soft and uncomfortable, and there are many damaged and worn out spots… there's no salvation, right?
Actually, there is. And this is the subject for today – upholstery repair! 
A well done reupholstery service can completely rejuvenate any old piece of furniture. Combine that with some wood restoration and the results are staggering, as you will see with these before and after reupholstery pictures.
But why would you restore it instead of just getting a new one? In short, you can end up paying a lot more for a piece of furniture that won't last as long, but most importantly, old furniture tends to have sentimental value. Maybe it's something that belonged to parents or grandparents, so restoring it feels like a much better choice!
"People may hear your words, but they feel your attitude. – John C. Maxwell
Furniture Repair
Everyone who owns old furniture with springs knows at some point those things just spring out, whether it's a chair, couch or mattress. These days we don't have this type of furniture anymore since they're quite antiquated, but you can still repair upholstery furniture with or without it.
In fact, in most cases homeowners tend to remove them entirely for a softer and more practical upholstery work. Basically, don't feel discouraged if your springs have popped off a long time ago, your furniture can still be saved! 
Upholstery Discoloration
Sofas are present in almost every home, and if you've had the same one for years you know things start to change and wear out after a while. Obviously higher quality products last longer, but for example, my couch is still as comfy as I got it about 4 years ago, but exposure to the sun coming in from the window has dramatically robbed it's original color. At some point we had to move it to the other side of the living room because only one side had discoloration!
And that's just one short term example. Old couches also had springs that can break or damage the upholstery, it can get scratched or ripped, all sorts of problems can come with time. And using them often isn't the only problem – leave an old couch hidden away collecting dust for a while and the damage will appear. 
There's no reason to abandon such a beautiful sofa, especially a Chesterfield style sofa.
Instead of replacing, consider saving it with a competent reupholstery service!
Fabric Upgrade
Upholstery tends to lose color with time, but that doesn't have to be the reason you decide to repair it. Maybe you get a really cool chair on a garage sale or used store for a great price, but didn't really dig the color.
Hiring an upholstery professional is the perfect idea, because not only can you change the look to whatever you like best, but already patch up any other minor problems at the same time. In the end you'll have a stylish, brand new armchair that will last for years to come and for a decent price!
From Dated To Modern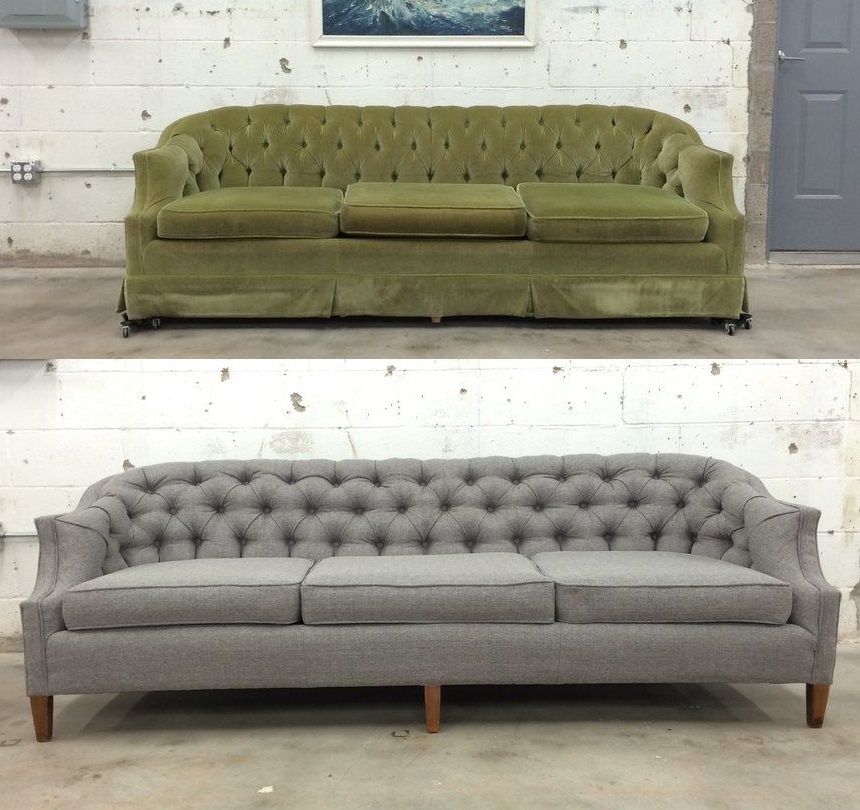 Couches are considered high-touch surfaces in a way – we're always sitting on them, laying on them, moving around, stretching, maybe even jumping if you have kids. That means over time they start looking drab and colorless. 
But hey, even if a couch survives without much damage through the years, it's only a matter of time before the style itself becomes outdated. So here's another use for upholstery repairs – turning an old couch into a modern piece of furniture.
Now all you have to do is rearrange the furniture properly for a beautiful new look!
Wooden chairs
These kinds of simple wooden chairs are easy to find in garage sales or used stores and are perfect for a reading corner or even an outdoor deck. In fact, there's nothing better than adding some of these to an outdoor patio as a way to relax during the Summer.
But as you can see from the first image, they can use a bit of a touch up – which will be the case for most chairs you buy used. Yet, this is not exactly a problem, but an opportunity.
The upholstery repair does the job perfectly of bringing the chair back to life, making it more modern and back to peak comfort condition. Also, the restoration work on the wood makes it look like it just came out of a store!
Looking to repair upholstery furniture? Get free quotes from pros in your area today!
---
MORE FROM HOMEYOU
5 Unique Furniture Pieces That Will Add Luxury To Your Home
How to Arrange Your Furniture in the Right Way
7 Designs Tips to Create a Feel-Good Home