Maybe you've just moved in and started looking for DIY ways to make the new place more homey. Maybe you just want a new project to give your home a more personal touch. Regardless, if you want to be able to do it yourself and you want it quick – you've come to the right place!
These creative DIY ideas are some of the most effective ways to add a personal touch to your home. Quick, to the point and all doable in good old DIY fashion.
"The measure of who we are is what we do with what we have. – Vince Lombardi
1. Get new fixtures
Light fixtures go a long way in giving a room more personality. There's nothing wrong with having just the light bulbs, it's simple and practical that way too… but we're not just talking "practical here. 
The idea is to give your home a personal touch, and we can't do that by just keeping everything as practical as possible – we should have the freedom to add some charm. If it looks nice, consider it!
Special light fixtures look great in kitchens, dining rooms and living rooms for a luxurious touch that really adds to the visual.
2. Houseplants
Houseplants are low-maintenance natural additions to your home, and if you're not convinced you should have them just to add a visual variety, it's worth mentioning they greatly improve the indoor air quality. 
Not only are there many different species to choose from, houseplants are beloved because they bring nature inside your home. Our houses are usually filled with human-made tools and it can start to look too industrial at times, so houseplants can balance that out and make the space look more comfortable.
3. Paint!
There's no denying that interior painting is by far one of the most effective DIY projects to change the look and feel of a room. And that goes for any space, even if you decide to paint just one wall, the change is already very significant.
But walls are not the only thing you can paint. Cabinets, doors, trims, windows, furniture – even if you paint only one of those things, the change will be dramatic.
4. Kitchen backsplash
Backsplashes have a surprising level of variety when you start looking into it. With tilework alone you can find dozens of different styles such as:
Subway tiles

Mosaics

Diamond shaped

Etc
As for colors and textures, well, there are unlimited choices. 
If you're open to different materials and creative combinations, you'll find tons of kitchen backsplash ideas that you will love!
5. Add shelves to corners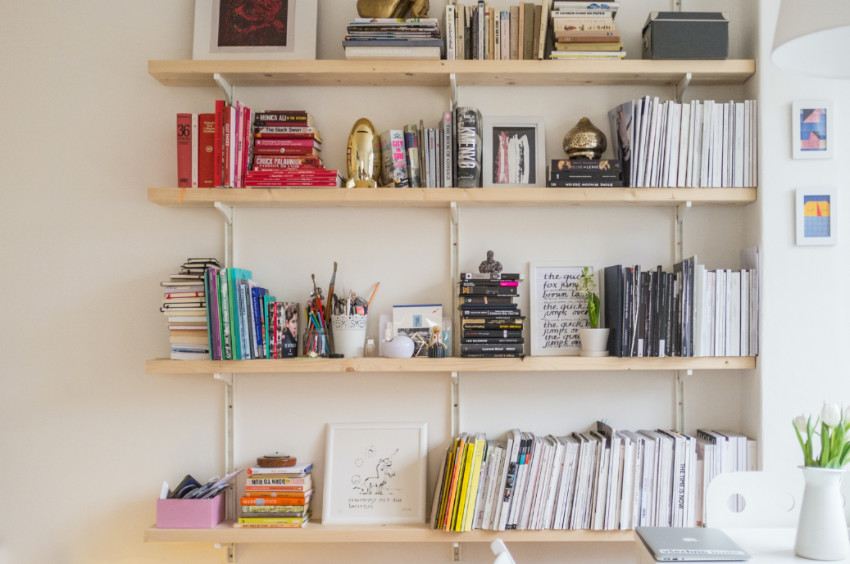 Do you have an awkward empty corner where no furniture seems to fit? Consider adding some shelves!
It's an easy wood project that you can do yourself in an afternoon. Make a simple shelf out of a few planks of wood or simply purchase the supplies on a local store. You can add a charming bit of storage space for books and decoration without having to compromise anything!
6. Decorate
Once again, we talk about the practical things a lot around here, but that doesn't mean everything should always have a practical purpose. If something is "just decoration that doesn't mean it's useless – aesthetic matters too!
Don't be afraid to look for things that appeal to you and bring them home. Your taste, your home, your rules! Besides, there are tons of DIY decoration projects you can tackle in one weekend.
7. House numbers
Lots of talk about the indoors, but how about the outdoors? Well, a simple DIY home decor project that comes off inexpensive and easy to pull off is replacing your house number for something a bit fancier. 
You can shop the exact numbers and place them on a more visible spot, whether that's right on your door, beside it, or on the fence. It's up to you!
Need help with a DIY home improvement project? Get free quotes from professional handymen in your area today!
---
MORE FROM HOMEYOU
How to Water (and Care For) Potted Plants During Summer
How To Remove Your Closet Doors and Take Advantage of The Space
6 Gorgeous Ways To Decorate Your Porch for Summer