Have you ever seen these floating bookshelves? They became a craze lately and there's no wonder why. They're really fun and amazing to look at - not to mention a great way to store books! They can, however, be overlooked because people think there's not enough space for all their books.
But the thing is:
You can DIY your own floating bookshelf and make it as big as needed! They can fit practically anywhere and are super practical, so take the opportunity and keep reading to know more about this incredibly useful shelf.
"A great book begins with an idea; a great life, with a determination. - Louis L'Amour
The bookshelf
This floating shelf has recently been such a success in sales that's just amazing to see. People are obsessed with these shelves and I have to say:
They're totally right about it!
They're a great way to decorate and store books at the same time, making it look like your books are suspended in the air. So, if you're a bookworm who loves keeping things clean and organized, these shelves were made for you. Practical and easy to install pretty much anywhere in the house, they take almost no space and make a really cool focal point in your room.
The Original Version
You can get these amazing shelves at Amazon, where it already has over 1000 reviews - basically all happy customers! These shelves have a large size option (7 inches wide, up to 20 pounds) and smaller size (5.25 inches, up to 15 pounds), and you can get individual ones or sets of 3. Isn't that great?
How to DIY
Of course, when talking about floating shelves, we couldn't skip the DIY version. We love a good DIY and this one is actually an easy project! With ten simple steps and the right materials, you can DIY this in an afternoon. So, let's get to it?
These are the materials you'll need:
Hardbound book with dust jacket
2 L-brackets, 4"x4"
#10 x 1-1/4" flat head screws
Level
Drill with 1/4" drill bit
Hammer
Pencil
Hobby knife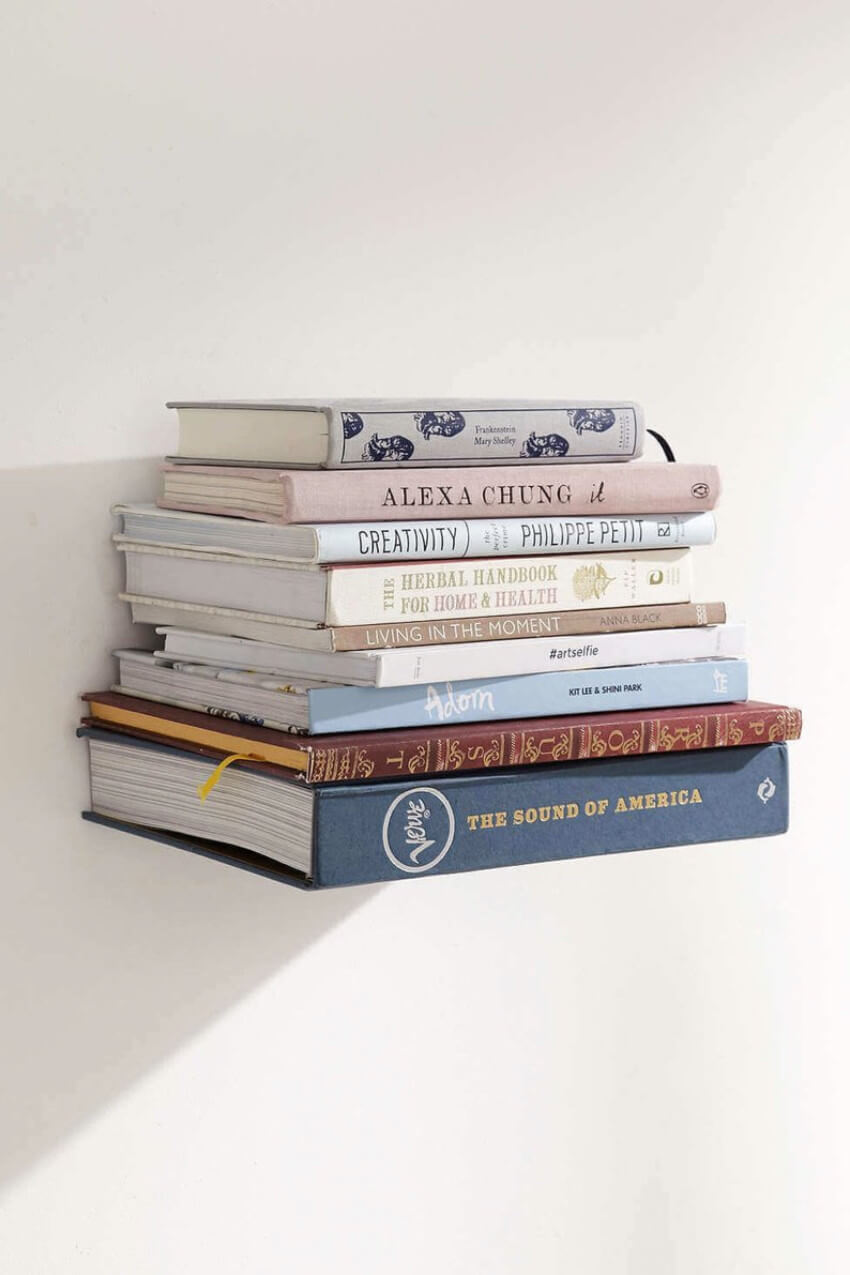 And these are the steps you'll follow:
Choose the wall for your floating bookshelf and place one bracket there, a lever will help you with keeping a perfect vertical line. Use a pencil to mark the top and bottom holes.
Use a ruler and a level to help mark where the second bracket will go, that is: about 4-½ to the right of the two pencil marks made before. Make two more marks.
Drill the holes using a ¼ drill bit.
Install the drywall anchors
Position the holes in the L-brackets on top of the anchors and screw in flathead screws to secure the brackets.
Remove dust jacket from book and, using the ruler and knife, cut two 2 slits where the back cover meets the back flap.
Slide these two slits into the L-brackets.
Rest the book on the L-bracket, and wrap the dust jacket back onto the book.
Stack books on top of this shelf!
Remember to be careful with the weight of the books, don't exceed the limit of the drywall anchors!
Ready to DIY? What did you think of the project? Share some thoughts with us on Facebook!