Easter is the perfect holiday to get creative and go for DIY decor. There are tons of easy crafts that you can make with minimal tools and even without much experience. In fact, many of them encourage first-timers for the sake of trying something new!
The ideas I've selected today are some of my favorite Easter decor ideas for the season. Most of them are beginner-friendly and very low cost, so you can get into it right away and get everything done just in time for the holiday on April 4th!
"The best preparation for tomorrow is doing your best today." – H. Jackson Brown, Jr.
1. Easter advent calendar
For this Easter DIY craft you'll need plastic eggs and number stickers to create one egg for each day leading up to Sunday! For the inside you're free to add any small candy you like, jelly beans, M&Ms, peanuts, whatever fancies you and your kids. 
For the basket you can simply use whichever one you have laying around or make one out of wood excelsior or paper.
2. Leaf wreath
This beautiful wreath is made entirely of paper crafts, which makes it a great project to keep the kids busy during an afternoon. It all boils down to getting different colors of paper, cutting them and then making the accordion-like folds. It's an easy and chill Easter paper craft that you can make while listening to music and relaxing.
3. Golden eggs
The beauty of this craft is that it's probably the easiest one in the entire list. All you need are empty egg shells and a golden bottle spray (but bronze works really well too). 
Spray the eggs and let them dry, and then use the small opening on the top as a mini-vase – though you can just use the golden eggs by themselves as well. Place them on an egg carton and you use it to decorate the coffee table!
4. Tea lights
Lighting candles is often a part of the holiday anyway, so why not incorporate it into your decoration? 
To make this craft, painting the eggs with bottle spray of different colors is a lot more practical, but you can also use water colors for something more accessible. Then break about one third of the egg and fit a small tea light inside!
5. Paper maché eggs
How about making some unique paper maché eggs? You can find these easily on paper stores or Amazon, and the idea is to use modge podge and colorful tissue paper to create these cute little eggs. Because they're not real egg shells, they're far less fragile which is a nice benefit if you have small children or curious pets.
6. Easter bunny hats
Took a while for the Easter bunny to make an appearance, right? Well, he's finally here!
There's no secret for this one, it's a simple party hat made with cardstock paper and some glue. You can make them in different colors to add variety and even give them different expressions if you're feeling creative. Experiment by drawing the faces somewhere else before making the cuts! Get the full tutorial to learn the details.
7. Egg critters
These cute critters are a mix of what we saw before – paper crafts combined with egg painting. You can take these as examples and very easily craft your own:
Paint the eggs with a bottle spray and draw the facial features with a pen;

Cut the ears, legs and eyes of your critters and use a pinch of glue to stick them in place;
And feel free to get creative when it comes to expressions, eyes, shapes, and even other critters you can think of!
8. Elegant abstract eggs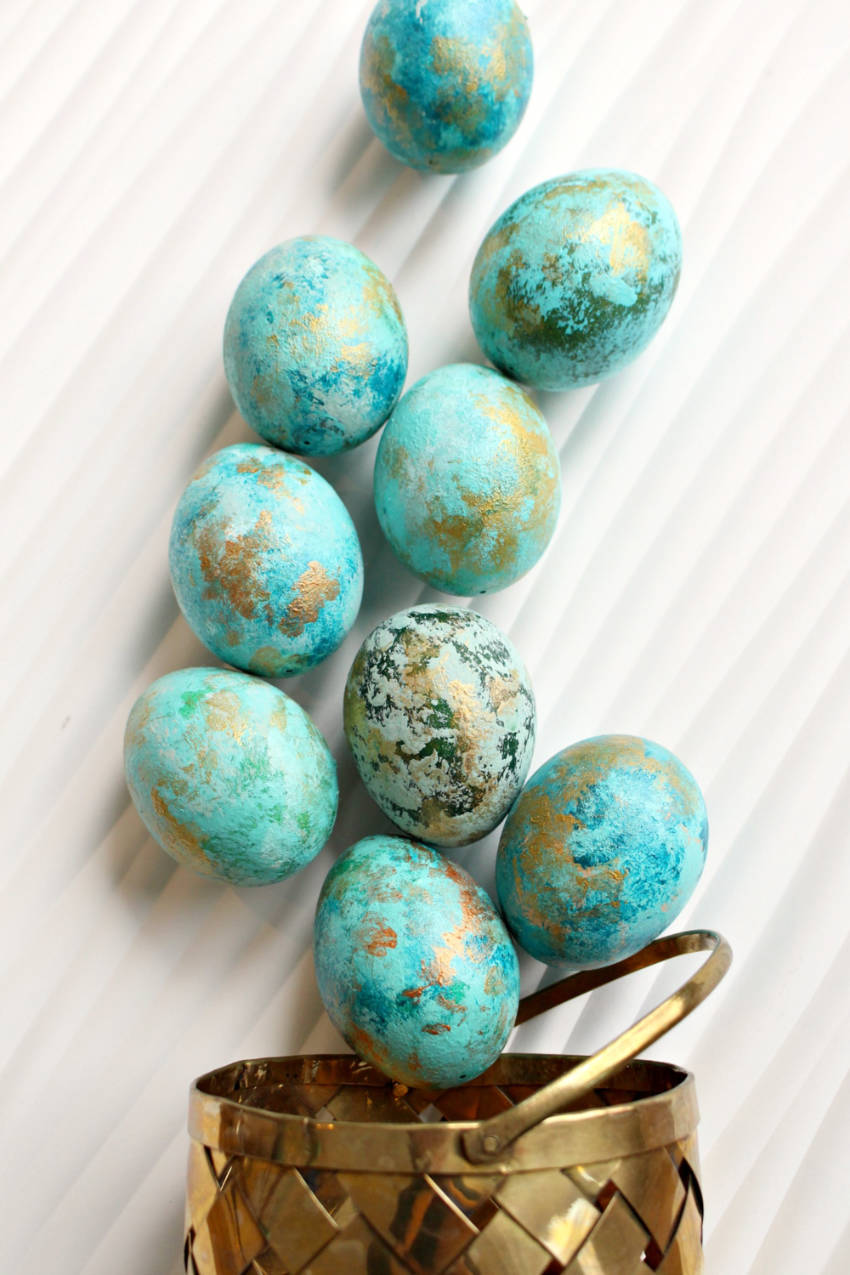 This egg craft looks so incredible you might as well use them for permanent decoration once they're done! To make them, you'll use acrylic paint on real eggs shells with the help of a couple paint brushes to create the patterns. Follow the tutorial to learn the whole thing!
9. Salt soak carrots
Allow me to introduce you to one of the most unique DIY Easter crafts I could find. And it's a nice change of pace because it doesn't involve eggs or candy, fancy that!
What you're looking at is a DIY carrot made with epsom salt, food coloring and cone-shaped plastic bags. Super easy to do and looks great as a piece of decoration too.
10. Peek-a-boo
This craft is extremely simple but adorable – plus, it doubles as a toy for children to play with. The idea is to use a clothespin to connect two halves of an egg together while hiding a cute birdie inside, which you can see by opening the clothespin. Learn how to make it and impress your family!
Don't forget to follow us on Facebook to always see the latest articles that include fun crafts like this, as well as tons of homeowner tips that will make your life better.
---
MORE FROM HOMEYOU
8 Easy Ways To Decorate Your Home Just In Time for Easter
What's the Story Behind This Intricate Easter Egg
8 Amazing Egg Decorations that Are Creative and Fun