When you move into a new home, you probably think about the furniture that you need and look forward to adding some of your personality to each room. Though you likely think of the colors and patterns that you'll use along with the materials and furniture layout, you may not consider the decorating rules that you should follow to make everything come together and flow nicely.
These five interior design tips will help you create that incredible look that only professionals can do! 
"It always seems impossible until it's done." – Nelson Mandela 
Hang Artwork the Right Way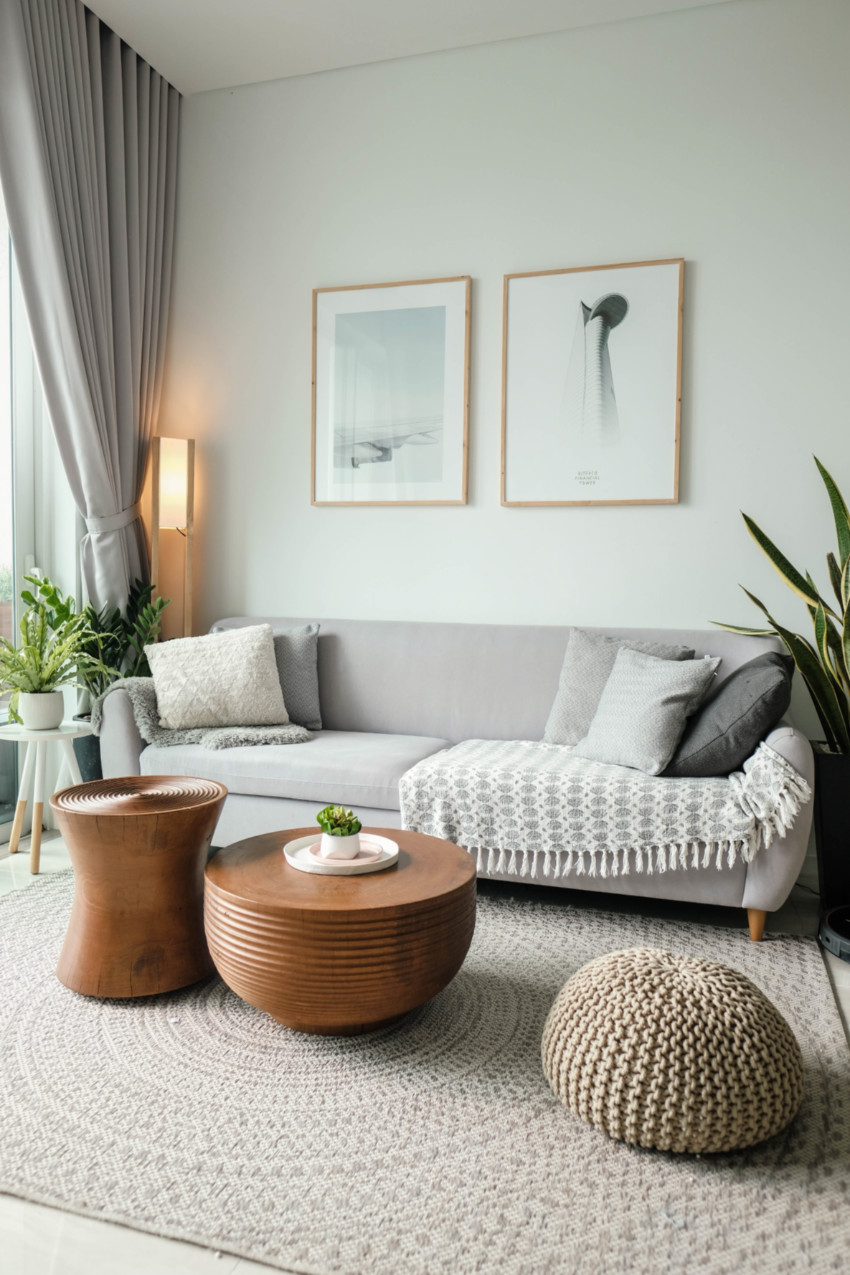 One of the key things that add color and style to a room is a piece of artwork. Far too many people think that they need to hang these pieces as high as possible in the room and even put them close to the ceiling. 
A good rule of thumb is that you want to hang artwork at eye-level, which is the height of the average person in the room. The middle of the piece should sit at least 57 inches off the floor but no higher than 60 inches. If you use artwork in a room with high ceilings, you can raise the piece slightly. 
Remember:
Keep in mind that this rule changes when you hang artwork over a piece of furniture. The bottom of the piece should sit eight to 10 inches above the highest point on the furniture. This holds true with both living room furniture such as a couch and the headboard in your bedroom.
Put More Space Around Rugs
Modern house interior design rules often rely on rugs. A simple rug can protect hardwood or tile floors and add a bright touch of color to the room. Many people pick options that are too large or too small and have a limited impact on the room, and that's what we're trying to avoid here. 
To find the right rug, measure the room first. You will then subtract two feet from both the width and length to determine the size that you need. Once you have the right rug, make sure that you leave some space around it before putting it on the floor. 
Tip: 
If you use a rug in your bedroom, it should stick out a few inches up to two feet from the sides of your bed.
Change the Height of Lighting
As you look for internet design tips, you'll find that experts often recommend the use of new lighting and fixtures. This may result in you hanging the lights at the wrong height, including putting table lamps too low to the ground and hanging pendant lights too high. 
When you put table lamps in the right spots, you create a comfortable environment that feels welcoming and helps you relax. The lamps that you use in a living room or family room should have shades that sit at eye-level, which may mean bringing in new tables. 
If you use a lamp next to your bed, you want the shade to sit at the same height as your chin. 
While pendant lights and chandeliers are a good choice for your dining room, you want to make sure that the lights are at least 30 inches above the closest surface such as your table. You can increase the height up to 34 inches if you want and go even higher if you have taller ceilings.
Measure the Rods Before Choosing Curtains
Though you might decide on blinds for the windows in your home, you can still add curtains. They do a good job of blocking the light that comes through the windows and can also add some color to the room. Curtains are also great to make your windows appear larger, and that's the main reason why picking the right sized rods makes such a huge difference in the room. 
Most options need a rod that is up to three inches longer than the window frame. The exception to this home interior decor rule is when you use cafe curtains and other smaller drapes that fit inside the frame. For these, you only need a rod that is the same length as the window. You also want to make sure that the curtains stop just below the surface of the floor.
Have the Proper Tools
Another of the top decorating tips that you can use in your home is that you need the proper tools available for whatever project you do. 
You should never assume that you can measure and do everything else on your own. A good measuring tape helps you measure the size of a room and windows. Those that are soft and flexible let you wrap the tape around different surfaces and objects.

You also need a level that ensures everything you hang is straight, and it comes in handy when hanging both artwork and family photos. 

A folding ruler is great for measuring heights without a wall as support, such as when you're hanging new pendant lights. 
When you follow these modern home decor rules and interior design tips, you can make your new home look as if it just came off the page of a home interior magazine! 
---
MORE FROM HOMEYOU
5 Design Trends That Make You Happy To Stay Home
7 Quality of Life Home Improvements To Simplify Your Days
5 Home Maintenance Costs Every Homeowner Must Be Ready For