Though you often hear people talk about all the different roofing options you can choose for your new home, there isn't as much information available on ceiling design types. The type that you have will set the tone for the space, as it can make a room appear smaller or larger and even define its style. 
Whether you want to update your home or buy a new property, take a look at the seven most common types of ceilings that you see in homes today! 
"Yesterday is not ours to recover, but tomorrow is ours to win or lose." – Lyndon B. Johnson
Conventional Ceiling
The most common type is the conventional one. Also known as a flat or seamless ceiling, it has a basic design that features painted drywall. Most are between eight and 10 feet off the ground, but you can raise it up to 13 feet. This type does not have any seams but may have crown molding or accent pieces around the edges to give it some texture. 
With this type, you can also consider different ceiling texture types, if you prefer something less basic. Though many think of popcorn ceilings, there are loads of other options now available, such as gorgeous patterns or even the popular stipple brush texture. Any of these options will make a conventional one look anything but boring.
Drop Ceiling
Drop ceilings are a common feature found in commercial buildings, and they consist of tiles that hide ductwork and vents. The tiles come in different sizes but usually use white and other light colors. You can choose from a range of texture types to add more interest, or even add decorative tiles to create an accent.
The different suspended ceiling types include any that has space between the top of the room and the roof. In addition to hiding parts of a system, this type can make a room feel smaller and cozier, if that's your goal. 
Sloped Ceiling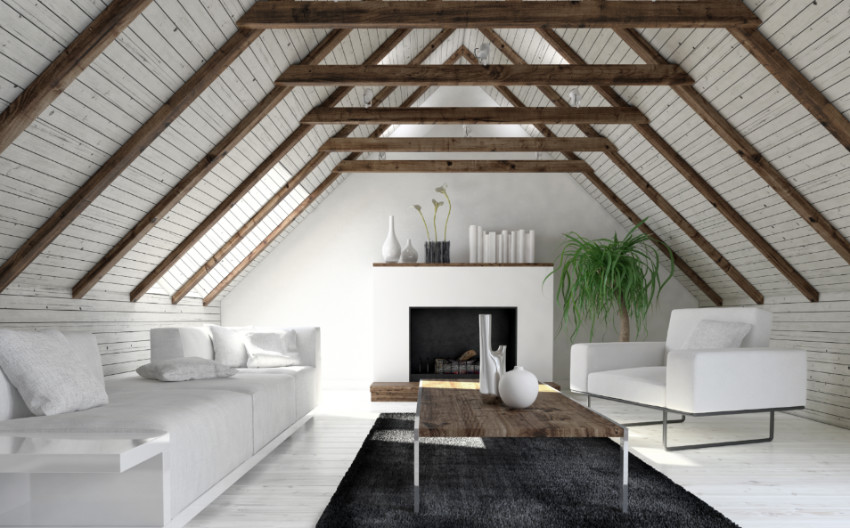 Though not as common as other types, sloped ceilings are often found on older homes, especially those built during the post World War II housing boom. These homes usually have 1.5 stories, and the top half of the home features a sloped ceiling that consists of two pieces that meet along a shared line. Many also have flat sides that sit on top of shorter walls. 
While you get extra living space, it also creates a cozy atmosphere. If you want to add more dimension to a sloped ceiling, look at different textures, including the hawk and trowel method or swirl design.
Vaulted Ceiling
Vaulted ceilings add a special touch to your home and let you customize how you want the room to look. Most feature multiple wood beams or boards that extend from the sides of the room and meet along a shared arch. 
For a custom look, not only can you choose from different ceiling texture options, but you can change the type of wood for the beams. If you want the beams to blend with the drywall, you can even paint them a matching color. This pulls the eye up to make the room feel larger and taller.
Shed Ceiling
Though the name might sound basic, shed ceilings are right on-trend. Similar to the type you might see in a shed, it offers a modern take on a vaulted ceiling. 
This type features both a lower point and a higher point, with the ceiling starting at the lower point located on one side of the house and rising to match the higher point. Many homes with this type also feature large windows that let in more natural light.
Cove Ceiling
Those who want to use different types of ceiling textures often choose cove ceilings. They feature one elevated spot that draws the eye up with decorations that highlight that point. 
Traditional designs often use crown molding in different sizes around the edges of the room. The molding pieces stack together to force the eye to the elevated point. Modern homes often use larger boards and accents that pull your eye to the center of the room.
Tray Ceiling
Similar to a cove ceiling, a tray ceiling features a large section in the center of the room that serves as the focal point. The addition of boards around the edges of the room creates the appearance of a tray such as the ones you might use for meals. 
Tray ceilings work with many types of lighting fixtures, including built-in lights and pendant lamps. You can also add interest with the addition of paint or wood.
When building a new home or changing the look of your current home, opt for any of these ceiling design types! 
---
MORE FROM HOMEYOU
6 Smart Ways To Cover Up Ugly Ceilings
5 Tips To Choose The Perfect Ceiling Fan For You
9 Wooden Ceiling Ideas to Give Your Home a New Look