There are many advantages and opportunities that come from attending trade shows. There are hundreds around the country, varying in size and specialty, but just about all of them can help your company grow and succeed. These are some of the shows you should definitely attend this year!
Why Attend Trade Shows?
Networking:
Trade shows are amazing networking opportunities for your business. By attending these shows you have the opportunity to meet exhibitors and other attendees and build relationships that you can use to rely on, gain experience from, and possibly build new business that you might not have been able to do before. You can create strong alliances through conversations and experiences at these shows. To get the most out of the experience for networking, be sure to hand out and collect business cards with the people you meet, use the show directory and all other means possible to build your list of contacts within your field.
Growth:
Use these shows to be inspired about new and creative ways to build and support your business despite any external factors. Find out ways to keep your business lucrative despite changes in trends, the economy and even weather and seasonal factors. Beyond that, many of these trade shows have press and media there. Use them! Make sure you stand out in the crowd and they know about your business, you never know when that might benefit your company.
Education:
Your biggest opportunity at these trade shows are the educational opportunities. Between seminars and workshops, you can learn new techniques, strategies, and information on the latest things in the remodeling industry. You will be able to better serve your customers by being fully up to date on the latest information in your field. You will also have the chance to try new products that may be cheaper and more efficient and speak to the experts in manufacturing. Be sure to take advantage of all the learning experiences you have at these trade shows.
Which Trade Shows to Attend
RDJ
The RDJ show is a real time saver! Three conferences, two days, one location. Whatever you do whether it's remodeling, decking, or residential construction work, there is going to be something for you at this conference. You can attend one or all three and get the most out of the experience. There are plenty of exhibitors, hands-on-training, networking events and social gatherings. All the perfect highlights for a well spent weekend growing your company.
Build Expo
Build Expo is held in five cities around the country throughout the year in California, Texas, and New Jersey. What's great about this show is that it is free for attendees including all workshops and seminars. The downside of this is that you cannot give out any promotional materials for your business. But it's a great learning opportunity for your company and a chance for you to grow your services and knowledge.
The Great Big Home and Garden Show
This show takes place in one of the biggest markets for home remodeling in the country, Cleveland, OH. It brings homeowners and contractors together to see what's up and coming in the remodeling industry for both indoors and outdoors. You get a chance to interact with homeowners and others in your field and build a network and get inspired for the next big thing for your company.
International Builders Show
IBS brings manufacturers and suppliers to showcase new products, services, materials and technologies in all areas of remodeling and building. There are more than 1,400 manufacturers and suppliers there to help bring your business to the next level. It's held in Orlando, FL in January. This is a great show to build a network of allies in growing your company. Can you think of a better place to build friends in the industry than Orlando?
IRMI Construction Risk Conference
This conference brings insurance companies and contractors together to discuss risk management and insurance in the industry. They host three conferences a year: a construction risk-focused conference, an energy risk-focused conference, and an Agribusiness-focused conference. This may feel like the one to skip, but protecting yourself, your company and your employees is well worth the trip!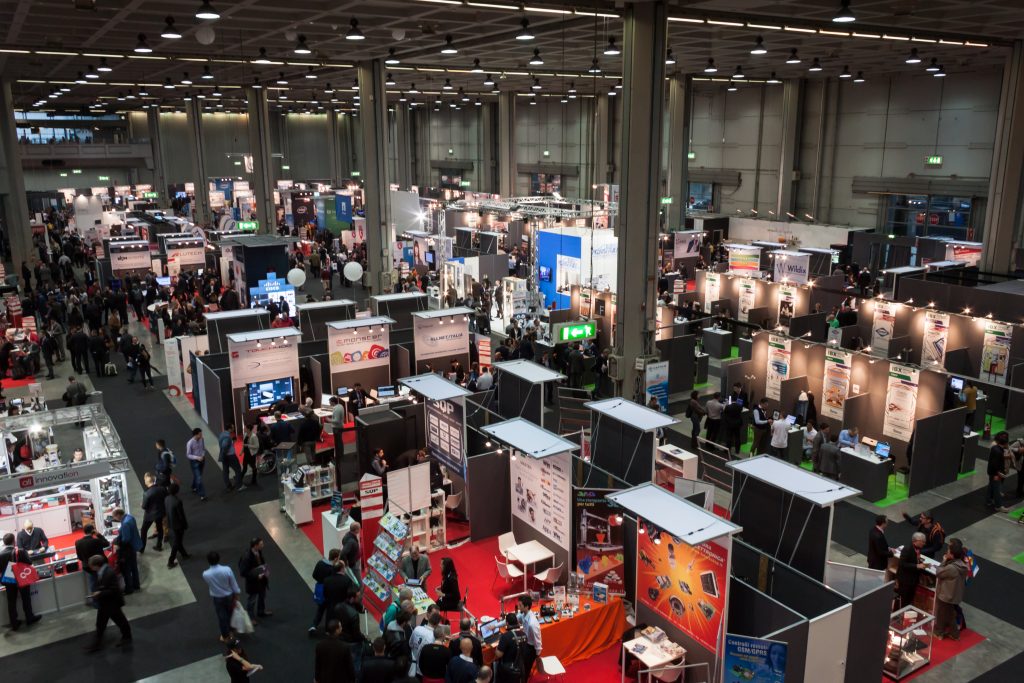 Local Market Trade Shows
National trade shows are great, you can connect with other markets around the country and compare and contrast business. But sometimes for smaller companies or more specialized companies, the best bet would be to attend trade shows geared specifically towards your market. The information you could learn at JLC New England is going to be very different than Nari Expo, based in Wisconsin. You may be able to get more out of the show if you stay closer to home!