Setting the table for Thanksgiving dinner is a wonderful exercise in decoration, but the best part is that you don't need huge investments or a degree to pull it off – and we'll show you how!

To start with, there are many elements you can use for that typical Thanksgiving mood. Pumpkins, pinecones, apples, leafs, candles – anything to do with Fall will automatically be a nice touch, and depending on what you choose, we can combine other elements to create something truly unique.
But enough kidding around, let's get to business!
"Optimism is the faith that leads to achievement. Nothing can be done without hope and confidence. – Helen Keller
1. Neutral rustic
Works especially well if you already have a table made of wood. Make good use of pumpkins (perhaps in smaller varieties) and other fruits to bring the look home. When lined up on top of a simple beige towel it will look simple, but warm and cozy!
But don't forget the cutlery – they also play a part on the look. If you have something that agrees with the natural wood, it's time to bring it out, and the same goes for spoons and bowls. 
2. White all around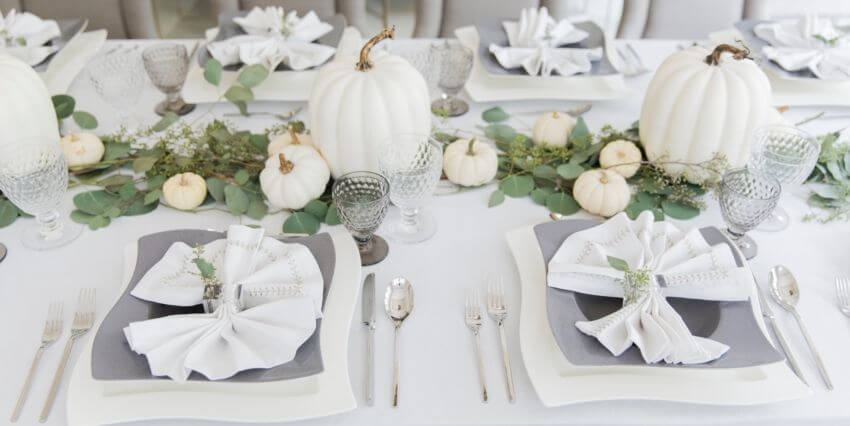 Warm colors are awesome, but don't be afraid to try different ideas. For example, a clean, white, almost heavenly table like this works wonders!

Lay out a white cloth and make use of white pumpkins, which can be painted from regular pumpkins if you've got time for some DIY, but can also be easily bought as faux varieties (meaning they won't go bad).
Then, use other elements to agree with the new look, like white plates, napkin holders, and silver cutlery. 
3. Fresh fruits
Fruits can become the star of the show as a centerpiece and even spread across your dinner table. Of course for the sake of easy decor you can go for faux fruits, but don't be afraid to use fresh fruits – they double as delicious appetizers as well!

To make better use of space, decorate a bigger bowl of fruits to serve as your centerpiece, and then sprinkle some more across the table with other elements of decor – like candles, leaves, and twigs.
Not only does it look great but it also reminds that we're still in Fall – the season of the harvest!
4. Succulent + candles
Want an easy peasy decoration idea? Succulents are cheap, very low-maintenance, look great, and unlike some other floral arrangements, won't easily fall off or fly away from your carefully set table.
In fact, you have choices here: the big ones are easier to set up quickly as serve as their own thing – combine it with some candles and a table cloth that matches your pots, and you're good to go!
But don't be afraid to look for the small succulents and use them as extra touches to your decor. They are, once again, super affordable and can even be given away at the end of the night as souvenirs.
5. Floral table decor
Floral arrangements are always a good pick, adding rich colors to your decoration game, but do you see the secret to having this look unified?
Yep, the matching table cloth!
You can have floral arrangements, of course, but combine the colors of your flowers with other elements of decoration, and everything will look much better – like it was made by a professional interior decorator.
Will you make any of these Thanksgiving decoration ideas? Let us know on Facebook and share your creations!
---
MORE FROM HOMEYOU
6 Beautiful Thanksgiving Centerpieces That Are Easy To Do
Your Essential Holiday Party Planner (From Thanksgiving to Christmas!
5 Last-Minute Services to Get Before Thanksgiving