The word kitchenette is super common in small houses and apartment listings, and while it sounds sophisticated, it is actually quite a simple concept. 
"Kitchenette combines the words "kitchen and "ette. The prefix "ette simply means small, so when you put the two words together, you realize that a kitchenette is basically a fancy word used to define compact kitchens. 
There's nothing more to it, as basic as it sounds. Just think of it as a compact, functional kitchen but in a smaller space. 
Nonetheless, today I will be exploring more information about this efficient design, how it differs from a traditional kitchen, and when you should opt for this layout!
"Good, better, best. Never let it rest. 'Til your good is better and your better is best. – St. Jerome
Kitchenettes vs Traditional Kitchens 
As we have already noted above, the most noticeable difference between a kitchenette and a traditional kitchen is the size, with the former being much smaller than the latter.  
Nonetheless, there are a variety of subtle other differences as well. For example, a common kitchen will normally be located in its own room, separate from the living room, while kitchenettes are often installed as an extension to an existing room. 
Mostly, you will find them in one corner of the living room. Additionally, storage is scarce in a mini kitchenette and this is partly because of the small size.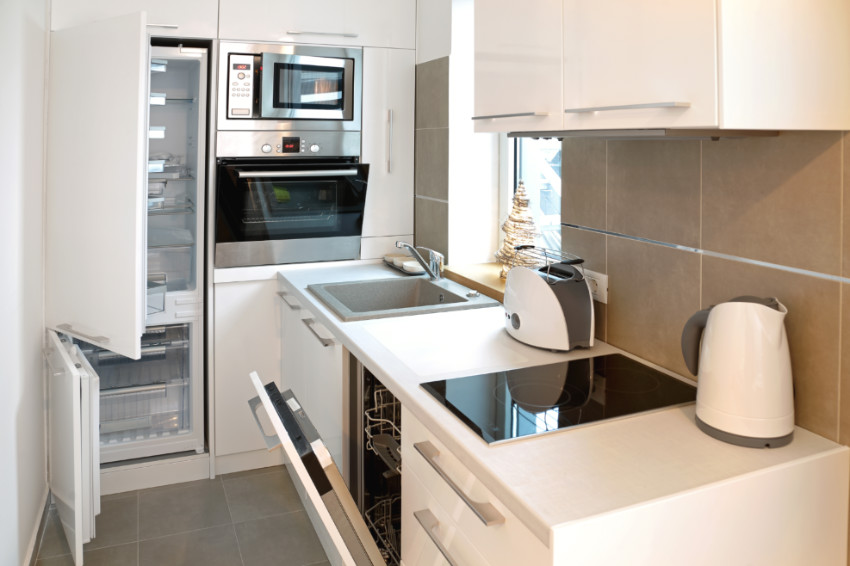 Besides, since kitchenettes are often an extension of the living room, it's very hard to add many cabinets to the area, otherwise it will take over the entire space. In most cases, it will only have one or two cabinets for storage while kitchens will have rows of cabinets and shelves. 
Countertop space in a compact kitchen is also limited, while a four-burner stove commonly found in most kitchens, is quite rare. Instead, they usually feature one or two small hotplates or a very compact two burner range. A small microwave and oven are usually built into the wall or the cabinetry, as there's not really enough room for big appliances. 
The idea behind this layout is based on the assumption that an all in one kitchenette will mostly be in small houses and apartments, to be efficient for a small family household. 
Where Do Kitchenettes Work Best?
As you can probably guess, kitchenettes are mostly popular in homes with limited space. There's no point of having one in a four or five-bedroom house, since there's plenty of floor space for a standard traditional kitchen. 
However, 
If you're living in a studio apartment or a small home with not much space, then you're more likely to have a kitchenette as opposed to a large kitchen. This amazing space-saving concept is vital in adding functionality into small spaces and if done right, they can be very classy and efficient.
You can also find kitchenettes installed in dorm rooms. However, they are much more basic containing only a small microwave, a minifridge, and one single cabinet, at best. The idea here is that students in dorm rooms rarely have the time to cook in and would normally order takeout to eat on the go. 
Finally, it's very common to find kitchenettes in small holiday cabins in the middle of the woods, since they usually don't require many appliances and storage.
The Pros and Cons of Kitchenettes 
Of course, kitchenettes have a lot of benefits, but they also have a few drawbacks as well. 
Here is a full list of pros and cons:
Pros:
If you have a tiny house or a small apartment, kitchenettes will save you a lot of floor space.

They are minimalist and require very little maintenance.

Even with their small size, they are extremely functional. With just a microwave, a hot plate, and a minifridge, you can prepare a wide range of meals for a small family.
Cons:
Kitchenettes are not fully equipped with the right kitchen gear and it may be hard to cook different meals at the same time. 

You may feel clustered cooking in such a small space. 

You have very limited storage, something that may limit the overall function of your kitchen.
Despite these cons, kitchenettes are very trendy, especially now that a lot of people are living in urban areas where home sizes are very small. 
What really matters is how you design it. Just like normal kitchens, kitchenettes too can be very functional.
Want to install a compact kitchen in your home? Then contact a local pro and request a free quote! 
---
MORE FROM HOMEYOU
How To Make Sure Your Countertops Always Look Brand New
How To Properly Refinish Kitchen Cabinets In 4 Steps
How To Organize the Kitchen for Easier Cooking and Flow