With the weather getting warmer this time of the year, your radiator won't be working as much and you can take the chance to create something gorgeous out of it. Especially if you have an older home, than your radiator is probably a huge thing taking up your wall space somewhere in the house.
Here are seven solutions to transform your eye-sore of a radiator into decoration!
"If you love something, it will work, - Bunny Williams
Use it as a shelf
The great thing about most of the ideas I'm showing you here is that you can DIY them. For example, this first one about using your radiator as a shelf, you can simply buy a piece of wood from a lumberyard or pick something up at a construction site near your house. Just make sure it will be the right size (or at least that you'll be able to cut it into the right size) and your decoration for the radiator is ready.
Put a table over it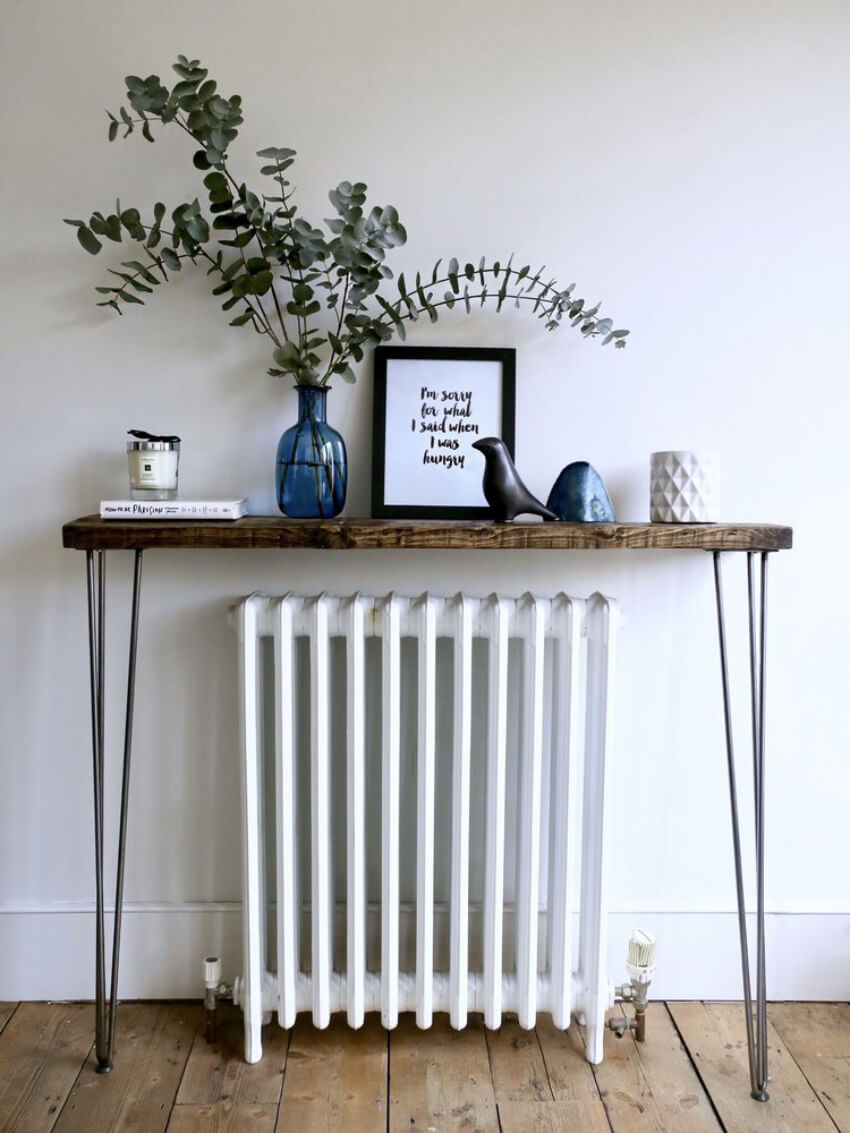 Following the same idea, only instead of a simple shelf, put a whole table above your radiator. Depending on the type of table you pick, the radiator may not be hidden (like the photo above), but the thing is:
The table will distract from it!
So, instead of an ugly radiator, you get an interesting piece to complete your table decoration theme.
Give it some color
Of course, you don't necessarily need to hide it. Why not make it become a decor accent itself? That's what happened here! This homeowner decided to paint the radiator gold and match it with a gorgeous flowered wallpaper that makes the whole room sparkle with joy.
The tip I can give you is: pick a color that will match your existing decoration and that suits your style and personality!
Rearrange furniture
A classic way to hide eyesores in your house is to place pretty items of furniture in front of it. So, that's always a valid choice. You can use your radiator as a shelf AND in front or right next to it:
Place a chair
Place a couch
Place a bookshelf
These are just a few ideas, you can work your way around what you already have in the room your radiator is located in. Be creative!
Use a cover
There are a lot of radiator cover options around, both to buy and to DIY. You can do your research and pick what suits your home decor best. The photo above has this adorable kid-friendly cover with some animal prints on it, isn't it adorable?
Use it as a coffee station
It can be a mini coffee station or just a place to add a houseplant or something like that.
However, the idea here is to add a tray on top of the radiator to make it look great!
It can either be directly onto the radiator or using a radiator cover (like I just talked about on the previous topic) first and decorating on top of it. You can even take this opportunity to get some items for your coffee station that you've always wanted!
Create a breakfast nook
Another thing you can try using as radiator cover! Of course, it'll depend on the location and size of your radiator, but if everything goes accordingly, the breakfast nook is definitely one idea you need to try in your house. Especially when it'll turn out as bright and shiny as the one above, it's just too gorgeous not to want one!
What idea will you try to cover your radiator? Let us know on Facebook! And if you need help with anything, a handyman might be your best call - get a free quote here!