Christmas is almost here and you want to decorate, so why not dabble in DIY decoration? Your decoration efforts will be much more rewarding and personalized with a bit of do-it-yourself action! 
And the best part about DIY Christmas decor is that there's so much variety and inspiration, making it easy to find ideas that work for you. Maybe you're short on time, maybe you want to do something different, or maybe you just want to follow the basics. Whatever the case, there are DIY ideas for you here.
Without further adieu, let's get started – your Christmas home decoration cannot wait!
Ornament Trees
This is one of those very creative DIY Christmas decorations that the kids can help with! Let them decide which ornaments to use and where to place them before you get the hot glue out! 
What you'll need:
Styrofoam cones (we use 12 and 15 inch cones)

Ornaments

Hot glue
How to make:
Start gluing the larger ornaments at the bottom of the cones, moving on to smaller ones as you ascend

Wrap the finished trees with Christmas lights and garlands if desired
DIY Candy Cane Candles
What you'll need:
Candy cane sticks

Candle holder (or a scented candle that has a glass pot)

Hot glue

Ribbon

Decoration (optional)
How to make:
Attach candy cane sticks to the candle holder with hot glue

Wrap with ribbon and add small decoration if preferred. That's it! 
Salt Dough Ornaments
Many families have the tradition of making salt dough ornaments, since this is a great family activity that everybody can help with. It's always fun to let your creativity out, especially when you can hang it on the tree for everybody to see! 
What you'll need:
4 cups of flour

1 cup of salt

1 1/2 cups of warm water

Thick sewing threads

Acrylic paint (optional) 
How to make:
Mix the flour, salt, and water in a bowl and knead until it is firm and smooth.

Roll out the dough and cut the shapes you want (use a straw to make a hole for hanging).

Bake at 250°F for 1 or 2 hours until the dough is completely dried

Let it cool completely

Paint the way you prefer, and add glitter, buttons and other embellishments if needed
Christmas Vase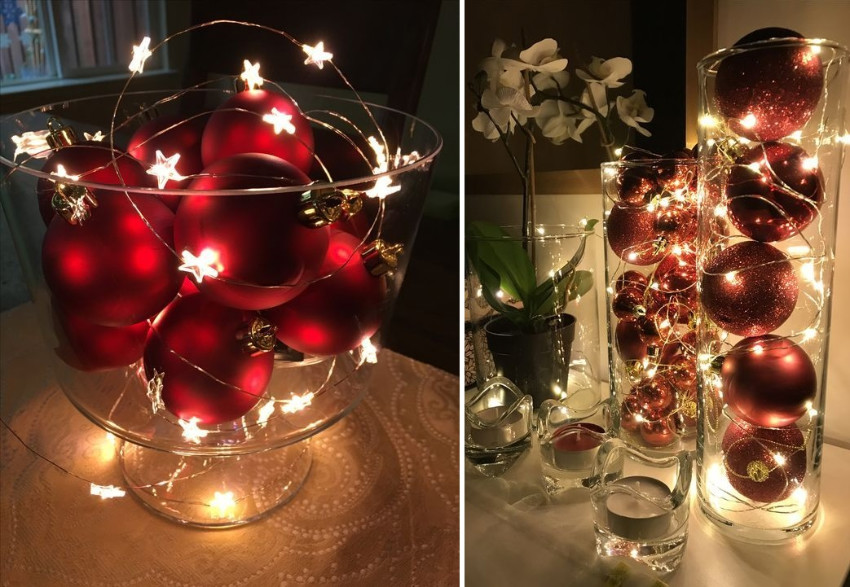 This is a very quick Christmas home decoration for those who are short on time!
What you'll need:
Jars and vases of any sizes;

Ornaments, foliage, holiday lights, etc.
How to make: 
Place the ornaments, foliage and lights inside glass vases or jars

Wrap them with decorative ribbon (optional)

Place them in the coffee table or on top of the mantel 
Coin Envelope Advent Calendar
What you'll need:
Small paper bags (as small as you like)

Rubber stamps or permanent pen

Labels, string and washi tape (or any type of embellishment)
How to make:
Mark the days of the month on each paper bag

Glue them to a board, or hang them on the wall with sewing thread 

Put a few things inside the envelopes every day (candy, tickets, money, any small gifts)
Even if you're a little late to start an advent calendar, it can still be a creative Christmas decor for that blank wall you have. 
Painted Pinecone Ornaments
What you'll need:
Golden spray paint (or any other colors you prefer)

Pinecones

Glitter

Thin ribbon 
How to make:
Spray paint the pine cones with your desired color

Put glitter on while the paint is wet

Let it dry and cut the ribbon with a size you see fit

Pass the middle of the line through the top of the pinecones and tie the ends together
Christmas Book Tree
What you'll need:
Books 

Christmas lights

Ornaments (optional) 
How to make:
Stack the books in a triangle shape 

Decorate with ornaments or other embellishments

Wrap with Christmas lights to make your book tree glow
Citrus Wreath
Tired of the same old Christmas decorations you put up every year? This time you can make something different and unexpected with just a few supplies you may already have at home.
What you'll need:
An orange

Gold macrame hoop (this one is 10) 

Green crepe paper

Hot glue or wire to attach items to the hoop
How to make:
Cut the orange into slices and place them on a wire rack, cooking in oven at 200ºF for 3 hours or until dry to the touch

Cut out your crepe paper using a leaf as pattern 

Use hot glue or a wire to attach the slices and leaves to the hoop. That's it! You can also add a green ribbon to finish the project or leave it as is. 
Potted Pinecone Christmas Trees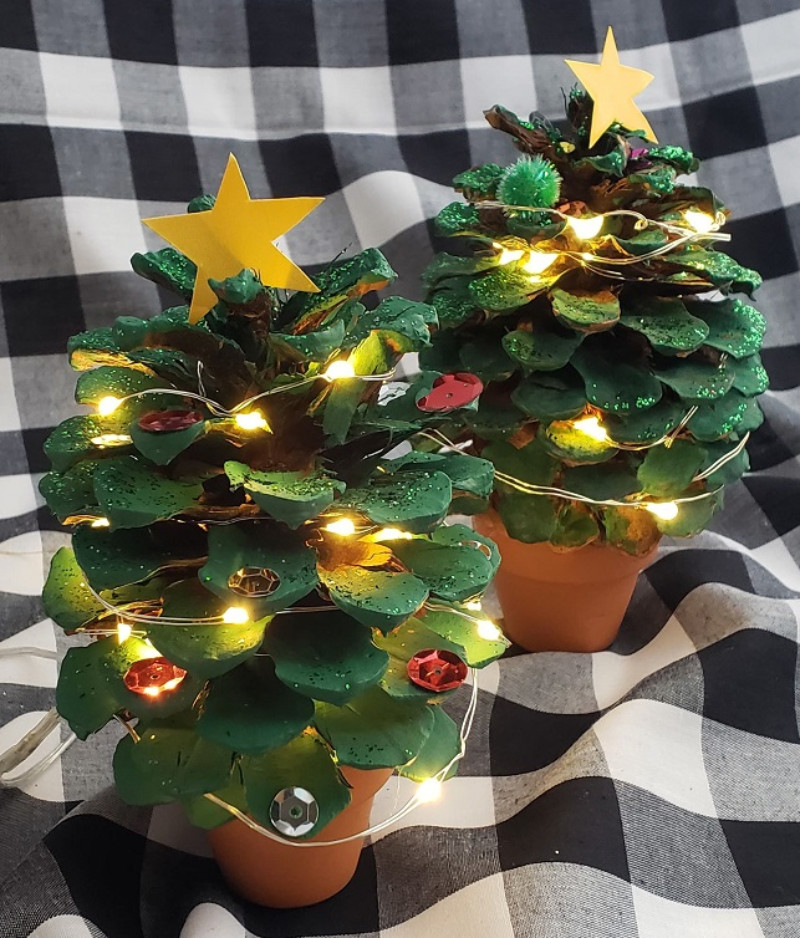 What you'll need:
Pinecones

Green acrylic paint

Yellow cardstock paper to create the star

Sequins

Hot glue

Glitter

Mini flower pot
How to make:
Paint the pinecones with green paint, and push sequins on the tip

Add glitter while the paint is still wet

Add hot glue to the edges of the flower pot and secure the pinecone on top of it

Cut a small star out of the yellow paper and glue it to the tip of the pinecone.

Wrap battery operated lights around the mini tree (optional)
Now with these nine Christmas decor ideas your holiday can be beautiful and inexpensive at the same time! You can also make these decorations with the help of your family, and reuse some of last year's decorations.
It's about to get real cold out here! Are you sure your home is properly insulated? Get free quotes from local insulation companies today!
---
MORE FROM HOMEYOU
7 Inspiring Ways To Decorate Your Front Porch For The Holidays
5 Important Gardening Tasks To Do Before The Holidays
Stress-free Guide To Sharing House Chores With Your Partner