Fall is coming and we see no better way of getting in that mood than taking some time to work on beautiful DIY crafts that show what Fall is all about.
You can use these to decorate parts of your home, whether it's indoors or outdoors, there's ideas for everyone here. Better yet, the level of complexity is pretty low, so you don't have to worry about having a huge assortment of tools or even experience – we're confident you can pull these off with no issues!
"If you cannot do great things, do small things in a great way. – Napoleon Hill
Burlap Wine Cover
Burlap is often used in Fall decorations because of its rustic handmade look that fits so well with this time of the year.
With a piece of burlap you can easily create your own burlap wine covers. Add a simple ribbon to it and you've got yourself a piece of Fall aesthetic on your table. Combine it with the smell of wine, grapes, apples and cinnamon, and you've got yourself a party!
Don't forget to prepare your home for Fall season this year!
Magic twigs
The rustic warm aesthetic is king during Fall and for this piece, it's no different. Basically, you can gather twigs and arrange them on a small vase to look like a dry tree, which is easy enough. After that, you carefully tangle a light string around them to create this beautiful, almost christmas-like tree!
Leaf garland
Garlands are super easy to DIY and customize with different elements and colors that make it perfect for your home. This simple idea involves cutting out leave patterns from different paper types and attaching them to a simple string. You have the liberty of picking your favorite patterns, colors and density.
Wood pumpkin
This one is interesting because it can be made with leftover wooden planks you might have lying around in your backyard. The burlap ribbons are super easy to make, so most of your work boils down to setting up the wooden planks in the right size and painting them orange – which doesn't have to be perfect by any means. In fact, leaving the imperfections of the wood visible makes for an even cooler visual.
Apple candles and table decor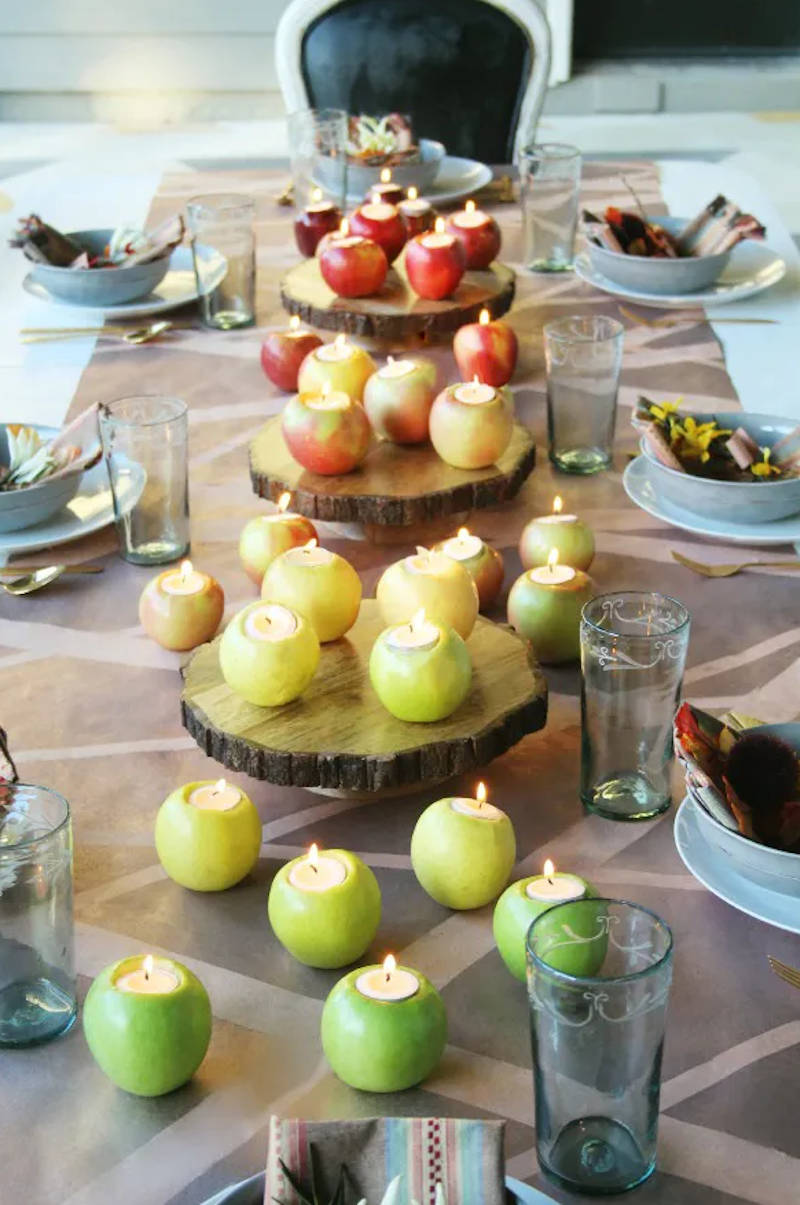 This one is a double feature – classy apple candles and a simple yet beautiful paper cover for your table. Both easy to do and both can be combined with other ideas for the ultimate Fall dinner party!
The apple candles are pretty straightforward – simply cut out the very top of an apple to fit a small votive candle in. The heat will even help emanate a pleasant smell!
Then, using rosin paper and a bit of tape, you can create this abstract pattern to bring the decor together. Here's how!
Need some interior decor advice? Or maybe some home design tips? Get in touch with a professional for more info!
---
MORE FROM HOMEYOU
Here's Your Fall Planting Guide for a Thriving Season
5 Important Steps To Keep Your Fireplace Safe and Warm
8 Beautiful Fall Tablescapes For Your Family Gathering