Every homeowner is always looking for that chic new trend that will add curb appeal to their homes, but we all know this isn't always easy. In some cases, adding curb appeal can take way more time and money than expected, so it's better to make a plan and weigh the options.
Not everyone knows, but upcycling items can make incredibly beautiful planter box options that can ultimately transform a house for the better. 
Interested? Then keep reading to learn some gorgeous oversized planter ideas that you can easily DIY at home! 
"With the new day comes new strength and new thoughts. – Eleanor Roosevelt
Upcycled Ombre Tire Planter 
In case you have a few old tires lying around somewhere, don't toss them just yet. You can transform them into trendy planters! 
And the great thing is that you don't need a lot to achieve that. With basically just paint, these average-looking tires can become exceptionally functional (and beautiful!) planters to decorate your home. 
Other supplies to get for the project include:
Plastic terra cotta saucers

Navy blue spray paint

White exterior spray paint

Light blue spray paint

Construction grade adhesive
Once you have all the supplies listed above, follow the steps below to make it!
Tip: If you don't have any tires lying around, you can easily find an old one for very cheap (or even for free) on tire shops! 
1. Clean and Paint It 
This is the most basic way to turn your old tires into DIY plant pots and as the title suggests, for now you just need to clean them up and paint them. 
Start by cleaning the tire thoroughly. Clean with a degreaser first before using soap and rinsing with lots of water. In case the tire has too much gunk, remove it using a hard bristle brush. Once the tire is clean, give it a few minutes to dry in the sun. 

Apply the white exterior spray paint after that and give it time to dry. Add another coat and let it dry again. 

Finally, line up the tires and paint them with the navy blue spray paint at the bottom to create that beautiful ombre effect.
2. Ombre 
Clean up the tires and let them dry like in the first step above. Apply the navy blue spray paint and follow it up immediately with a light teal paint. 
Make sure you apply the two paints in alternating short bursts. This creates an appearance of the colors bleeding into each other. Give it time to dry.
3. Painting the Base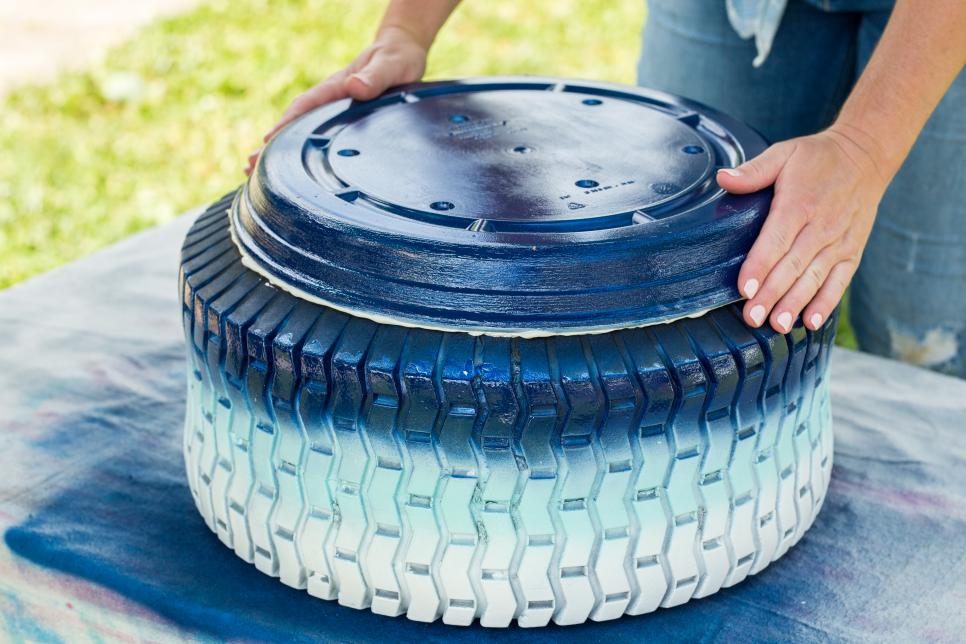 Get the plastic terra cotta saucer and paint it's bottom using navy blue spray paint. Use the same paint to paint the tire as well. 
Once everything is dry, attach the saucer to the tire using the construction grade adhesive. Make sure you press firmly once the adhesive is applied to be sure it sticks well. Wipe out any excess adhesive from the tires before it completely dries off.
4. Making a Simple Drainage System
Planters will need a good drainage system if they are going to survive for a long time. A lot of plastic plant saucers tend to have divets preinstalled when you buy from the stores, so you just need to drill through the divets to create the drainage. 
In case your saucers don't have divets, just drill the holes yourself. A traditional saucer should get five holes, each equally spaced out from one another.
5. Plant and See Your Crops Grow 
Once the drainage is created, fill up your planters with soil and start planting whatever you want!
Tip:
You can attach a premade barrel mover on the bottom if you want to make it mobile. 
Nautical Laundry Basket Planter 
Transform your average plastic laundry basket into a DIY planter box using the simple steps below. For this project you'll need:
A large plastic laundry basket

½ an inch of 3-ply jute rope

High temp hot glue

A navy blue rope

A plastic drop cloth

A drill and drill bit
1. Create the Drainage 
Drill holes in the bottom of the basket. A hole in the middle and one in each corner should be enough for proper drainage.
2. Add Jute 
Place a single line of high temp hot glue carefully along the basket's bottom edge. While the glue is still wet, attach the jute rope. 
Repeat this process, adding the rope along the basket until there's just four inches left at the top. Add the navy blue rope for the remaining four inches for accent value.
3. Add a Liner and Plant 
Once you are done with adding the accent rope, install a liner along the inside of the basket, fill it up with soil and start planting.
Want to start your own garden at home? Contact a local landscaping company to help you with the process!
---
MORE FROM HOMEYOU
How to Grow Your Favorite Fruit Trees at Home
How to Avoid Common Landscaping Mistakes
5 Signs Your Tree Might Be Sick or Dying - and How to Save It