The fireplace area has many options for decoration and glamour, but the most notable central focus of a fireplace is the surround – the outside area that surrounds the fire. Usually this area is decorated with tile work, but tiles themselves come in many visual varieties and materials.
So today we're talking tiles for your fireplace surround!
"Learning never exhausts the mind. – Leonardo da Vinci
What are the best tile materials for a fireplace surround?
Ceramic
Ceramic tiles are common for a more rustic aesthetic and are very heat resistant. A thicker variation works even better.
Porcelain
Perhaps the most common tile material around – which gives it an advantage on the visual department, since visual variety is immense here. It resists heat just as well as ceramic.
Glass & Metal
These are not so common in a lot of cases because they tend to cost more and are not suited for every situation, but for your fireplace surround they can work quite well. Highly heat resistant and bring a completely different look!
Stone
Surprising no one, stone is highly heat resistant. It looks very natural and can be used as an alternative to natural brick, but even tiles with a faux stone texture can work wonders for your visual design.
Now, on with the tile ideas!
1. Subway Tiles
The ever popular subway tiles are popular for a good reason: visually simple, but easy to set up, easy on the eyes, and come in many varieties to suit your taste.
These are slightly bigger than what you usually find, so even the size of the tiles themselves are different options you can consider.
2. Herringbone Tile Pattern
The Herringbone pattern works well to bring some texture to your surround – they fit diagonally, making it look much richer than most other tiles without drawn patterns.
Going for black is a decent idea since when the fire is lit, it creates a nice contrast of bright and dark, but don't be afraid to go for other lighter colors here!
3. Marble tiles
Marble always brings elegance to your home and here it's no different. Marble tiles bring a light textured look to a bright background without it becoming an eyesore in any way – combine it with a beautiful mantle, and your fireplace becomes a spectacle of its own.
4. Textured tiles
The beauty of these tiles is that they are not one hundred percent even on the wall, they are all but slightly off each other, creating a natural texture with minor shadows when reacting to light sources.
It makes for a subtle look that still seems rich and vibrant in its own way, and because it's so subtle, it even supports your idea of having a TV above the fireplace without creating any  visual distractions.
5. Navy blue
There's nothing wrong with adding a bit of color to your fireplace surround. Something like this navy blue pattern can work in tandem with your decoration efforts to create a unique look for the entire room!
6. Mosaic tiles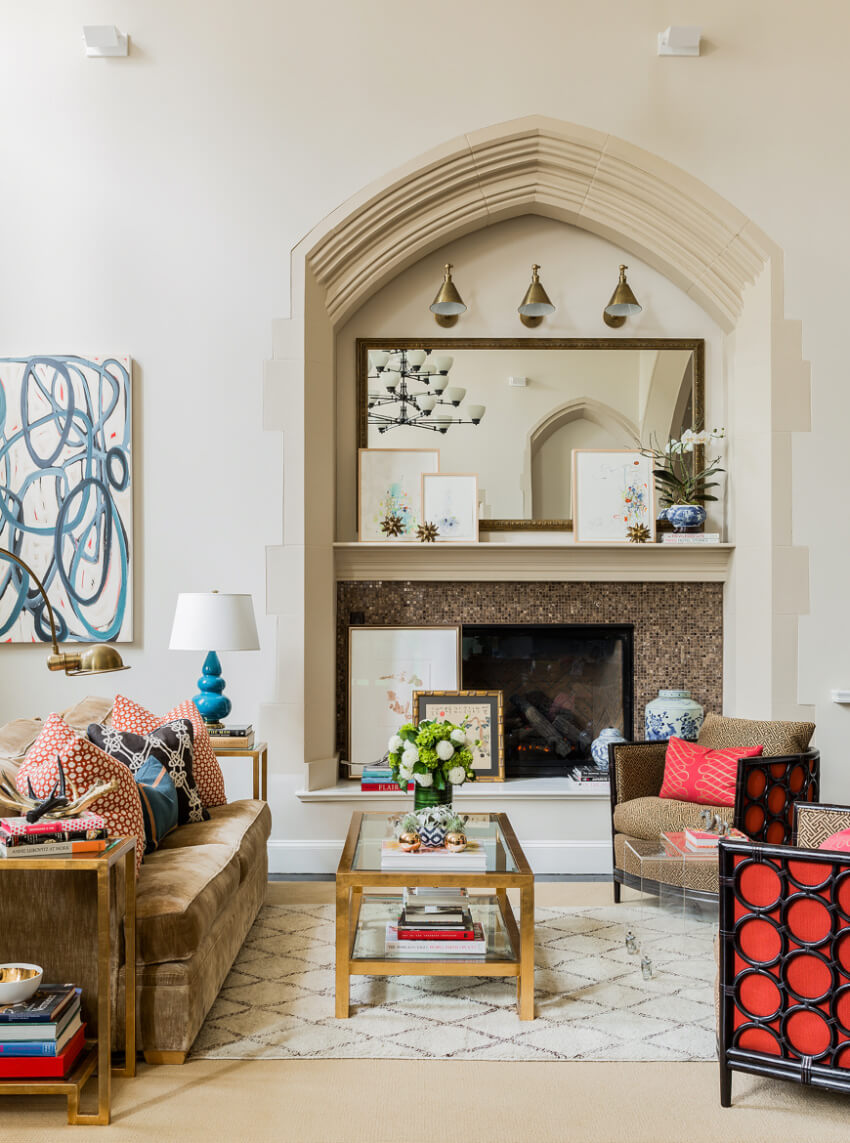 Mosaic tiles work both ways – either as monotone or super colorful. A monotone setup like the one above is great for bringing a bit of texture, but still remaining somewhat subtle to the eye.
7. Three dimensional tiles
And speaking of texture, three dimensional tiles are great for adding some visual variety to your fireplace surround. The three dimensional aspect is usually very subtle, just enough that it creates soft shadows with your lighting!
8. Terracotta tiles
For a touch of rustic, the natural look of terracotta tiles are the way to go. In fact, any sort of "natural brick faux tiles are great for this, as they serve the look beautifully and can be installed easily without a full remodel ever being necessary – which would likely be the case for real bricks.
Need help installing tiles on your fireplace surround? Ask a professional for free quotes in your area today!
---
MORE FROM HOMEYOU
4 Pro Tips To Install a TV Above The Fireplace
5 Easy Ways To DIY More Storage In Your Home
6 Ways To Instantly Improve Your Curb Appeal