Installing a television above the fireplace is a lovely project that a lot of people love, but it is surrounded in a bit of controversy and discussion. Some will argue it's not a good place for the TV, maybe even a dangerous one, but is that entirely true?
Let's break down exactly what can be done and debunk some myths regarding this television placement!

"The journey of a thousand miles begins with one step. – Lao Tzu
1. Ventilation and safety
First and foremost, regardless of how the heat of the fireplace might affect your television, it's a known fact television get hot on their own. Being so close to the wall, it's important you give it some breathing room so it can ventilate properly and avoid overheating.
A recessed niche such as this one solves the issue, giving your television a bit of space to breathe – and as a bonus, it also creates a bit of distance from the heat of the fireplace, serving as an extra layer of protection and safety.
Furthermore, this extra space also helps in reaching the back of the TV for messing with the cables and cleaning when necessary.
2. Positioning
In most cases, going for 60 inches above the ground is a good starting point, but that's not all. When measuring where the TV should be, you have to consider the angle at which you'll be watching from.
Sit on your couch and look at where it will be – if you have to strain your neck or look a bit too high, then it won't do. It might not be noticeable for a few minutes or casual glances while hanging out, but for long stretches it can seriously strain your neck.
Also, be aware of lights and windows that might cause unwanted reflections. Flat screen TVs (which are the norm nowadays) don't suffer much from reflections, but still, they are slightly reflective and while watching any darker movie or show (especially during the day), it's quite bothersome. Take note of lights in places that can cause reflections and if you still don't have some, consider installing window blinds for daytime sessions.
3. Hiding wires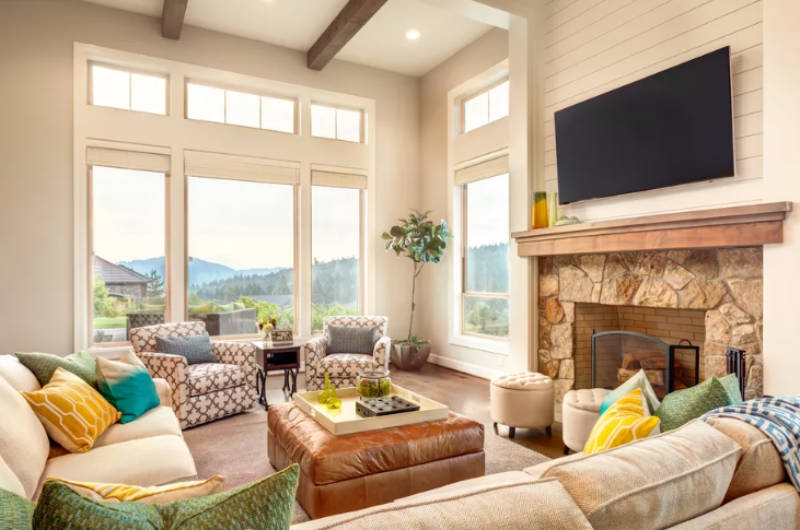 A proper installation with professional assistance will most likely already cover for hiding the TV wires quite well – especially if you have that extra niche behind the TV. And since many living room electronics have wireless options, a tangle of wires should not be a problem.
If a home theater system is out of reach (or you can't find a wireless one for a decent price), consider a soundbar – it will stay right below the TV, the sound quality is great, and it cuts down on the quantity of wires all around. 
When installing your TV above the fireplace, make sure the auxiliary outlets are easily accessible in case you want to connect an extra device or have to rewire your stuff.
4. Fireplace heat
This is where most of the controversy is. It's true that fireplace heat can and will damage your television, but only if not installed properly and under certain conditions. 
You can consult your TV's manual for specifics, but most TVs are safe on temperatures from 32 to 100 degrees F. As long as the heat emanating from the fireplace does not surpass this, your TV should be safe from danger. You can even check this yourself with a thermometer to make sure the temperature range is safe when the fireplace is on.
However, the installation process will help in preventing the heat ever gets that high. The niche we talked about is already good for ventilation, but a professional will make sure your TV is on a safe spot that "dodges some of the heat coming from the fireplace.
If the heat worries you too much, consider an electric or gas fireplace. They are quite effective, beautiful, and the heat is way more controllable for your safety and comfort!
Need help installing your television above the fireplace? Ask a professional for free quotes in your area today!
---
MORE FROM HOMEYOU
How To Deal With Scratched Wood Floors
5 Low-Cost Ideas for a Kitchen Remodel on a Budget
10 Ways To Revamp Your Stairway Without Spending Much