As your needs as a family change dramatically, so does your desire for a bigger garage. Learning how much garage remodel cost runs you are among the first steps in making your dream project a reality. 
Reaching out to a contractor to learn more about what it takes to expand a garage attached to house makes it easier for you to stay within your targeted budget. It allows you to design a space that better accommodates your household needs.
The following garage expansion ideas transform your property quickly and noticeably, so check out which suits your needs better and make an informed decision! 
"Time plays a role in almost every decision. And some decisions define your attitude about time." – John Cale
Extend the Garage Height
When you want to make good use of every square inch of space you have available, you can consider a few options. The first is to raise the garage height to accommodate larger recreational vehicles. This option keeps you from needing to build a second space for winterizing the RV.
If you don't have room for expansion in your property, you can always invest in car lifts to fit two vehicles, keeping the original width. Having the ability to use the existing space above makes much more sense when you're short on land. It allows you to put cars above and below if you have more vehicles than you have separate spaces in the garage.
Extend the Garage Length
Many people use their garages as workspaces. Artists and craftspeople appreciate having workbenches in a space separate from their homes. That's why they entertain the idea of extending the length because it adds value to their experience. It gives them enough room to store their equipment and supplies while still having a spacious area to move freely.
If you have an organizational system that would benefit from being longer, garage lengthening also makes sense. It allows you to store more items safely. A pegboard wall maximizes each square inch by making it a place to hang tools and other supplies. 
Many woodworkers and repair people commit to making the best of the spaces they have available to work in by employing systems for storage that are compact and tidy.
Extend the Garage Width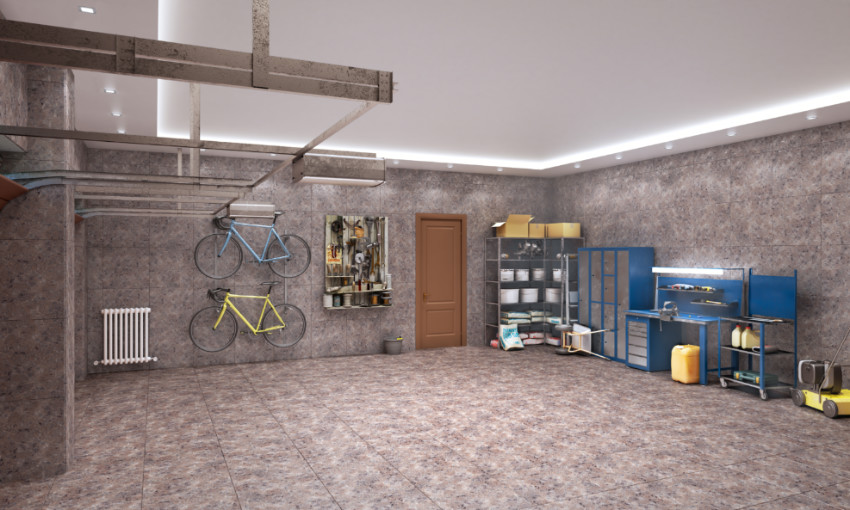 The width of the garage enables you to park additional vehicles inside of it or provide more space for storage. It also offers more space between vehicles, perfect for those who hate cramped rooms. 
If you have items such as golf carts or bicycles that you'd like to store in the garage, it must be wide enough to accommodate these items. A garage extension gives you ample room to move around and enter and exit vehicles with ease.
With more space to work with width-wise, you're able to move items around effortlessly. You'll have more area to work with between objects, so you don't risk bumping into them, scratching, and damaging them. It makes sense to protect your investments every way you can by considering extending the width of the garage without delay.
The Benefits of Expanding a Garage
There are countless benefits attributed to an expanded garage. 
The most obvious benefit is storing larger items such as RVs and small boats in them. 

You can keep additional objects in the space, including second and third vehicles, lawn equipment, and bicycles.

If planning on using the garage as a home gym, entertainment area, or workspace, you'll have a much easier time doing so after an expansion. You'll have the space to roam from one area of the structure to the next without inhibition, even if there is a vehicle parked. 

An expansion increases the value of your property

and makes the home more attractive to buyers. If you're in a position where selling your home is an option, you'll be able to recoup some of the costs involved in expanding the garage. You'll have a much easier time appealing to a wide range of serious buyers who love the idea of having a garage big enough to park more than one vehicle once they've moved into the residence.
There are many reasons for you to invest in expansion services for your garage. Hiring the right company makes it possible for you to get the job done on time and to your expectations. That means that you're able to enjoy all the benefits that come with a garage that is taller, longer, and wider than it was before.
Invest in Expert Services Instead of DIY
Don't fall into the trap of thinking you can do a 3 car garage remodel with a group of friends. Invest in expert services instead and have the job done safely and conveniently. The right contractor makes things easier for you by expanding your garage to your specifications.
Reaching out to a professional with your garage request is the best way of knowing what to expect from the experience in terms of cost, length of the project, and anything else requiring your approval.
There are endless possibilities for how you'll utilize your newly remodeled garage. Contact a garage expansion pro and request a quote for your project! 
---
MORE FROM HOMEYOU
10 Gorgeous Garage Door Ideas For Your Home
The 7 Best Driveway Designs For Your Home
How to Build a Pergola Above the Garage