Most of the time your garage door remains as a practical element that doesn't get a lot of visual flair, but give it the proper treatment and it can become the focal point of your curb appeal game.
Today, I'll share with you some gorgeous garage door ideas that prove just that. They range from simple to bold, from modern to minimalist, with styles that fit almost any taste. I'm sure you'll find one that suits your home, to transform that boring white look into a WOW factor!
"A gentle word, a kind look, a good-natured smile can work wonders and accomplish miracles." – William Hazlitt
1. Modern matte black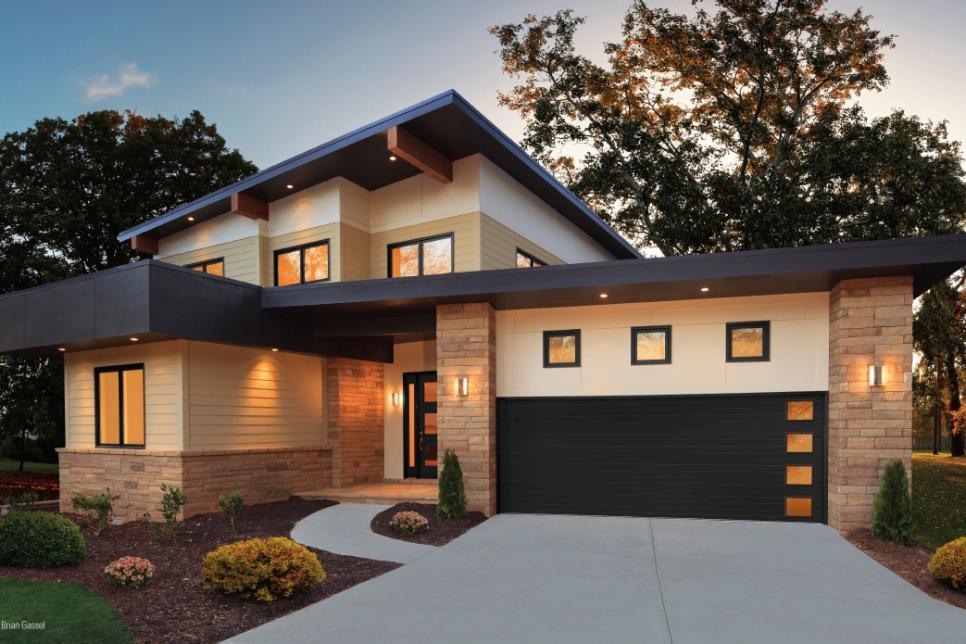 Single colors work really well for garage doors because it gives them a clear accent that separates them from the rest of your house. Here, the matte black complements the black from the roofing structure but contrasts with the light beige used everywhere else.
2. Natural wood
Painting isn't always necessary, as natural wood can also work as an accent even in modern homes. Wood is usually tied to a more rustic look, but in this case it balances out the modern grey look with a dash of warm color in a way that looks intentional and stunning.
3. Subtle grey
Bright grey is usually a safe bet when it comes to garage doors. It's subtle enough that it doesn't distract from other design elements but works on its own to make your garage door look elegant. Combine that with black accents from the handles and it looks just right.
Another way to make your garage door pop is to repaint your home's exterior!
4. Rustic white
White is probably the safest color you can pick as a "works on everything solution, but contrary to popular belief, it can also be used to add a lot of personality to your garage door. For example, it works really well to complement darker or bolder color choices surrounding it. If your exterior features a bold color, white is the perfect contrast to go for.
Plus, the rustic style of these doors come together to create a very unique look!
5. Smoked glass
Commonly seen in modern architecture, a stylish garage door in smoked glass offers a lot of visual interest. The slightly reflective nature of glass adds an extra dimension to your home (since it can reflect exterior light), but smoked glass helps in adding visual interest.
6. Barn door
Barn doors are more of a niche appeal, but many homeowners love this rustic aesthetic. In this case, the door's design takes center stage and is painted black for the sake of keeping it bold and eye-catching. 
Combine it with a dash of modern decor and you'll have a unique garage door design.
7. Rustic wood charm
The combination of wood and black metal hinges creates a rustic garage door look that's very appealing. Painting them is always an option, but sometimes natural wood with smart details already works great!
8. Minimalist
Many garage doors have bevels and indentations to create some visual interest, but you can achieve the same by going the opposite way and opting for minimalism. These are mostly flat with a single color and show minor indents, making it perfect for a modern home. Paint it in a bold tone that matches your home's color palette, and it will look stunning! 
9. Bare wood
Bare wood is quite common in craftsman style homes, a style that focuses on natural resources like wood, stone and marble. The glass windows on top of this one add a charming touch, allowing a bit of breathing room and making your home more welcoming as a result.
Learn more about other popular architectural home styles!
10. A bold color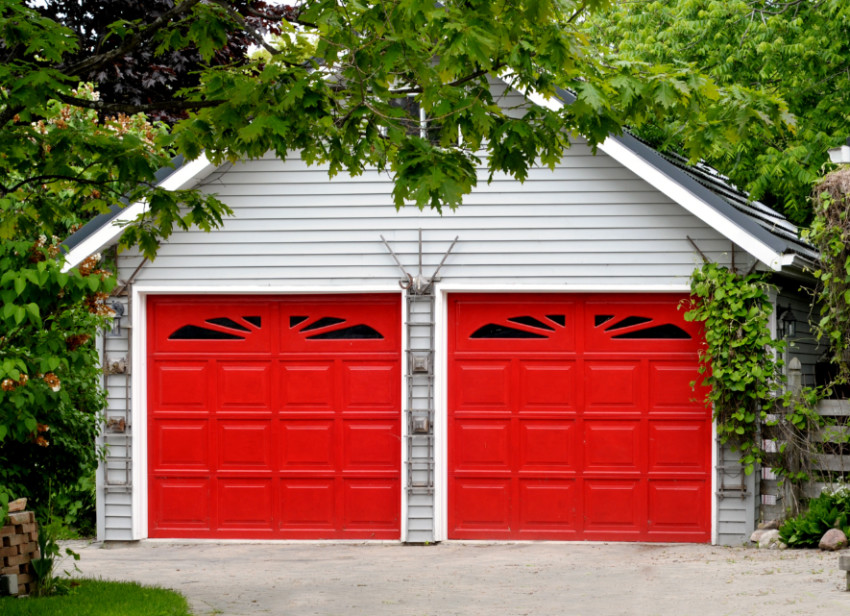 Most of what we've seen so far focuses on wood, grey, or black and white variants. Does that mean bold colors should be left out of garage door designs? Of course not!
Obviously these are not for everyone, but they can work wonders under the right conditions. In this case, because the house is mostly white, the bold red color choice creates visual interest easily and without it looking too overwhelming. It could have been blue or yellow too, since white is an easy color to match against.
Ready to revamp your garage door? Get free quotes today from local garage door pros!
---
MORE FROM HOMEYOU
10 Simple Ways To Revamp Your Home's Exterior On a Budget
What Are the Home Exterior Trends of the Moment?
How to Build a Pergola Above the Garage