The best and most humane way to deal with a mice problem is prevention – making sure they never even nest in your home in the first place. But, if you've seen mice running around your garage, that can be a ticket for them to start roaming around your home, or even worse, nest and procreate somewhere in your garage, leading to an infestation.
Here are the best ways to deal with a mice problem in your house, from prevention to extermination.
"If you cannot do great things, do small things in a great way. – Napoleon Hill
Basic prevention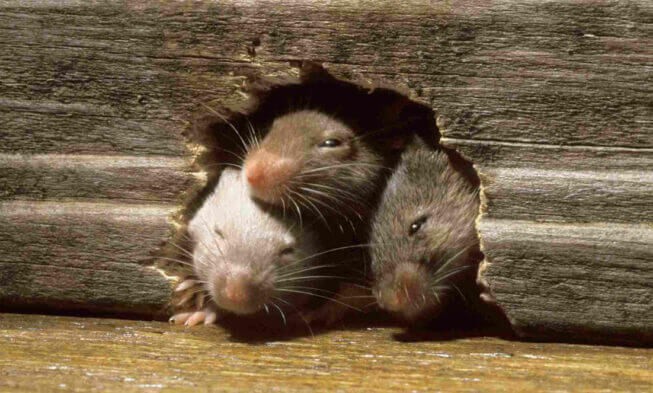 Extermination should be a last resort, but in most cases the problem should never get out of control so much that extermination is necessary.
First and foremost, make sure any cracks and openings are properly sealed. This is the most common way mice and other rodents can sneak into your home. And they can crawl through very, very tiny entrances – as tiny as half an inch. If permanently sealing entrances like this, at least block them with something sturdy for the moment.
The bottom of doors (even the garage door) can also become an entrance if not properly sealed, so either install weather stripping or make sure yours are tightly installed.
Storage areas with food in easily accessible containers also call to mice and rodents, so be sure to lock those up properly in strong plastic containers and as out of reach as possible.
Live traps
Assuming you're dealing with just a couple of rogue mice, live traps are simple ways to capture and free them back into nature. You can find live traps in pet shop stores to do it yourself!
Ideally you should set up more than one around the garage, since mice are quite good at escaping and avoiding traps altogether. For bait, use a bit of oatmeal and peanut butter rolled into a ball – that should get their attention.
Once you've successfully captured them, simply take them to a wooded area and let them go. After that, be sure to take preventive steps to make sure you don't have to deal with mice again.
Cats are natural predators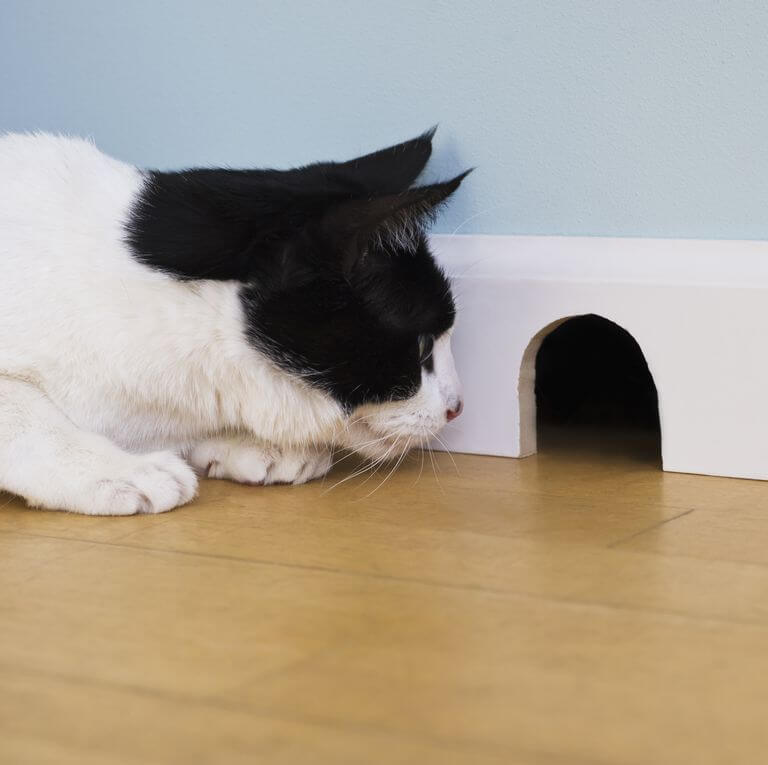 Adopting a cat is not exactly a sure fire solution to a mice problem (especially not if it's a serious one), but cats are still natural predators to mice. So not only will they regularly hunt down any small rodent that invades their territory, but mice are usually smart enough to avoid areas where they know a natural predator lives, making it double as a preventive measure.
And cats are fantastic pets too. 
But if adopting a cat is not something you want to do right now, stick to the preventive measures and live trap alternatives.
Professional extermination
Having exhausted most humane ways of dealing with a few mice, in the case of an infestation, the problem is a bit more serious. Mice, like many rodents, can carry diseases and greatly affect living and sanitary conditions in your home.
In that case, we do not recommend filling your home with deadly traps or poison, as these are dangerous to your health in their own way. We highly recommend hiring a professional to assess the situation and find the best way to deal with an infestation – this professional can also help you take preventive measures to avoid this from happening again in the future.
Need help with a mice problem? Get free quotes from a pest control professional in your area today!
---
MORE FROM HOMEYOU
How to Keep Mice and Other Pests Out of Your Home
6 Reasons Why You Need to Get a Home Inspection
5 Easy Ways To DIY More Storage In Your Home