With everything that happened in 2020, it seems as though everyone can't wait to see what the rest of 2021 holds. With all of the time that you spent at home, you likely noticed some of the things that you loved and didn't like about your home.
Even if you don't plan on putting your home on the market anytime soon, you can still invest in some great home improvement projects to make your house even better and improve your quality of life. 
"With the new day comes new strength and new thoughts." – Eleanor Roosevelt
Upgrade Your Kitchen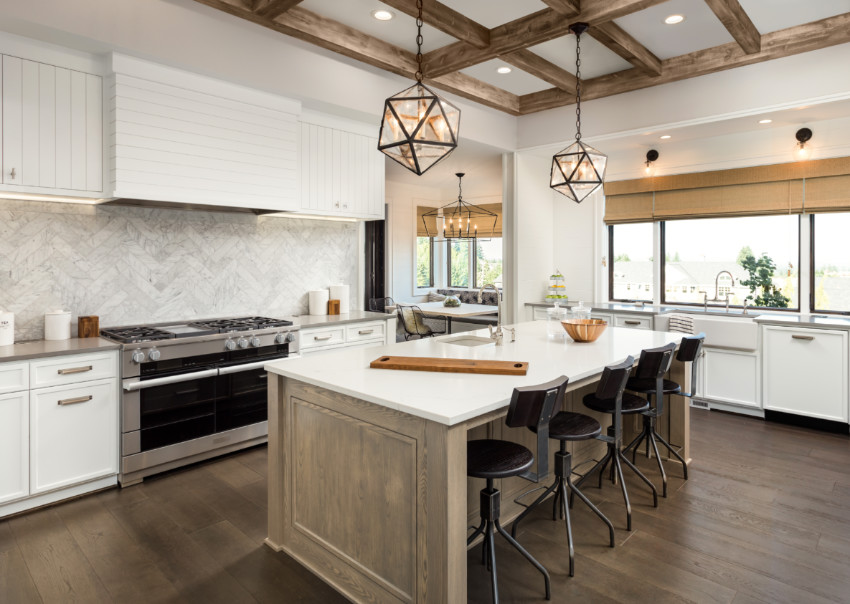 Kitchen upgrades are a great way to add value to your home. You can choose from larger or smaller projects based on how your budget is. 
If you have limited funds, consider adding a new coat of paint to your cabinets or changing the hardware. 

Larger projects can include replacing worn and tired flooring and adding a new backsplash.

Upgrading your light fixtures can also completely transform the space, making it brighter and much more comfortable to use.

Under cabinet lighting

is also a popular addition! 
New Windows
New windows are among the top home improvement projects for this year. Replacing the old windows in your home can save you hundreds of dollars or more per year on your energy bill by eliminating drafts and increasing energy efficiency. 
Also, you don't need to stick with standard or traditional windows because you can always have a bay window installed or add a window seat.
Bathroom Update
When was the last time that you updated your bathroom? Many people find that they spend less money on that room than they do any other, even though it's one of the most important rooms in a house. A toilet not working properly or a leaking faucet can completely ruin your day or even make you waste your time when you're already late for work. 
New faucets and other fixtures can add an elegant touch to the space and make the room look a little more modern and brighter. You might want to paint the walls or swap out the vanity to add extra storage space, too.
Add More Storage
One of the best quality of life home improvements is by adding the right storage solutions. No matter what room you want to change, you can easily and quickly bring in some storage to make it work better for you. 
Here are a few ideas: 
Add simple baskets in your living room to hold magazines and books

Place some plastic bins in your kids' rooms for their toys

Build drawers and cabinets under the stairs 

Add baskets and boxes under the bed to store out-of-season clothes

Add open shelves on the bathroom to store products 

Build under cabinet drawers and add baskets to the top of your kitchen's cabinets
Closed Plan
While some home buyers love the look of open floor plans, more people now prefer closed plans, especially after the pandemic hit and we are spending more time at home with our family. 
An open layout has a nice flow but can lack the privacy that you need, be it for working while your kids are making noise, or to cook freely without it bothering those watching tv in the living room. 
If you are planning on a major remodel this year, consider adding more doors and walls to separate the different spaces in your home.
Paint the Exterior
The first thing that anyone sees when they visit your home is its exterior. If you want to improve your curb appeal but aren't sure where to start, reach for a can of paint. The easiest way to remodel your home and boost your curb appeal is with a fresh coat of paint on the exterior.
Add More Color
To make your home more interesting, you should also add more color on the interior, too. Some of the best home improvements include bright pops of color such as creating a statement wall in your living room or using throw pillows in your favorite color on the living room couch. 
You may want to go for interior painting, especially if you have plain white walls. If you want to stain within a neutral palette, there are some gorgeous grey and beige colors that would instantly make the room pop.
Go Sustainable
Going sustainable is a hot trend for 2021, but it can mean many different things. Tiny homes are popular among those who don't need much space and those who like to pick and move on a regular basis. 
Adding solar panels is another option. Depending on where you live, your power supplier may even offer a refund based on how much power you get from your panels.
Create a Home Office
Whether you work a full-time job from home or hope to start a small business, a home office is a must-have. 
If you have a lack of space, you can set up your office in the corner of a room. An armoire is a good way to save space as it gives you room for your computer and any other hardware that you need.
However, if you do have the space or have a spare bedroom, consider turning it into a proper home office. A big table offering enough space for all your tech and good storage solutions for all your papers will make a world of difference. 
Either way, you'll want to invest in a good chair. It prevents back pain, keeps you much more comfortable and can increase your productivity greatly. 
Add a Gym
If looking at the cost to remodel house seems far outside of your budget, keep in mind that there are smaller projects that you can choose such as adding a home gym. You may not have enough time to hit the gym or find that you don't want to risk picking up germs from those facilities. 
Those with limited space can create a home gym in an office or guest room with just a few pieces of equipment.          
Need help planning your home improvement project? Contact a pro and request a free quote! 
---
MORE FROM HOMEYOU
7 Quality of Life Home Improvements To Simplify Your Days
5 Home Maintenance Costs Every Homeowner Must Be Ready For
10 Easy DIY Home Improvement Ideas Under $50 To Keep You Busy