House flooding is a real headache and it can happen due to a number of factors, from plumbing fixture damage to extreme weather conditions. Regardless of the source, you must be proactive to protect your family and your home from potential health risks that can come with a flooded home.
Should it happen to you there are a few essential things that you need to do to mitigate the damage. This includes:
Halting the flow of water from the source 

Switching off the electricity without your feet touching the water

Lastly: vacate the house
If you're renting the space, call your landlord immediately. If you're the owner, then you'll have to call your insurance company. Note down everything that has happened and clean the area as soon as you can to prevent mold damage. These tips will help you minimize repair costs in the long run.
Read on to find out more about what you have to do if you experience a home flood. 
"A good laugh is sunshine in the house. – William Makepeace Thackeray
Switch Off the Water Source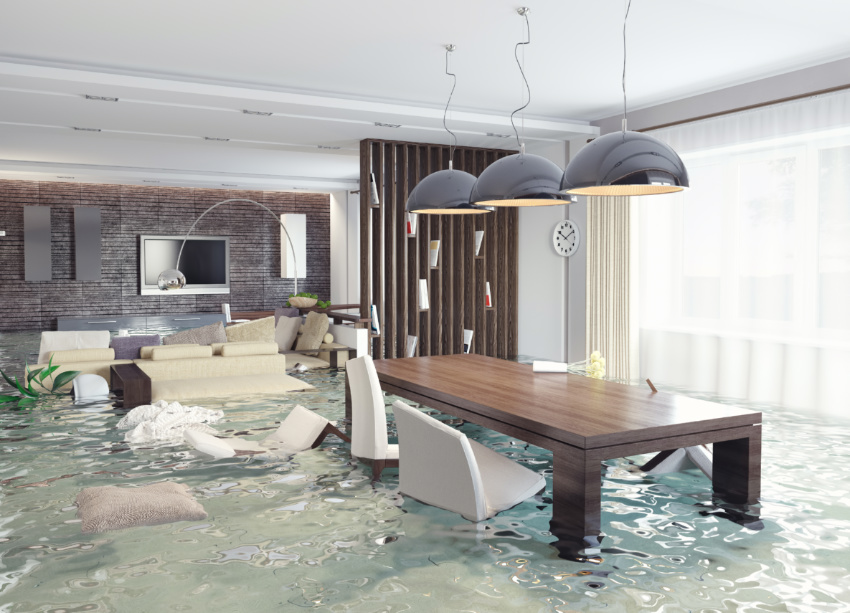 If the flooding is due to natural causes, there isn't much you can do to stop it. But, if it happens as a result of plumbing damage then it's in your control. That means you can switch off the water source and switch off the main water valve to stop the water flow. 
Turn Off Electricity
Once you've switched off the water source, it's time to switch off your home's electrical system as well. Just be sure not to step on the water before you switch off the electricity. Call a local electrician if it's impossible for you to get to the fuse box without stepping on water. 
Get Out of the House
If you find that the issue is with a sewage leak or burst pipe, it's best to step outside of the house into a dry spot in your back or front yard. Take your kids and pets with you to avoid any contact with hazardous elements. 
If the flooding happens due to a natural disaster or extreme weather, exit the house immediately and find temporary shelter for you and your loved ones. Keep an eye on the situation by listening to local news and consult with the relevant authorities. 
Call for Professional Help
Once you and your loved ones are on dry ground, it's time to start home water damage restoration. Call 911 if there is a need for medical assistance. Once you've made sure that everyone's safe, call the water damage contractors and authorities to help you start the flood cleanup process.  
If you're renting the property, call your landlord and get them up to speed on what has happened. If you haven't already, save your landlord's number on your phone so that it's available immediately when you need it. You should also keep a written copy of that number in the glove compartment of your car as backup. 
As a homeowner, your first course of action is to call your insurance company to let them know about the extent of the water damage. Find out if it's necessary to wait for a visit from an adjuster before you call a repairman and clean up the mess. 
Document Everything
Before you start the water damage repair, record all the damage and events that happened around it. That way, you'll have documented proof to show to your insurer. 
Take several pictures of the damage from multiple angles using your phone and avoid touching any of the flooding before the professionals get to your house. 
The water may be contaminated with hazardous materials that you don't know about. Wear waterproof boots or waders before you enter the house to protect yourself from any potential toxins. 
Start Cleaning 
Flood cleanup is not easy, but it can be done. 
First, you must remove all of the water, followed by any salvageable personal items. 

Next, dry out the area and disinfect everything. Make sure to wear protective clothing while doing all of these tasks to protect against bacteria contact. 
The Red Cross manual on how to deal with house flooding might be of a particular interest to you as a homeowner, as it guides you step-by-step on how to complete this process safely. 
Even if you've never dealt with a flood before, it might help to prepare yourself for the possibility by getting educated on how to fight the problem. 
Prevent Mold Damage
There are different levels of damage that occur due to water damage. One aspect is the property damage and the other is mold which happens after the flood. Mold can negatively affect your health so you need to avoid it as much as possible. 
One way to do so is by drying the flooded area and using a bleach solution to treat areas that are starting to show mold damage. 
Contact a water restoration service provider to help you clean up the more severe damage! 
---
MORE FROM HOMEYOU
5 Ways To Tell You Have a Plumbing Leak
These Reasons Will Convince You to Waterproof the Basement
Safe and Sound: The Expert Steps of Water Damage Restoration