Designing a garden is super fun – from picking the plants and colors that you want to getting your hands dirty, it's incredibly satisfying and rewarding to see it all grow over time… but one aspect of gardening that homeowners often forget until it's too late is the huge amount of maintenance it takes to keep the thing going. 
Not to worry though, there are ways to circumvent this.
The ideas here are based around making better decisions when designing your garden, so that you can make something beautiful to care for, but that won't become a major time sink.
"Two roads diverged in a wood and I - I took the one less traveled by, and that has made all the difference. – Robert Frost
Reduce the lawn area
Before we even get into the plants you need to care for, let's not forget about the lawn, which usually covers a wide area and requires regular and intensive maintenance. In a fairly large area, it can be the biggest time sink of your entire garden.
If that's your case, you might want to consider a few creative ways to reduce the lawn area, like: 
Create a pathway with rocks

Invest in an outdoor patio or kitchen

Remove the lawn around the edges to make more room for flower beds
Having some lawn is good and even healthy for your garden, but having so much you dread the thought of cutting it is too much.
Choose the best plants for you
The way plants look is very important, but that's not all. Consider the amount of maintenance they require as a deciding factor when you're researching your options.
Some plants need tons of maintenance in the form of sunlight, watering, trimming, and even special soil conditions. This might not seem like much different from any other plant, but any gardener will tell you – some plants are a lot of trouble.
To save yourself the hassle, opt for low-maintenance options. This includes seeking native plants to your region, because they are already ideal for your current climate and soil conditions, and will grow much faster as a result.
Water features are hard to maintain
Even small ponds, as gorgeous as they might be, are extremely high maintenance. Water is a hot spot for birds and other wild life – which is good for your garden to a degree, but it can get out of control. For example, still water is where mosquitoes like to lay eggs.
If you need to know more about water drainage for your garden, check this guide!
Use perennials to your advantage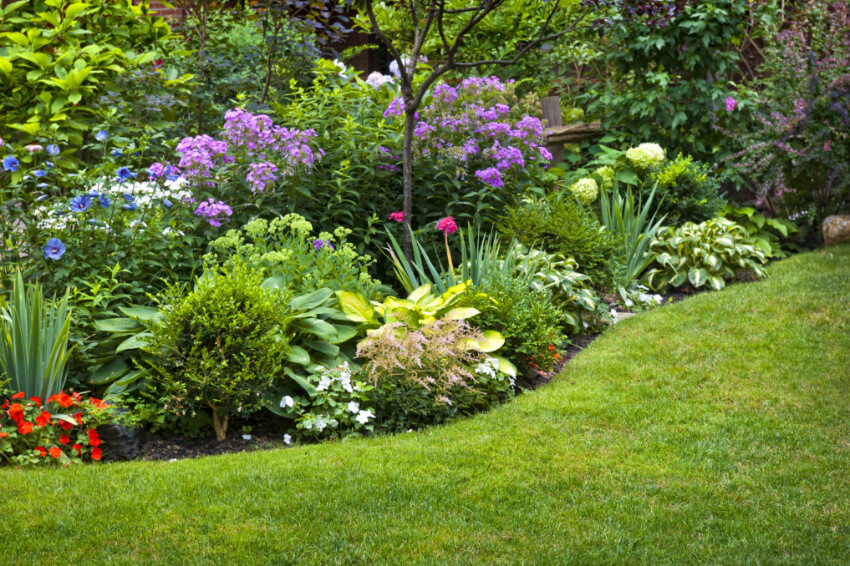 Perennials are excellent low-maintenance additions to your garden, as opposed to seasonal flowers that will wither with the passing of the seasons. The advantage of perennials is that they bring color to your garden, and with just some basic maintenance, they will last this whole year (and the next one too).
Keep your tools organized
A garden is nothing without tools. Some homeowners will go as far as to build a small shed just for gardening supplies, but if you can't invest in one right now that's not a problem – use your garage space.
You can make good use of a wall or a corner to store all your gardening tools for easy access. A huge part of maintenance comes from your reliable tools, so it's important they're always in the same place. Gardening is adopted by many homeowners as a relaxing hobby, and there's nothing less relaxing than scrambling to find what you need.
Spread mulch on beds
Mulch is excellent for containing unwanted weed growth, preventing water loss, and improves overall soil texture. Not to mention, during winter frost, it works as an extra protective layer for your roots!
To make things even easier, you can produce your own mulch with leaves that you gather during Fall. If you haven't done it this last Fall, check it out to prepare yourself for the next one – the sooner the better, because mulch takes one year or more to produce.
Need more help with a landscaping project? Talk to a landscaping architect today and get free quotes in your area!
---
MORE FROM HOMEYOU
10 Simple Tips To Keep Your Houseplants Healthy This Winter
Here's What You Can Do To Save Your Plants From Frost
What You Should Know About Water Drainage in Your Own Yard