Our homes should be the most peaceful place in the world for us, but more often than not, they can be a little stressful. After all, maintaining a home takes a lot of effort and it can feel like more work after a busy day. So how can you make your home more soothing and relaxing without taking too much time out of your day?
Well, organization and cleaning play an important part, but there's a lot more than that. Every single one of our senses can affect our moods in different ways: sight, sound, smell, touch and taste. While taste isn't as important in this context, the other four are.
With that in mind, let me guide you through the most important tips that will make your home more peaceful than ever before!
"Keep your face always toward the sunshine - and shadows will fall behind you." – Walt Whitman
Declutter
Decluttering may seem obvious, but it's by far one of the most important tips for a relaxing home. In fact, it's a great first step to tidy up the place before diving into the rest of this list, since everything is made easier after cleaning, organizing and decluttering.
If you don't know where to start, go with the ultimate declutter guide that I've made before!
Hire a cleaner
Quite often we lack the time and energy to clean the entire house by ourselves, which is why hiring a house cleaner is the perfect compromise. You won't worry about this chore anymore and will always have a clean home that you can enjoy immediately while saving your energy for other things.
Use houseplants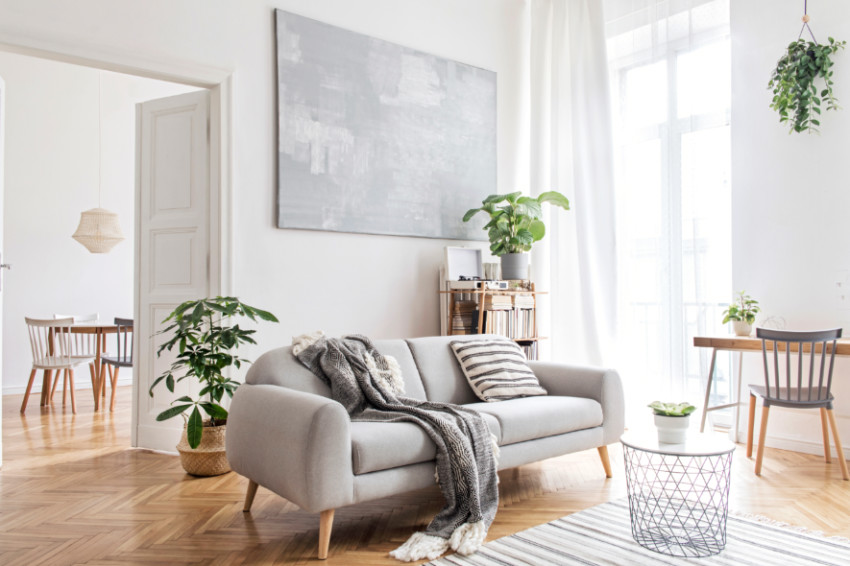 Houseplants are a growing trend in interior decor simply because they look incredible in a modern home, but even better than that, they can even improve indoor air quality. Succulents can be used for minimal and low-maintenance decor, while bigger plants can be used for bringing more life into any room.
Besides, the extra contact with nature also improves your mental health, according to research! 
Good lighting
Lighting makes a huge difference in our moods. The addition of utility lights in the kitchen, for example, helps a lot in making the space more comfortable for cooking.
However, natural sunlight should never be discarded, as having wide open windows during the day provides a massive boost in energy, which improves your mood almost instantly!
Scent
You can use essential oils or even natural houseplants to make your home smell nicer – especially useful during colder months where we mostly stay indoors. Incense is also an option, though some people don't like the smoke, so you can resort to essential oils to ensure your home always smells nice.
Get cozy
People have different opinions of what's cozy, but you can't go wrong with fluffy blankets, along with soft pillows to decorate the couch. Getting cozy is about making your home feel more welcoming for yourself too.
This also includes investing in furniture. Perhaps you feel your living room is missing a couch, or a center table, or a large poof. Don't be shy about pampering yourself and investing in comfort pieces! 
Surround yourself with art
Displaying your favorite artwork is a fantastic way to decorate as well as celebrate art in general. You can pick something that fits your decoration and aesthetic while adding a lot more visual interest to any room.
Hanging artwork and photographs also shows off your personality and style, making your house feel much more like a proper home. 
Maintain your HVAC
Your HVAC system is responsible for a huge part of your quality of life, not just during the winter. Air ducts are used for ventilation throughout the house, as well as cooling and heating accordingly. Scheduling regular HVAC inspections and making sure it is always well maintained will allow you to have an easier and more comfortable time during any season.
Meditation corner
Meditation is one of the best ways to unwind and relax after a stressful day. It can be hard to find a spot for it in the house sometimes, so I recommend setting up a corner just for that. Then, no matter the situation or how stressful your day was, you know your meditation corner is always available for you.
If you want to take it to the next level, you can also create a meditation room!
Hidden storage
Hidden storage is mainly used to, well, hide stuff. The idea is that storing all your stuff in ways that display them makes for a somewhat cluttered look, even if things are fairly organized. By making good use of hidden storage to at least keep the least important stuff out of sight, you help in creating a cleaner look for your home. 
Ready to make your home more relaxing? Start by hiring a house cleaner in your area! Get in touch today to get free quotes and start making changes.
---
MORE FROM HOMEYOU
7 Tips For a Stress-Free Kitchen
How To Deal With Seasonal Allergies
How To Create the Ultimate Room for Meditation