This May 9th we celebrate Mother's Day – a day to cherish the great women who put us in this world and the loving souls that have dedicated their lives to raising us, whether by blood or by bond. What better way to do that than with thoughtful DIY gifts that can help them, soothe them, and remind them you're thankful for everything they've done?
These Mother's Day gifts ideas are mostly beginner friendly, so even if you don't usually dabble in crafts, you can make something special for the most special person in your life – your mom!
"All that I am, or hope to be, I owe to my angel mother." – Abraham Lincoln
1. Herb Planter
The perfect gift for a mom that loves cooking. All you need is a small wooden box with pots that contain a selection of useful herbs. These are pretty low-maintenance, can be brought indoors for protection and most importantly, can be picked up fresh for cooking.
If you have the time, you can also paint the box and decorate it in a way you know she would love. 
2. DIY Mug
You can customize a white mug with a bit of paint in a charming and effortless way – in fact you're free to let the kids help with this one. Here are the supplies:
Acrylic paint (check the label to see if it can be used on glass or ceramic surfaces)

Mod podge dishwasher safe sealer

Small paint brush to add details 
To make the art, you can simply make a few shapes and drawings, or just let the kids go wild with colors and see what happens. After painting, simply bake the mug at a low temperature according to the enamel acrylic paint directions to make the art permanent. You can also use a sealer for extra protection. 
3. Papier Mâché Planters
Gifting flowers is always nice, but now you can do it with a custom planter as well. It's actually quite simple: fill up balloons in the size you want and cover them in papier mâché while leaving the upper part open. Then let it dry and pop the balloon to get your planter!
If you're feeling crafty you can even use different colors of papier mâché or paint once it's dried.
4. Lavender Pouches
These lavender pouches have a wonderful smell, making them perfect for leaving inside a drawer of delicates to keep them smelling fresh for longer. A simple Mother's day DIY gift if you know your way with sewing, but it's also quite easy for a beginner.
5. Homemade Soap
Turns out making soap at home isn't that hard. You can use this idea to make your mom a few adorable soap bars with essential oils, a gift she would absolutely love. Follow the tutorial and surprise your mom with this incredible homemade gift idea!
6. Knotted T-shirt Headband
This beautiful knotted headband is made with t-shirt yarn and a basic sewing kit. It looks great and you can even make more than one for a selection of different colors if you like. Check out how to do it and get your mom this awesome DIY gift idea!
7. Cute Keychain
This keychain is essentially a bunch of small love letters to your mom, which makes it one of the most charming Mother's Day gift ideas. 
You can add messages you want in any way you want, but the idea remains the same: write down things you love about her, how she makes you feel, or little things she does that you love. Whenever she reaches for the keys, she has a reason to be happy about it!
8. Custom Bookmarks
If your mom is an avid reader, you can create your very own custom bookmarks. It's very simple and gives you free range to explore your creativity and make them more personalized. Here are a few ideas:
Write down quotes from her favorite books

Write a few things you love about her

Make cute drawings (you can find inspiration online) of things she likes

A simple "Happy Mother's Day also works
9. Clay Ring Dish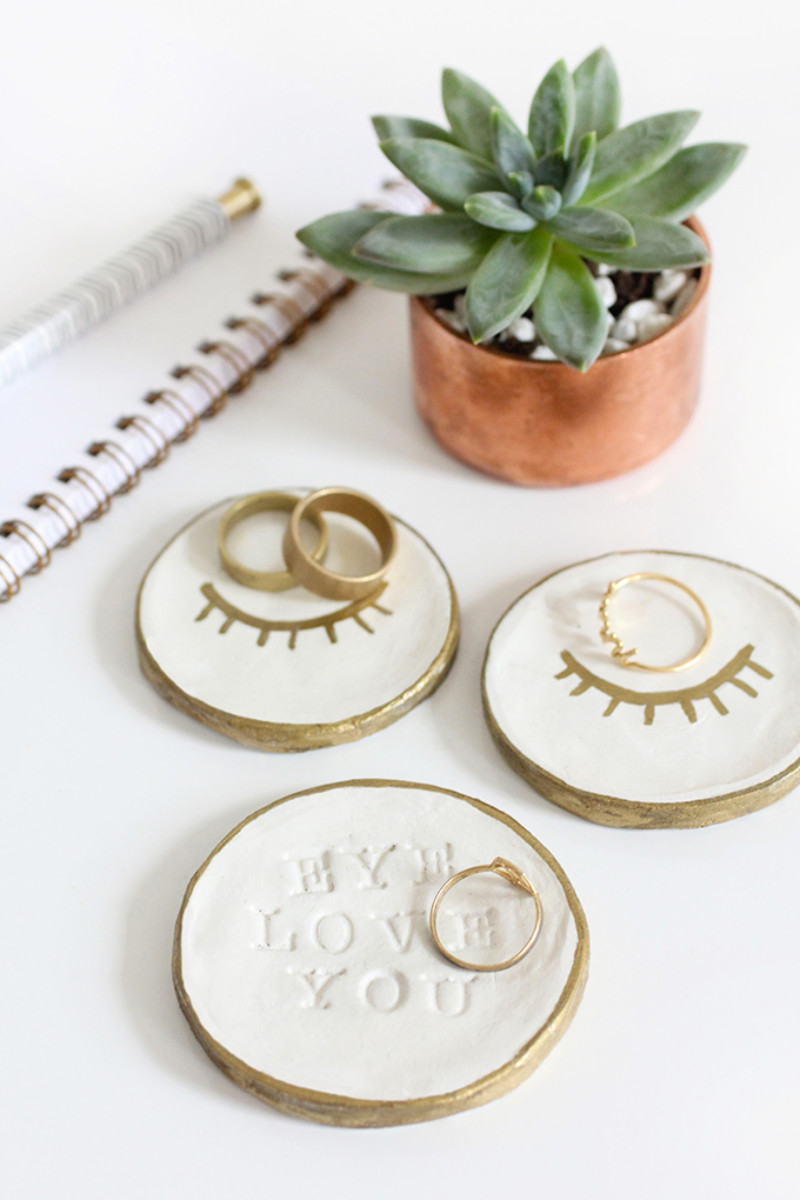 The beauty of this dish ring is that even if you're not expert at clay projects, the shape is basic enough that you can pull it off anyway. Easy to make and to add the finishing touches, you'll be impressed with the results – and your mom will love it. Follow the tutorial! 
10. Homemade Potpourri
This homemade potpourri is incredible. A combination of dried herbs, fruits and spices that can be poured in a bowl to release a wonderful fragrance around the house. A thoughtful Mother's day homemade gift that produces effortless results.
---
Don't forget to follow us on Facebook to always see the latest articles that include fun crafts like this, as well as tons of homeowner tips that will make your life better.
MORE FROM HOMEYOU
9 Mother's Day Gift Ideas That Aren't Just Flowers
8 DIY Cards That Will Wow Your Mom on Mother's Day
12 Best Movies to Watch on Mother's Day