The celebration of Saint Patrick's Day is famous for the wide variety of drinks you can try, some involving typical Irish beverages and flavors, and some that are simply delicious for the sake of celebrating!
For this list we're taking a look at the best St. Patrick's Day drinks for you to try. There's enough variety for everyone, from whisky cocktails to jello shots, and from green beer to a tasty smoothie.
Don't forget to share your favorite St. Patrick's Day drink recipes as well and be sure to try them all out. Just, you know, in moderation!
"If you can dream it, you can do it." – Walt Disney
1. Shamrock smoothie
A wonderful smoothie made with bananas, coconut milk, spinach and cocoa powder – a combination of flavors that feels rich, fresh, and light. A perfect St. Patrick's Day recipe idea if you're looking for something non-alcoholic to start the day!
2. Whiskey clover
This elegant whiskey cocktail is quite simple to make, but still feels exotic in flavor. You will need:
Wood sorrel leaves and stems

Egg white

Irish whiskey of your choice

Fresh lime juice

Simple syrup
Combine the leaves and lime juice on a cocktail shaker for the muddle. Then add the egg white, syrup and ice. Finally, shake until well stirred and drain for serving. Enjoy!
3. Ginger and pineapple mint floats
This deliciously fresh ginger and mint float is an explosion of flavors! Plus, it's another great non-alcoholic option for those of you who want to celebrate St. Patrick's Day with something lighter or have any restrictions towards alcohol. Get the recipe and enjoy!
4. Irish coffee
The most basic way to make irish coffee is to add a portion of whisky to your coffee. It's a pretty strong drink that a lot of people will enjoy, but there's a way to make it a bit more palatable.
Use brown sugar to add sweetness and heavy cream and chocolate shavings for topping. Combine that with brewed coffee and the Irish whiskey for a strong, but sweet drink!
5. Whiskey Cocktail
This may look like your common whiskey cocktail, but it actually features a twist. You'll be using honey syrup to make it into a palatable, sweet and powerful pub-style drink that can be sipped calmly without that punch of the whiskey. Here's how to do it!
6. Jello Shots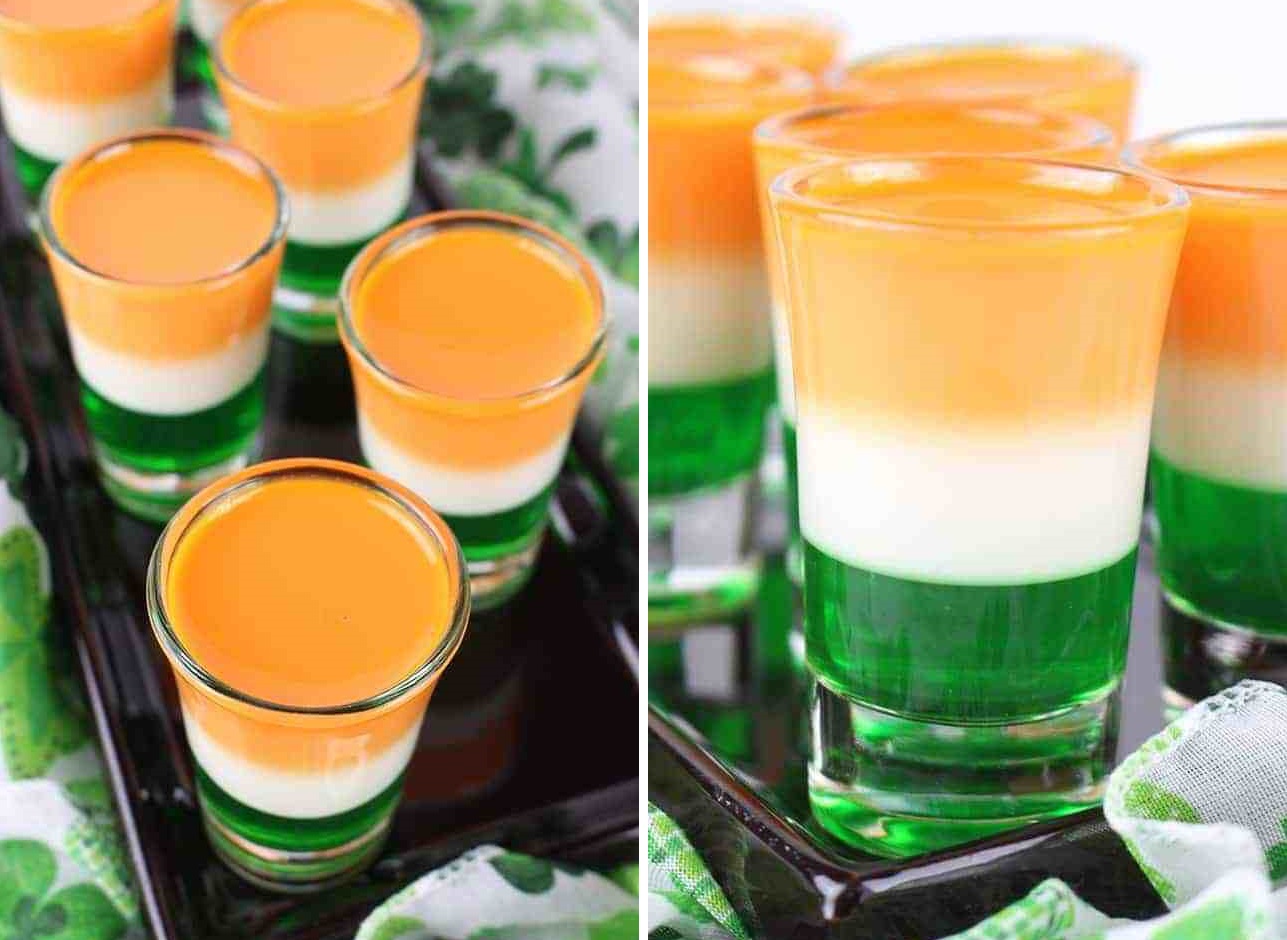 If you're looking for St. Patrick's Day drinks with vodka, you've come to the right place. These jello shots may look innocent, but they pack a serious punch. You'll taste a wonderful mix of gelatin, condensed milk, whipped cream and vodka.
It's great as a bite-sized way to celebrate, with the colors making perfect sense for St. Patrick's Day!
7. Green beer
It wouldn't really be St. Patrick's Day without the iconic green beer, would it? The drink goes really well with main courses and it's light enough to be sipped all night long (in moderation, of course). And the best part is that there's absolutely no secret to making it. 
All you need is beer and a drop of green food coloring – that's it. The only tip to make it bright green is to opt for light-brews, which includes most american beer brands. Apart from that, any beer should work!
Stay updated on all the deliciousness we find for you by following our Facebook page, there are new recipes and homeowner tips every week!
---
MORE FROM HOMEYOU
Top 10 Most Delicious St. Patrick Day's Desserts
9 Animals That Are Just Too Ready for St. Patrick's Day
7 Traditional Recipes for a St. Patrick's Day Feast