Summer's around the corner and like most people, we're dreaming of lounging poolside and finally taking some time to relax. 
And even though we can't have a pool party due to social distancing, it doesn't mean we can't transform our swimming hole into a relaxing backyard oasis for relaxation. 
Keep reading to find out some gorgeous backyard pool landscaping ideas that you can try out in your home! 
"The quality, not the longevity, of one's life is what is important. – Martin Luther King, Jr.
Low-Maintenance Plants
One of the best inground pool landscaping ideas is to incorporate a variety of low maintenance plants that lend a Mediterranean style with a rustic aesthetic to your home. 
Make sure the plants you pick can handle being in a dry and rocky setting so you won't have to spend as much time and money in their maintenance. 
Personal Oasis
For a more vibrant and lush backyard setting, you can't go wrong with a setup of tropical plants with overflowing flowers and vines. 
Creeping plants that cover the ground are perfect for covering natural boulders and making the area much cozier and romantic. 
Beautiful Containers
There's nothing like beautiful containers to add color to the area. The added greenery perfectly complements the lush colors of your lawn and accompanying plants. 
You can even make a combination of plants including medium-sized filler plants, brightly colored high-impact plants to attract the eye as well as creeping plants that spill over onto the side of the container. 
Eclectic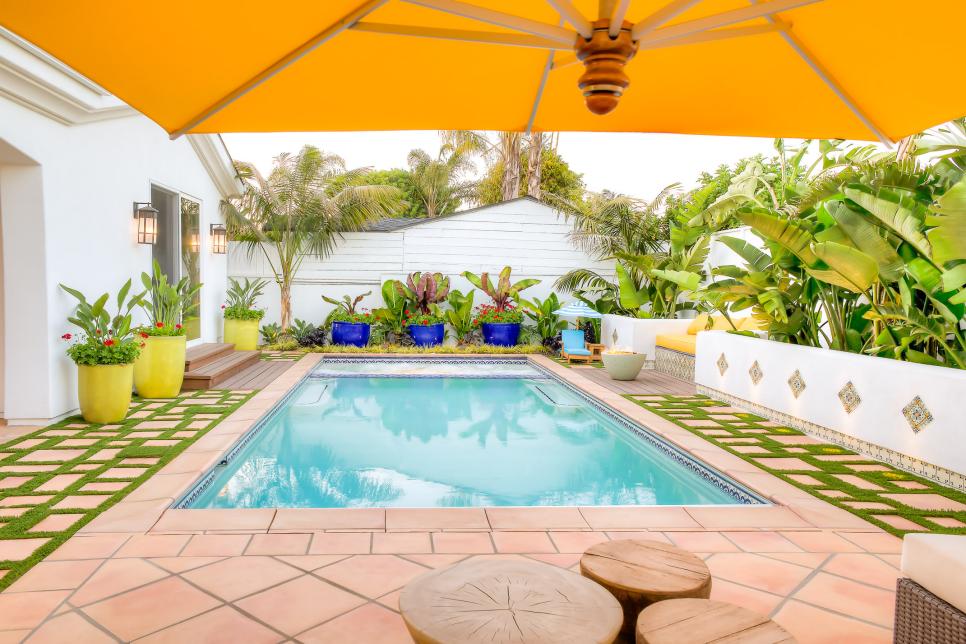 The combination of different containers as well as the rectangular planters that are close to the ground make for a relaxing and tranquil scene. 
It works great when paired with a complimentary earthen landscape and you can replicate the look with palm and banana trees in your backyard. 
Bed Head Gardening
The bed-head gardening style is one of the most popular pool landscaping trends. It's all about centering your design on colorful plants, such as: 
Ornamental grasses

Daylilies

Lush hydrangeas 
The goal is to end up with an overgrown type of look that purposefully lends a sylvan backdrop to your landscaping. 
Clean Lines
As the name implies, this aesthetic is all about maintaining clean lines and keeping it simple with your layout and nuances in features and accessories. What you end up with is a luxurious feeling pool area without an elaborate design. 
Herbs
Herbs are another viable option when it comes to pool landscaping. In addition to beautifying your backyard area, herbs smell wonderful and you can always use them to add flavor to your meals. 
The best part is that most herbs are low maintenance and aesthetically pleasing, especially lavender, making them a great option for the area. 
Hedges
Hedges simply look great when paired with a lush green lawn. This arrangement will help you maintain your privacy while enjoying an elegant background. 
This particular aesthetic looks great in a terraced landscape and will turn your pool area into a stunning vacation spot. 
Natural Look
Leave it to Mother Nature to collect a number of flowering groundcovers, aquatic vegetation and rocks placed all around your pool. 
This approach is popular for people more connected to nature and don't mind the extra maintenance. 
Asian Fusion
In line with Asian design, this aesthetic is characterized by simple concrete pavers organized according to clean lines. A combination of drought-resistant plants, grasses, and shrubs is always a good idea here. 
Some of our favorite options include:
Fast-growing bamboo

Japanese maple trees

Pine

Mondo grass
Privacy Palms
Planting palm trees is one of the best ways to ensure privacy in your backyard while creating a tropical feel. 
The taller your palm trees get, the more they'll hide you from the neighbors whilst creating a relaxing atmosphere. 
Above-Ground Glamour
When it comes to landscaping ideas around the pool nothing beats the above-ground glamour against striking steep hills if you're lucky enough to have that at your disposal. 
Tip:
Copy the look above by focusing on planting yucca plants alongside the pool and adding square cement slabs around it.
Checkerboard Paver
Geometric landscaping is characterized by practical yet attractive elements, and the best part is that it lends itself to DIY construction. You can easily create this look of an attractive checkerboard paver with a few simple supplies or with the help of a local concrete contractor. 
Moroccan Spice
This pool landscape looks absolutely dreamy with its draping greenery and Moroccan tile. You can easily implement the same thing with some Russian sage which will look stunning after a few years of TLC. 
Contrast Themes
When considering your backyard color scheme, try unique and dramatic themes such as dusty purples, silvers, and lush greens. 
Boxwood, lavender, thyme, and jasmine are fantastic choices to achieve this look and enjoy a dramatic aesthetic. 
These pool landscaping ideas will surely transform your backyard into a dreamy and relaxing space. Contact a local professional and request a free quote! 
---
MORE FROM HOMEYOU
Classic Landscaping Ideas That Never Go Out of Style
The 6 Most Incredible Swimming Pools In The World
Your Pool Safety Checklist for Kids