Technology offers tons of extremely valuable tools for small businesses. Nowadays, this has reached the point where a contractor who doesn't use technology to its fullest potential is simply missing out.
The idea here isn't to point you towards specific apps (since there are millions of those) but to show you what they can do and how they can help you, so that you can seek out the best options yourself. We'll bring up some hints based on what we use, but you're free to experiment with whatever you find, especially since there are so many free options on the market.
Important to note that any regular smartphone has access to these tools we're discussing – whether you're an Android or iOS user. The most popular apps often work on both devices, but in the odd case it's only made for one system, you can certainly find a worthy substitute of the same caliber for your system.
Without further delay, let's jump right in!
Experience the full power of an iPad or tablet
In most cases, a smartphone will have all the same apps and tools an iPad or tablet has – these devices often share the exact same operating system, so they have access to the same apps.
However, a tablet offers some notable advantages when compared to a smartphone:
Being a separate device from your personal phone, it helps in making it a more "work-only" tool to keep things organized;

The bigger screen makes it more comfortable to navigate, but also to take detailed notes, draw sketches, and even show clients pictures of projects or other references;

With a compatible pen you can take handwritten notes, but also doodle and sketch over pictures you take on the spot for better explaining projects to clients in a more visual manner;

You can get away with a mid-range tablet just fine, but pricier options justify their price tag by having just as much power as a desktop computer – combine it with a compatible keyboard and it's essentially a fully-kitted computer that you can carry around with you.
Go paperless with the help of your phone
Your regular camera can do this just fine in most cases, but there are free apps that use your smartphone camera to perfectly scan documents on the fly. Get used to this and you will never have to carry around a briefcase full of papers or fear losing any important documents.
Even in the unlikely event your phone gets damaged, lost or stolen, your photos are automatically synced to the cloud so long as you have an internet connection active for a bit – meaning you can still access your documents from any other device.
This also goes for general use documents such as templates, invoices, and financial sheets. Take a bit of time to learn the ropes of Google Docs (which is free) and never fear losing your documents again.
Use free apps
There are hundreds of top-tier paid apps on the market right now, some of which are even worth your money. But contractors usually run a tight ship and now with the pandemic making things even more difficult, this is doubly so. We should avoid spending money as much as possible.
Luckily, there are also tons of top-tier free apps that can aid you with your business. Anything from the aforementioned Google Docs to invoice makers, note-taking apps, checklists, and so on. Even in cases where the app has a premium version, oftentimes the free version is already so good you can do just fine with it – no need to spend a dime.
We've already mentioned a bunch of great apps for your contractors business before, but an important one you should definitely consider are time-tracking apps. These are excellent for figuring out how much you should charge per job, as well as to sort out your daily routine.
Make video calls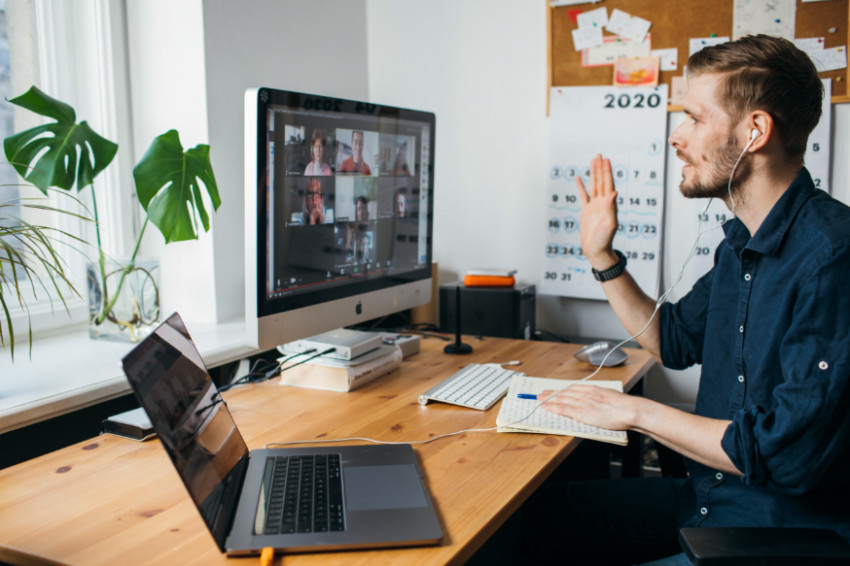 Video calls were already widely used by many companies even before the pandemic due to how easy it is to set them up and how much more relaxing it is for everyone involved. To compensate for the fact that meeting clients in person are very limited right now, you can master the art of the video call and curate informative meetings without having to leave the office.
Organize your finances
Finally, there are two main ways you can use technology to better organize your finances: with a specialized app or by using sheets.
Sheets can be custom made with Excel or Google Sheets, though you can also find free templates all around the internet – for invoices, monthly income, budgeting, etc.
Finance apps have the same goal, but they streamline the process considerably. You will simply feed the app some info, such as your income, cost, investments, etc., and the app will automatically update your account balance based on your day-to-day changes. A great feature of these apps is that they can usually generate helpful reports, so the more dedicated you are to putting information on it, the more accurate those reports will be.
Sheets also have that power, but unless you're using a pre-made one, you'll probably have to set it up yourself. This is far from rocket science –  you can get the hang of it quite easily after a few practice runs and you can even automate some things, but it is a bit more time-consuming at first.
Any of these two options is much better than handling it via receipts on paper, writing things down by hand, trying to remember what you're spending on or what bills need to be paid first. The idea behind taking one of these roads is to make your financial life simpler and more efficient, not more complicated. You'll get things done in hours less time and with the right set up, be able to tell at a glance how your finances are doing.
---
Take the first step towards growing your business today and start receiving leads that will make you money. — Sign up with homeyou!