If you have popcorn ceilings, it's time to reconsider their place in your home. If you can't stand the idea of painting popcorn ceilings anymore or if you're simply tired of the look, there are other things you can do to make the process of removal easier for you. 
The following list covers seven reasons for removing a ceiling made of popcorn-like material. It goes over why you should reconsider painting it and instead replace it with an entirely different material. Not only will clean-up be far easier to execute in the future, but you'll also keep your home from looking drab and dated.
"A gentle word, a kind look, a good-natured smile can work wonders and accomplish miracles." – William Hazlitt
Goodbye, Asbestos
Before 1978's Clean Air Act, ceilings put into homes likely contained asbestos, a harmful substance to breathe. You can get rid of your chances of developing serious breathing problems by hiring a professional to remove the ceiling from your home. It ensures your house is safe for you, your family, your pets, and your guests at all times. 
Asbestos removal is costly and time-consuming. If the ceilings are the only thing containing the harmful substance, consider yourself lucky.
To Make the Room Seem Brighter
The texture of the popcorn substance causes weird shadows to form throughout a space. You can increase the amount of light available in the rooms in your house by removing the substance from all of your ceilings. 
A smoother material makes it easier for you to see well in every corner of the room. When you open your blinds to let the natural sunlight in, you won't need to turn the overhead lights on, too, just to have a bright room.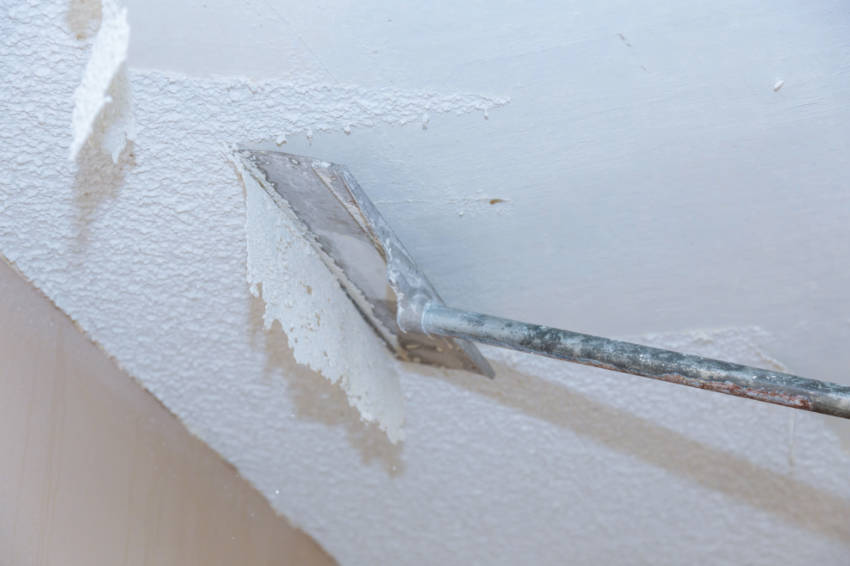 To Keep the Ceiling from Yellowing
If you didn't paint the ceiling the color yellow in the first place, why would you want a substance that is subject to discoloring? 
The professional that you hire to remove the popcorn material from the ceiling will suggest the best material that wears well. It will keep you from needing to replace your ceiling every few years. A home won't look dated if the ceiling isn't yellowed with age.
Dust Less, Enjoy Life More
Popcorn equals dusting regularly. You can cut your cleaning time in half by upgrading your ceilings. Not only will you get to enjoy more free time created by less cleaning, but you'll also eliminate a daunting task that you hate doing on your list of chores. 
You're busy enough currently, so why add another chore to your do-list? It's something you can avoid by choosing the right type of ceiling.
Deterioration is a Dirty Word
The material doesn't last decades, and it's not nearly as durable as other ceiling materials. If you want to prevent it from breaking off and landing on you, your family, and carpeting, get rid of it just as soon as you can. It's a mess that you don't need in your life. 
A company specializing in removing the material can get the job done right for you in no time at all. It's something that you'll appreciate investing in because it will be less of a mess to upkeep.
To Repair Parts of the Ceiling That Have Gotten Damaged
There could be significant damage if you have ceilings made of popcorn-like material. The best way to address the issue is not to patch the problem areas. It's best to remove everything you can to make sure that the ceilings look consistent throughout the home. 
There's no reason to bring down the value of the residence by having patchy areas throughout the property. You can fix the problem just as soon as you discover it by calling a professional and requesting a price estimate for popcorn ceiling removal.
Popcorn Ceiling Removal Cost Isn't as Expensive as You Thought It Would Be
Hiring a professional to redo your ceilings can be very affordable. When you consider what an investment it is to have done, you're more than happy to foot the expense. You'll reap the rewards of a new ceiling for decades. It fits your aesthetic better than dated popcorn ceilings. 
You'll have a look that increases the value of the home rather than causes people to think less of it.
Always Hire a Professional to Assist You with the Work You Want to Have Done
It's understandable to want to get the job done as quickly as possible. Still, you need the assistance of a knowledgeable and skilled contractor. Popcorn ceiling removal is best done by a professional. Reach out to them before you attempt to do any work on your ceiling because the contractor knows the best steps to take to complete the job safely.
You won't be sorry that you took the time to get to know an expert in working on ceilings. You'll have them as a resource that you can use for years.
Contact a local pro and request a free quote for popcorn ceiling removal before starting your project!
---
MORE FROM HOMEYOU
Everything You Need to Know About Crown Molding
What Are The Most Popular Ceiling Design Types?
How to Build a Pergola Above the Garage