More and more homeowners are working from home nowadays – a few years ago, around 8 million Americans worked exclusively from home, but this number has since grown a lot more. One interesting aspect about working from home though is that... Well, it's still work.
Most people have a fantasy that working from home is a paradise of no hours, no deadlines, no rules, and working from your pajamas all day. And while the pajamas part can be true, we quickly realize working from the couch for six to eight hours isn't all that comfortable and there has to be a level of organization.
Enter the home office – your perfect space to work from home.
There are important tips and tricks on how to make a home office. It's not that hard to set up assuming you have either a spare room or a corner for a small desk, but it's a crucial step into making your journey of working from home much healthier, comfortable, and productive.
"Knowing is not enough; we must apply. Willing is not enough; we must do. – Johann Wolfgang von Goethe
Balance and symmetry
The more visually organized your office is, the more relaxed you'll feel when it's time to work. Visual clutter interferes greatly with our concentration, and oftentimes, lack of balance and symmetry have the same effect. 
Make good use of symmetry when deciding on a layout, desk size, and decoration placement.
Use inspiration to your advantage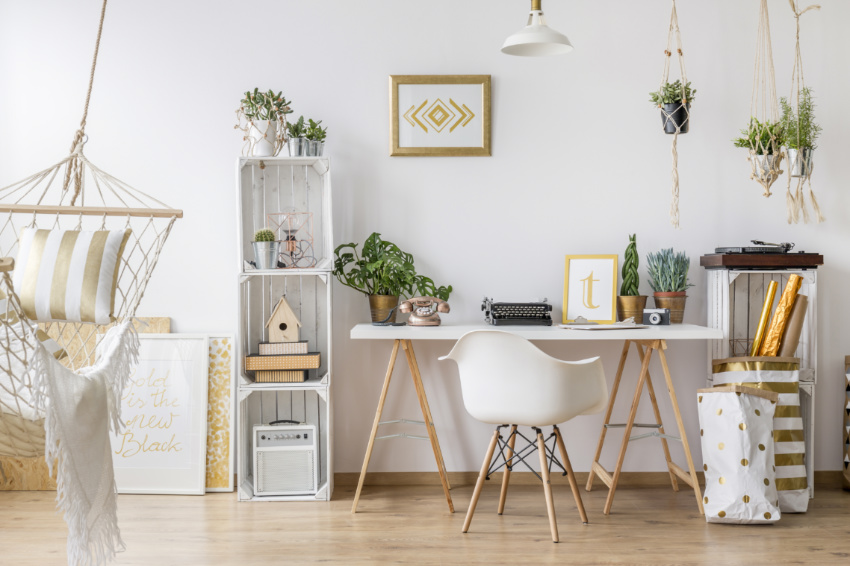 Not sure how to plan your home office layout? Look for home office inspiration online! You will find tons of similar room sizes that fit your assets and budget and that will be of great help in designing your own office.
Not only that, but you'll find layouts and new ideas you had not considered, and that will work for your room. Don't be afraid to save some pictures and later use them as reference – it's the best way to learn how to make a home office!
Natural light is king
It's always good setting up at least one desk lamp – a common room light is usually not enough to properly illuminate your desk, and you don't want to be constantly straining your vision.
Which is why natural light will be your best friend. Set up your desk close to a large window and let the sun shine in. It's uplifting, it's free, and it's abundant. 
Make storage easy on yourself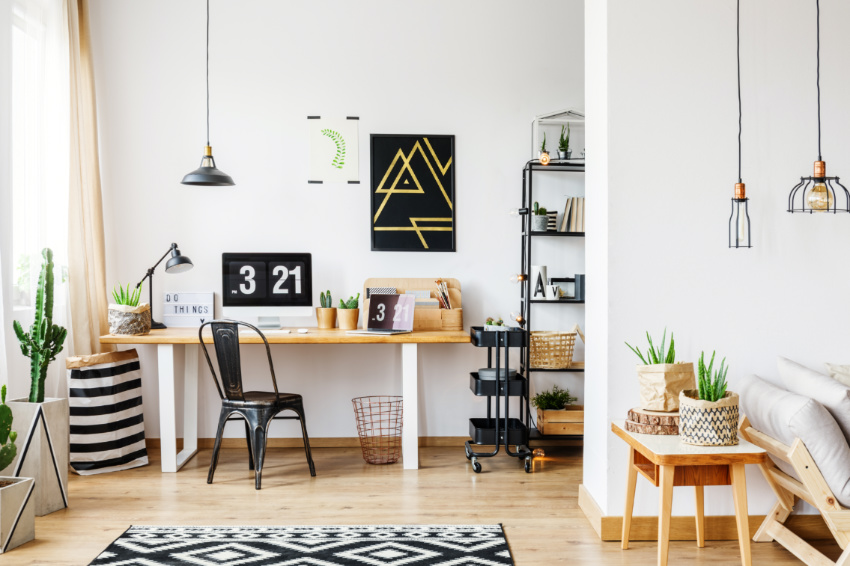 Storage in your home office design should be practical. Things looking pretty is always a plus, but try not to go form over function. 
First, consider what you actually need. A small shelf? A filing cabinet? A desk with drawers to fit lots of papers? It really depends on the kind of work you'll be doing – for some, paperwork is negligible and a simple desk and laptop are all they need. 
Rule of thumb: Don't put stuff in your home office you don't need. If you do need some, make sure it's easy to use, well placed, and obviously, that it looks nice!
Add houseplants
Houseplants make your air cleaner, which is already a major benefit to your health, but they also help in visually making your office less industrial. You can go for a plant to keep on the side of the room, or just a small succulent to keep on your desk, the idea is choosing something low-maintenance that adds charm to your office.
Avoid clutter
A cluttered desk makes for a cluttered mind. It's as simple as that. It's very, very easy to let things get out of control because you're home. It's comfortable, there's no supervision, and you might as well just say "I'll clean it later!
Don't fall for it!
Keeping your home office free of clutter is just as important as the rest of your home. Going to work in a place that looks like a mess will always put you off and start the work day on the wrong foot.
Invest in a great chair
This is probably the most important investment you'll make for your home office. I'm very serious.
You can easily add anything you want to your home office later down the road, whether it's decoration, a bigger desk, a nice rug, anything you want… but if there's one investment you should make right away is on a good chair.
This is where you'll be spending a lot of your time, so you have to be comfortable. But even more important, you need a chair that helps you keep a good posture to prevent back pains and other problems down the line.
Make sure you have a view
It's fairly common to put a desk against a wall since it looks nice, it's easy to make symmetrical, and takes less space in the room to set up…
But it can make for an uncomfortable experience sometimes.
Putting a small desk against the wall means you won't have a lot of legroom, but most importantly, you won't have any view. This can lead to your office feeling claustrophobic and cramped, even if there's still tons of space behind you.
There are two ways to go around this:
Place your desk in a corner, but in a way you're facing a view of the room and the outside. Leave lots of room in front of you and your back closer to a wall. It's a nice setup that ensures you have plenty of leg space and a pleasant view at all times!

If you really want to have your work desk against a wall (or you don't have space for an alternative), try to position the desk close to a window. This way you will have natural light available and a decent view whenever you look to the side, which helps a lot.
Decorate
Having some elements of decoration is important to make your home office feel personal to you. After all, it's in your home, you should be able to make it as custom as you'd like. An easy way to instantly make your home office pop is by hiring a painter.
Houseplants are always great, but don't be afraid to bring some paintings or posters, rugs, and a couple of cute desk props (just don't overdo it to avoid clutter)! Or how about a coffee maker in the corner?
Make it distraction-free
While it's not always possible to cherry pick a room, if at all possible, try to stick to a room with minimal distractions – away from a tempting living room or kitchen area, for example.
But also do your best to create a "work hour routine. That is, when you're in the office, avoid excessive social media browsing and getting caught up in general house chores – it's unavoidable to dabble into some house chores every now and then, but while you're working, try to keep it to a minimal.
This is a simple way to make your day more productive in the office, since it establishes the mindset of a proper work routine that feels real.
Share this post with your friends who work from home and check out our other design tips! And, if you have a home office you love, share it with us on Facebook or Twitter!
---
MORE FROM HOMEYOU
5 Times When It's Better To Hire an Interior Designer
How To Remodel Your Kitchen: From Planning to Execution
5 Simple Bathroom Makeover Ideas That Can Change Everything