There are many useful features you can add to your bathroom – so many that it can be hard to choose! This is why we want to highlight bathroom design features that the pros recommend, which should give you a pretty good idea of where to start.
And the best part is that with this range of ideas, you're sure to find one that fits your budget and needs. From extra storage to houseplants and much more, the benefits are more practicality, better design, and quality of life improvements.
Storage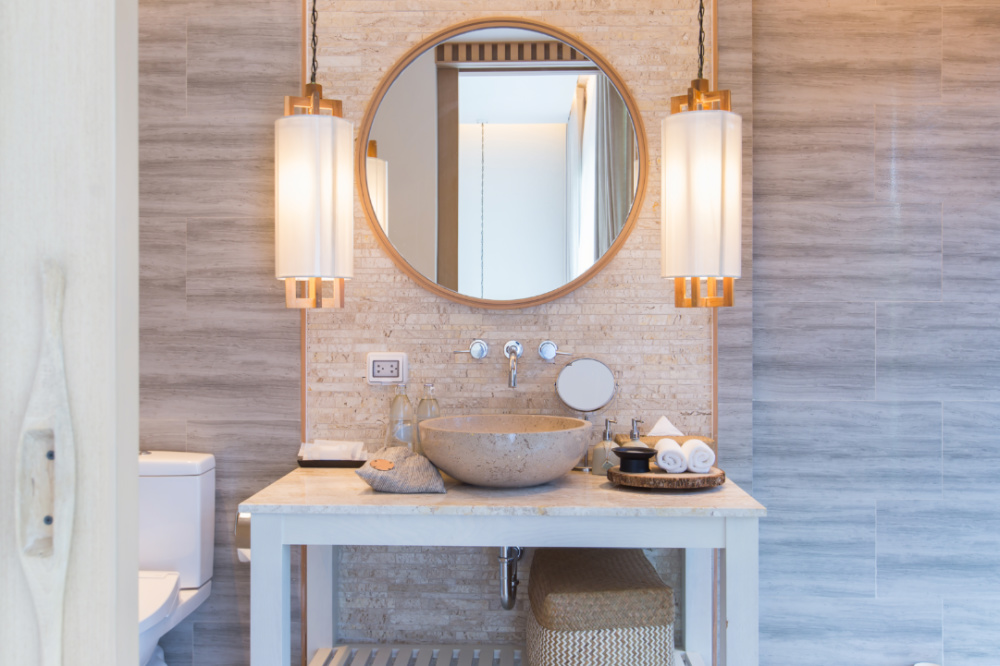 A bathroom doesn't work without adequate storage, so most professionals in the field recommend a mix of open, and closed cabinets with drawers.
A basket hidden near the shower, either on the dressing table or in the closet, is recommended to avoid the accumulation of dirty clothes. That way, you have a basket for dirty laundry always available and keep a nearby closet full of clean towels.
Shower control
The temperature of the water is something most people have a particular preference for. Older and simpler models will only offer a simple switch that mixes really hot water with cold water, and you have to keep testing to find the perfect temperature. 
Recent models allow for a much more granular selection, but there are further improvements you can make. Notably, you can install controls for the temperature and the water pressure, or even easily switch from hand to overhead shower, which really helps in making your shower perfect. 
There are also smart shower controls available nowadays, where you can select the exact temperature you want your water to be, and create different profiles for each family member. 
Natural
Adding some houseplants is an underrated idea for your bathroom remodeling. They are easy to set up, super affordable, and improve your indoor air quality. 
Plants can be small or large, depending on the size of your bathroom. Here are some varieties of plants you should consider: 
Aloe Vera. These succulents are very compact and unintrusive, making them perfect additions to your bathroom.
The Claude. This houseplant thrives in tropical environments, making it perfect for a bathroom plant, but does best in a bathroom that has a window without direct sunlight.
Peace Lily. Another tropical plant, ideal for keeping in the bathroom. Leave it where there is plenty of sun to ensure it will bloom, then water it twice a week with just a cup of water.
Lights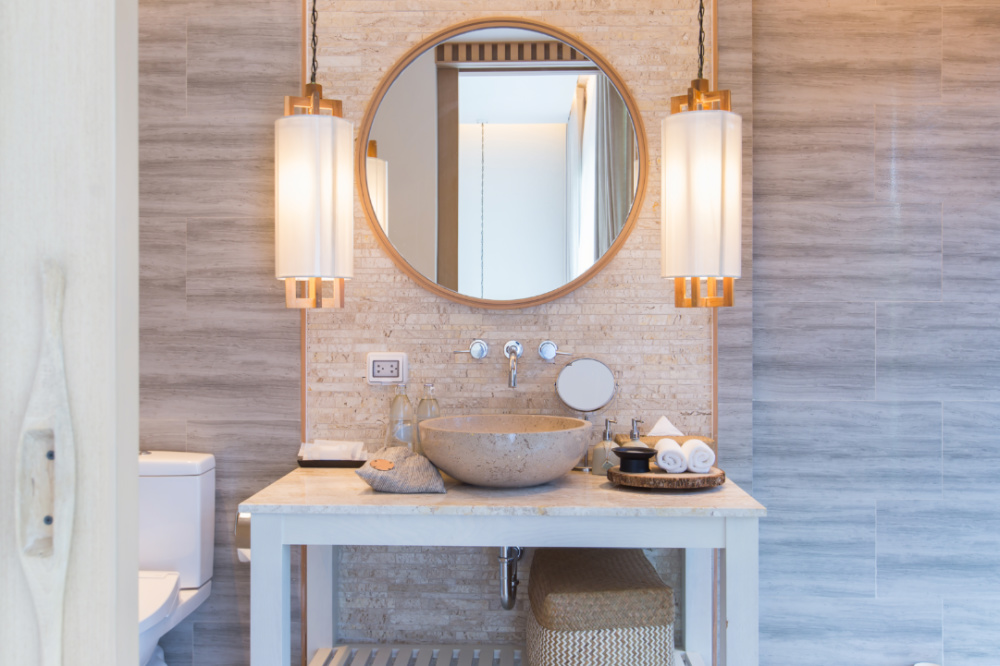 Lighting is also at the top of many recommendation lists from bathroom professionals. They encourage something layered with hanging lights, with extra attention for the vanity lighting. 
For your vanity, you don't want lights directly behind you as that will make it hard to see yourself in the mirror and can create unflattering shadows.
And of course, your shower box should have decent lighting as well, as that is often neglected. It will be a huge differential to make your bathroom truly incredible.
Heated Floor
The most recommended feature for bathroom renovation is heated flooring. Cold floors are uncomfortable, especially during the winter. You will never look back once you've showered on a cold day and walked out to feel the warm flooring.
And for a small bathroom, heated floors are not as expensive as you might think. You can expect to pay somewhere between $7 to $18 per square foot.
In-Drawer Outlets
Most of us use some kind of device that needs an outlet. Hairdryers, shaving tools, hair straighteners, etc. Hiding outlets in a drawer or cupboard helps keep items off the counter and can prevent them from coming into contact with water and humidity.
It could be a medicine cabinet that has outlets or even a plug strip inside a dressing table cabinet.
Easy to conceal and it's less visual clutter for your bathroom.
With these bathroom features to install, you can now think of several ways to decorate your bathroom at the time of renovation. We hope these tips were helpful for your next bathroom renovation!
---
MORE FROM HOMEYOU
What Are The Best Colors for a Small Bathroom?
5 Smart Ways To Remodel a Bathroom On a Budget
7 Ways To Give Your Windowless Bathroom More Air