Windowless bathrooms are very practical and relatively easy to set up, but they need some special care. The fact that there are no windows forces you to take other measures to make sure the bathroom is well ventilated, which can be a challenge.
Another problem with windowless bathrooms is that they're often tiny, leaving little room for decoration and making the place feel cramped.
Luckily, there are a few ways around both of those issues!
"Positive anything is better than negative nothing. – Elbert Hubbard
Use white
White is easily the best paint color for a small windowless bathroom. In fact, white is commonly used in tiny rooms because it helps in giving the room a more ample feel.
It also reflects more light, which is strategic – you will need less lighting to keep the room bright. A problem with windowless bathrooms is that they can often feel dark and claustrophobic, but painting in white already helps a lot.
Install a bathroom exhaust fan
These are often installed to prevent humidity and odors from getting trapped inside the bathroom. It's literally a fan that stays in a corner of the ceiling and you can turn it on to suck the air out.
It's not obligatory, but it can really help depending on the position of your windowless bathroom, but it's just a useful addition regardless.
Use mirrors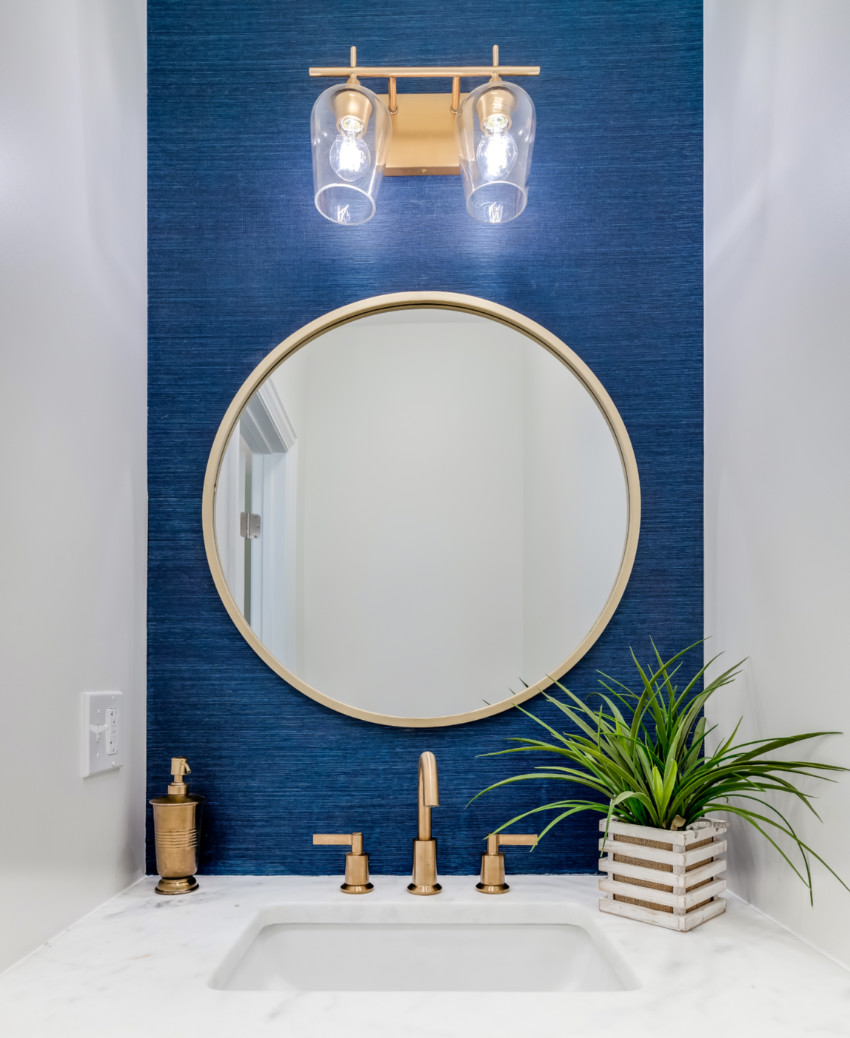 Mirrors are probably the simplest and most effective windowless bathroom addition. Obviously, the bathroom should have a mirror anyway, but you can use it to make the room feel a lot bigger than it is.
For that, consider getting a large mirror, or perhaps adding more than one in a decorative manner. The reflection psychologically adds more space and reflects more light, which helps in making the bathroom feel bigger.
Add a skylight
This one will depend heavily on your home's structure, but it might be possible to give your windowless bathroom a skylight!
Especially during the daytime, it's basically like having a window in your windowless bathroom... and it looks incredible.
Keep decor to a minimal
We highly encourage decoration in the bathroom, but if we're talking about a tiny windowless bathroom, you might want to keep it to a minimum.
There's nothing wrong with it, but you don't want to add too much stuff and make the place cramped and uncomfortable for no reason. Luckily, when it comes to decoration, you can do a lot with a little, so that shouldn't be a problem.
For example, there are plants that absorb moisture and look really cute!
Use transparent glass
Whether it's for decoration, furniture, or the shower box (if your bathroom has one), the clever use of transparent glass does wonders for windowless bathroom decoration.
Basically, every piece of furniture or decoration you add "removes space" from the bathroom. But by using glass (or just transparency in general) you can get some of that space back, giving the bathroom a really clean look.
Invest in good lighting
It shouldn't be too hard to light a windowless bathroom, but you have to do it right. Sometimes one light source is enough, but do mind the location of the vanity and shower to make sure the light is well placed.This is why you have to learn how to light your vanity correctly! If your bathroom is white and you have a couple of mirrors installed, the lighting should look even better. You just want the place to look bright and comfortable.
Ready to revamp your windowless bathroom? Get free quotes from addition and remodels experts in your area today and start making plans!
---
MORE FROM HOMEYOU
5 Quality of Life Improvements Every Home Needs
6 Health Benefits of Installing a Hot Tub in Your Home
7 Ways You Can Control the Cost of Your Bathroom Remodel