The kitchen is filled with many important elements that need to work together into a cohesive package. Each of them plays a role in a kitchen, but on the most basic level, nothing is more important than the faucet and the sink.
Providing a constant supply of water is useful for both cooking and cleaning, but the device itself also becomes a part of accessorizing your kitchen. If you let them get too old and dated, the entire space starts to lose its luster. Conversely, revamping the kitchen sink faucets, even without any dramatic changes to the rest of the kitchen, has a massive positive impact on your decor results.
Here are some of the common types of faucets that you can consider in your next kitchen remodeling project:
"If you can dream it, you can do it." – Walt Disney
Pull Out Faucets 
If you're looking for faucets that offer you excellent versatility, then you have to consider pull out faucets. This type tends to have a flexible and detachable head, meaning that you can use it to clean all the hard to reach places. 
Pull out faucets are also incredibly practical when it comes to saving countertop space. They are definitely some of the best kitchen faucets on the market, and most modern homes feature this type. 
Pull Down Faucets 
Well, in case you want that extra bit of versatility but pull out faucets are not quite appealing for you, you can still go for pull-down faucets.
These faucets are incredibly flexible too and they easily reach every inch of your sink. However, they don't have the same range of motion as the pull-out faucet but they are extremely practical as well.
Two Handle Faucets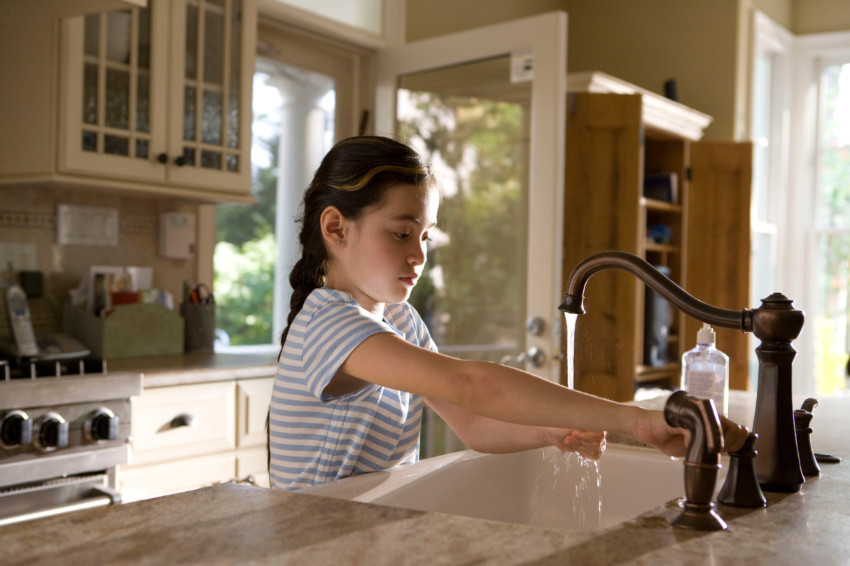 Two handle faucets have a traditional and sophisticated look that would easily transform your entire kitchen. 
These American standard kitchen faucets often have a large central spout that's flanked on either side by two smaller handles. Typically, one of the handles is used for cold water and the other for hot water. 
One Handle Faucets 
Instead of having two handles flanking the faucets on either side, this type only features one handle, often attached to the base of the faucet. But the functionality is still the same. The handle usually moves left for hot water and right for cold water. 
One handle faucets are still very classy and should add a sense of beauty and minimalism into your kitchen.
Touchless Faucets 
Touchless faucets are one of the most modern types you can find nowadays. As the name suggests, these faucets will simply start pouring water by sensing your hands or the pot. 
These are mostly used in commercial kitchens where you don't want to be touching so many hard surfaces when preparing food, but they are also very convenient and should, therefore, add a lot of value in any typical home. 
Touchless faucets are also easy to maintain since you rarely touch them with food or dirty hands. If you're thinking of changing your kitchen faucet design, this is a great option to pick.
Pot Fillers 
Pot filler faucets are normally placed on your kitchen backsplash and they tend to have rapid flow. This means that they are perfect for rapidly filling up large pots. 
The idea behind pot filler faucets is 100% convenient. No one wants to wrestle with large pots filled with water across the kitchen from the faucets to the cooking range. Pot fillers save you this trouble by making sure the larger pots are filled close to the range. This is a great investment especially for elderly people and for those who struggle carrying heavy pots around the kitchen. 
Smart Faucets
Smart faucets simply take luxury living to a whole new level. Forget about the touchless faucets for once. This one simply works on voice commands. 
Just tell the faucets to open and it does immediately. Of course, smart faucets are rare and tend to be part of smart homes, but they are super convenient and unique to use. So if you want to remove your dated kitchen faucet design in favor of something more luxurious, this is one of the best deals.
Ready to upgrade your kitchen faucet into a much more convenient and modern option? Then contact a local pro and request a free quote! 
---
MORE FROM HOMEYOU
6 Steps to an Organized and Functional Kitchen
How To Properly Refinish Kitchen Cabinets In 4 Steps
How To Make Sure Your Countertops Always Look Brand New