For home renovation and improvement projects, there is never truly a bad time. There are so many options that you can find the perfect one for any time of the year – and one that fits your budget too. Winter can be harsh in some regions, but it still provides benefits to certain projects and I want to explore some of those options.
In short, is winter a great season for renovation projects? The answer is yes. For some projects, it's actually the best season. Know more about all the advantages of doing a home renovation project during winter below:
What Do You Need to Start a Renovation Project?
First of all, what makes a good home improvement project? Of course not all house projects are equal, since every home is different and your needs might be very specific. So let's break it down – here's what you need for a good home improvement project:
A well-crafted plan
No matter how good you may be at improvising, if you are interested in renovating or changing your home in any way, you need a good plan to avoid complications during the process.
Consulting professionals
Even if you're fine with some DIY, consulting pros is always a good thing. Hiring home improvement services is the best way to ensure high-quality service that won't cause unnecessary damage to your home, especially when it comes to more involved projects. 
For example, breaking down a wall and building a new one is something that has to be done right, otherwise you might just damage your home and have to repair it, further adding to your budget.
Get in touch with your insurance company
Consulting your insurance company is not obligatory, but it's highly recommended in order to check if the improvement project would affect or somehow change the insurance coverage.
Set a budget
House projects can be expensive, even more so if you don't define and stick to a budget. The total price of the materials, professionals and additions can easily escalate. So first of all, set a budget for how much you can spend on the project. 
If it's starting to stretch your budget thin, it doesn't mean you have to give it up – you can instead divide the work into smaller separate projects over the course of a few months.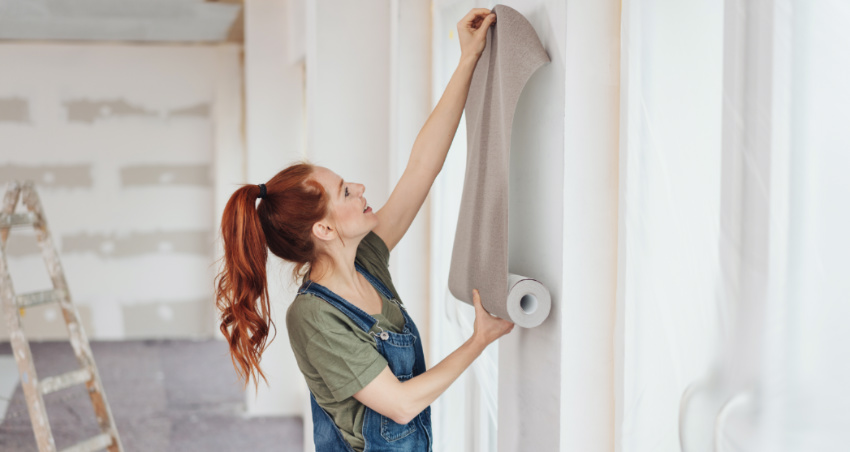 The Advantages & Disadvantages
Now let's get a little more specific and talk about the pros and cons so that you can be aware of all the conditions of a winter renovation project.
The Advantages:
Accessible prices:

Since winter is a slow season for home improvement sales, the prices are usually lower. You are most likely to find the cheapest materials and professional services during winter.

Professional availability:

Due to the slow demand of the season, professionals are more likely to be available for new projects and offer flexibility in schedules.

Weather:

the climate is also an obvious point that influences the renovation. The humid air and rainy days of the summer can complicate the process, while cold and dry weather is a better condition for some house projects, such as interior painting.

Holiday schedule:

If during winter you often travel or spend some time far from home, that can be really helpful for the professional responsible for the improvement, since the

daily movement inside the house can interfere with the process.
The Disadvantages:
Extra heating cost:

working in the cold has its challenges. Because of it, the use of heating would be way more frequent, which can increase your bills. This can be mitigated with proper insulation, but it's a point worth noting.

Fewer hours of light:

during winter we have fewer daylight hours, so work hours would consequently be shorter as well.

Frozen ground:

even though the winter weather is usually better for

home improvement projects

, if you're interested in any landscaping, that may be complicated because of frost, snow, and the general hostility of the weather towards flora.
In conclusion: according to specialists, the best season for a home improvement project is specifically the late winter and early spring, when the snow is melting but the air is still cold.
So if you plan on finishing a house project, winter is a great time for it. Hopefully with all this information you can decide which projects to tackle to make the best of this season and the time you have right now!
Contact a local home improvement company to solve all your doubts and request free quotes for the services you need.
---
MORE FROM HOMEYOU
5 Reasons Why Winter is a Great Time for Interior Painting
The Best Home Improvement Tasks For The Start of the Year
Here's Why You Should Install a Chimney Cap this Winter