Your bathroom is one of the most important rooms in the house, since that's where you get ready in the morning and before a night on the town. When you choose the wrong type of lighting, you deal with problems such as wearing makeup that doesn't match your skin tone and missing spots when you shave. 
You want lighting that mimics natural light and the way you look outside, but it should also work with the design of the room. There are several things to keep in mind when picking the perfect bathroom vanity lighting, and that's exactly what this guide is for! 
"You will never win if you never begin." – Helen Rowland
Opt for Diffused Lighting
Don't spend so much time worrying about your bathroom remodel cost that you forget about your vanity lighting. The first type to consider is diffused lighting. Instead of having a bright light that shines in your face every morning, you get just the right amount of light that helps you start off your day on the right foot. 
Diffused lighting usually requires two separate fixtures. You place one on either side of the vanity. This also allows two people to get ready together, so it's great if you wake up at the same time as your partner. 
Add Dimmers
Do you hate using the bathroom in the middle of the night because the bright lights get in your eyes? With a dimmer, you control the amount of light in the room. 
Even though you might think dimmer switches are only for your kitchen or dining room, they work great in a bathroom. With one flick of the switch, you can adjust the lighting and make it more or less bright. 
Dimmer knobs are another option that allows you to twist the knob to get the perfect amount of light.
Pick the Right Height
When you go for pendant lights or fixtures that hang from the ceiling, you need to pick the right height. While the lights should hang low enough that you can see yourself in the mirror, they shouldn't hang so low that they get in your way. 
The right vanity light height is up to 70 inches off the floor but no lower than 65 inches off the floor. It may vary if you have a higher ceiling, though. You may want to hang one light lower around the bathtub and hang the others closer to the vanity higher.
Select Floor Lights
A bathroom light bar is a good option if you have your heart set on floor lights. How many times have you stubbed your toe or suffered other injuries while walking to the bathroom in the middle of the night? Though you need to get in the room, you don't want to turn on a bunch of lights and wake everyone in your home. 
Floor lights sit just below the edge of the vanity and illuminate the surrounding space. You will even find lights that automatically turn on when they detect motion in the room.
Consider Backlighting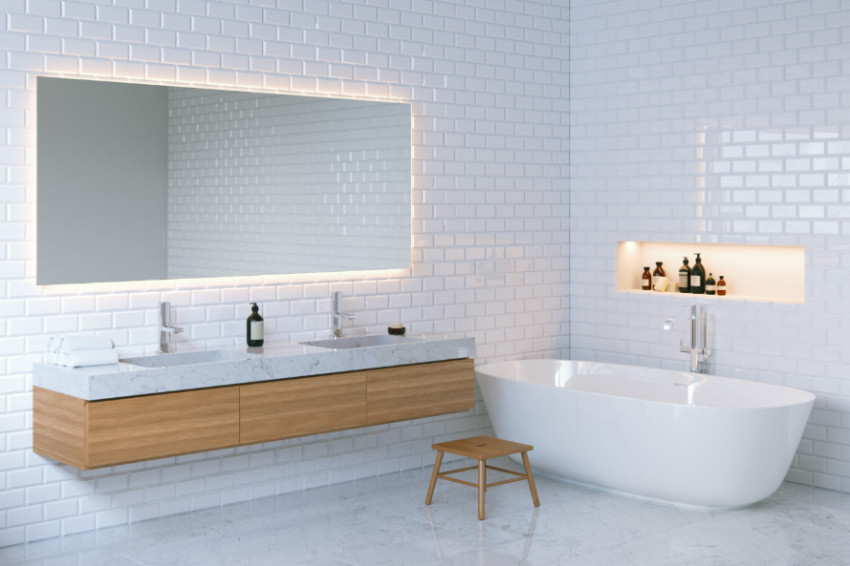 If you use your bathroom to get ready, consider adding some backlighting. This is a common feature found in bathroom mirrors that hang above a vanity. They allow you to see more of the things that are around you but won't blind you. 
Some of these fixtures have frosted shades and pendant designs that hang from the ceiling. Others have clear shades and sit flush with the wall. Backlighting makes it easy for you to see your clothes and makeup or beauty products.
Avoid Trends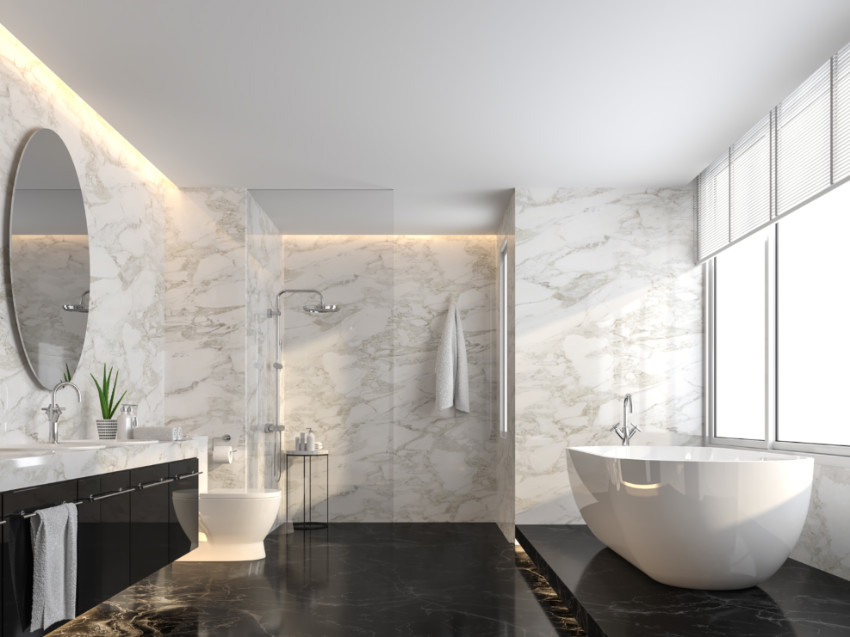 You might find yourself tempted to install some trendy bathroom vanity light fixtures to make your room look modern. The problem with trendy fixtures is that you never know how long the trend will last. By the time you install them, the trend might be over, which leaves you with a bathroom that looks outdated. 
Make sure that the fixtures you choose match the design of the bathroom. Metal shades with a classic look fit in a farmhouse bathroom, while stainless steel shades may look a little too trendy. You may want to compare different types of light fixtures to find the right ones for your bathroom.
Choose the Right Shades and Bulbs
Two other things to consider when choosing bathroom vanity lights include the bulbs and shades that you'll choose. Clear glass shades are popular with some, but they might remind you of the bathrooms that hotels have. Those shades can also produce too much light at night or in the morning. 
Other fixtures leave the bulbs exposed, which may make it easy for you to damage them or break the bulbs when cleaning. You can easily hit the fixture and damage it when doing your hair, too. Don't forget to think about the bulbs that you want to use and how bright you want them to appear. 
---
Consider all of these factors when choosing vanity lighting for your bathroom and contact a pro to request a free quote!
MORE FROM HOMEYOU
10 Most Popular Bathroom Design Styles
5 Bathroom Design Mistakes You Should Avoid
10 Ways To Upgrade Your Bathroom On a Budget