You have so many designs to choose from for your bathroom that you may feel overwhelmed at your options. Whether you design the room yourself or get help from licensed contractors, you'll want to take a look at the top 10 designs to find the right style for your dream bathroom! 
"If you want to succeed you should strike out on new paths, rather than travel the worn paths of accepted success." – John D. Rockefeller
Traditional
If you want a bathroom that will fit your style years from now and still works in your home, consider a traditional design. 
This type of bathroom features furniture that pulls double duty such as a dresser for storage that also serves as your sink. 
You'll also notice lots of dark woods and deep shades in traditional bathrooms, contrasting with white walls and floors. Some of the most iconic features of this design style are the pedestal sink and the tub with claw foot legs.
Modern
As you look at bathroom style ideas, one of the most popular options is the modern style. Modern bathrooms have a streamlined look that many love with an emphasis on the architecture of the room. 
You can make the look pop with the addition of a freestanding bathtub and pedestal sink along with modern lighting and mirrors that lack frames.
Farmhouse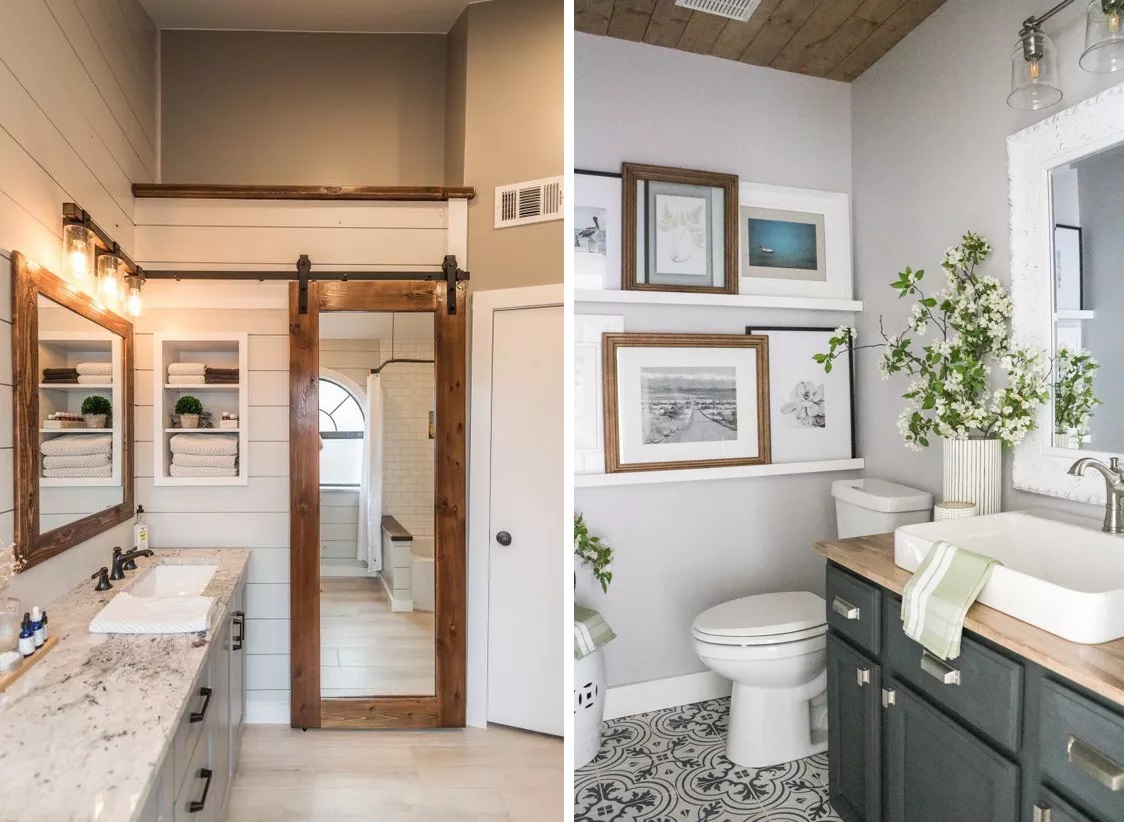 Sometimes called a french country bathroom, a farmhouse bathroom has a rustic look that would feel right at home inside of a home in the South of France. 
This design often uses white walls and floors along with lighter accent colors. You can add lighting that mimics the barn feel along with barn doors that you slide open and a farmhouse sink.
Contemporary
You might wonder how contemporary and modern bathrooms differ. Though contemporary rooms can include modern bathroom vanities, they often focus on the latest forms of technology such as lights that turn on when you enter and heated floors. Most use two different colors such as black and white that provide a bold contrast.
Transitional
Can't decide between going for a traditional or a contemporary style? Then the transitional design is perfect for your home, since it lets you enjoy the benefits of both. 
This style uses some classic elements such as a pedestal sink or tub and subway tiles along with modern elements that include a glass shower and light colors. You can bring in dark woods and blue colors for a bigger impact.
Industrial
Though the industrial style isn't right for everyone, it is a hot trend in the world of bathroom decorating. The industrial design often incorporates cooler colors along with metal accents that would look at home in a factory. 
Concrete and brick are two of the more popular materials, but you may want to add some stainless steel and glass accents, too.
Rustic
Rustic bathrooms bring the fun of the outdoors inside. You can mix and match pieces that make the room feel more welcome along with rustic elements. For example, add lush and large towels in your favorite colors that you arrange on wood shelves. 
Rustic bathrooms also feature many natural materials, including granite or marble for the sink and floor along with a copper tub and wood cabinets.
Mediterranean
Mediterranean bathrooms recreate the feel and experience of being in the Mediterranean. Though many include some modern and contemporary elements, the main focus of the room is on the traditional accents. You might add a wood vanity that has wicker baskets for storage and pair it with a glass sink. 
Hammered copper is one of the top materials to use with this type of bathroom, but any finishes that have a traditional look can work.
Craftsman
Those who love both minimalist and rustic designs will appreciate the craftsman style. You can choose many types of bathroom cabinet designs to work in the room such as farmhouse or shaker styles. 
The craftsman design uses deep and dark shades of wood along with tile made by hand. It harkens back to the 1920s when people bought products made by local artisans and allows you to incorporate decorations made by people in your city such as stained glass pieces for your window or shower. Geometric elements are another key to this design.
Beach
A popular option for those who love the ocean is the beach design. Once you step inside, you'll feel as though your feet just hit the sand. Though the beach design often has a contemporary look, you can also add some traditional pieces as well. 
You want to pick colors that match the beach theme, including navy blue and white or soft aqua and sunny yellow. Many love using a tan color of tile to recreate the look of sand on the floor. 
Whether you choose a modern bathroom design or something a little more traditional, you'll love every minute that you spend in your bathroom.
---
MORE FROM HOMEYOU
10 Best Bathroom Plants That Absorb Moisture
5 Bathroom Design Mistakes You Should Avoid
10 Ways To Upgrade Your Bathroom On a Budget