Spring is right around the corner and we have lots to talk about with the coming of the new season. But to start things off, let's discuss the best home improvement projects for the start of Spring so that you can prepare your home.
These projects are more about repairing any possible issues caused during the winter, but we'll also be discussing new additions you can make to your home that will allow you to enjoy the weather more comfortably.
Inspect your gutters
The gutters often take a beating during the winter, especially if you haven't inspected them during the Fall season right before. But even during winter they can take some damage from snow and other debris getting stuck in there, so a check-up is in due time.
A gutter inspection is enough for you to know if any repairs are in order. Hopefully, none will be necessary, but if so, it's better to know as early as possible!
Inspect your roof
The exact same mindset goes for your roofing. The roof can take a serious beating during the winter because snow can turn into huge chunks of frozen water. This leads to broken shingles and water damage, which can actually damage the inside of your home and compromise your roofing structure.
A roof inspection is all you need to get some peace of mind. Once again, hopefully, no repairs are necessary, but roofing is crucial for your well-being. Let's not leave it up to chance!
Invest in outdoor spaces
There's nothing better during this time of the year than to enjoy the weather outside, especially after three months of intense winter. There are many ways you can do this, but an exciting home project for spring to start with is to invest in outdoor spaces.
There's a surprising number of options too, such as outdoor kitchens, decks, gardens, pools, or even a dining area. Think about how great it is to have a backyard area ready to have a meal with your family or enjoy some time with friends. 
Outdoor kitchen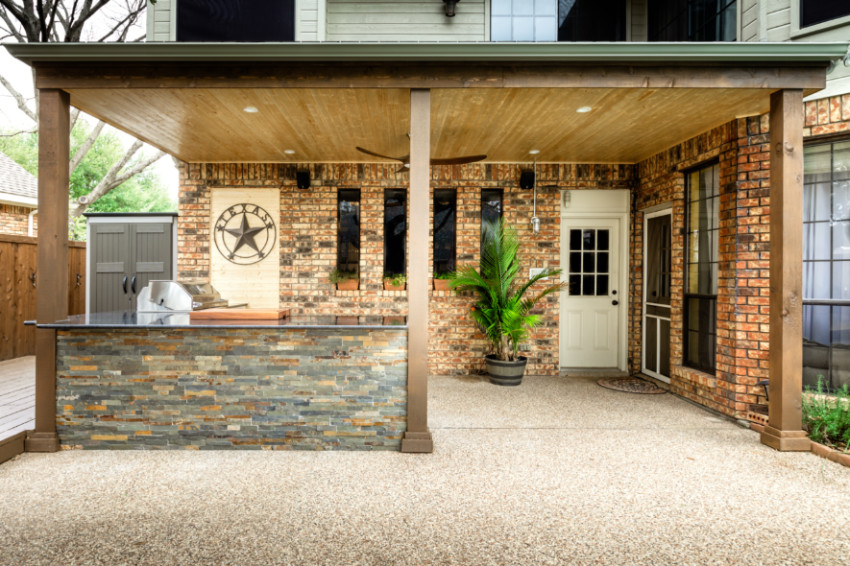 Speaking of which, outdoor kitchens are one of the biggest trends when it comes to outdoor spaces.
Desirable for their versatility, these can be fairly simple in design while being useful for a number of situations. Most commonly, Sunday barbecues, birthday parties, and holiday celebrations. There's a lot you can do with an outdoor kitchen, even a simple one.
Power wash your home's exterior
Now that we're no longer living in a snow-covered landscape, it's time to give your home's exterior a worthy upgrade. And one of the best ways to start is a power wash of your entire home's exterior.
Power washing is fairly quick and inexpensive, but the results can be dramatic – it has to be seen to be believed. If you don't know where to start, this is a great first step before you decide on other home improvement projects for spring, because the curb appeal boost is instant.
Start a garden
Spring is known as the season of flowers blooming, making it a wonderful time to start your very own garden. And this can be a simple flower garden or even a small but useful vegetable and herb garden where you can pick up ingredients for your meals.
Regardless of your choice, it's a relaxing and rewarding hobby that adds life and beauty to your yard, while providing a tangible benefit to your everyday life.
Get a deck
A deck is by far one of the best investments out there for a homeowner. A comfortable outdoor space to enjoy the pleasant weather from the shade? What's not to love?
But even better, a deck can be adapted in a number of ways to suit your needs. You can use it for an outdoor barbecue, but just as well to create some shade where you can hang out with friends for the evening. It's easy to set up, but can be built upon later once you have the foundation down.
Don't forget about your lawn
The lawn is more or less half of your curb appeal, making an enormous difference in the outside look of your home. But even the backyard lawn is where children and pets go to play, so it's crucial to keep it healthy.
Spring is pretty good for lawns, but winter may have caused some spots to dry up. Perhaps it's time to perform some maintenance, like fixing dead spots and installing sprinklers to ensure a healthy lawn all year round.
Ready to start? Get free quotes today for a roofing inspection from a local pro and enjoy the new season!
---
MORE FROM HOMEYOU
7 Beautiful Outdoor Space Ideas That Fit The Budget
How To Create The Ultimate Outdoor Kitchen
10 Year-Round Lawn Care Tips