Nothing makes this season at home more enjoyable than an outdoor kitchen – a flexible project full of different options, visual styles, and scopes for any budget. Not only that, but your cooking style can also help in creating your very own custom made outdoor kitchen, whether you want an all-purpose kitchen, a simple grill station for quick barbecue parties, or a rustic pizza oven.
Regardless, there are many ways to make this project more attainable. A full custom kitchen requires electricity and plumbing, both of which can make this project more complicated – and it may also require permits.
However, there are some ways to make this simpler. Let's go over a few of the best outdoor kitchen ideas and how to make this project more accessible to create the perfect backyard hangout spot!
"Try to be a rainbow in someone's cloud. – Maya Angelou
Outdoor oven
An outdoor oven is actually more accessible than it looks. Since you'll be using fire for cooking and a sink isn't that necessary, there's no need for electricity and plumbing. All you have to worry about is building the structure itself, which makes the project much cheaper.
Besides, you can also adapt a stove for other kinds of food, such as a lazy Sunday barbecue with the family!
Patio kitchen
This is the ultimate outdoor kitchen project, encompassing everything you could possibly need. It's a big project that requires a lot of planning and flawless execution, but the results speak for themselves!
First, you should check with a local electrician and plumber about the viability of wiring and plumbing where you're planning to have your outdoor kitchen. It's important to do this before anything else since your current wiring and plumbing might dictate where you can actually do this project!
Once that's taken care of, you want to focus on the kitchen itself and how to protect it. Creating a roof extension from your home might be viable depending on position, but a pergola also works as a simpler and cheaper option. Here are other patio cover ideas to consider!
As for the kitchen itself, here's what you'll need:
A stove + oven for general cooking

A sink

Shelves for storage

A minibar (optional but useful for gatherings)

Lighting
Outdoor dining patio
Instead of creating a fully fledged outdoor kitchen, you can instead make a dining area that allows for cooking in simpler ways. For example, you can set up a patio dining area such as this – only a few structures to build, nothing too fancy – and have all the cooking done in a mobile barbecue grill.
And here's an important tip to consider for any of these ideas: see that sink there? It doesn't necessarily require plumbing.
There are portable sinks available out there. Obviously these are limited in some ways, but for quickly washing your hands or for general cooking purposes outdoors, it gets the job done – and it's much cheaper than rearranging your plumbing for just one sink.
Grill station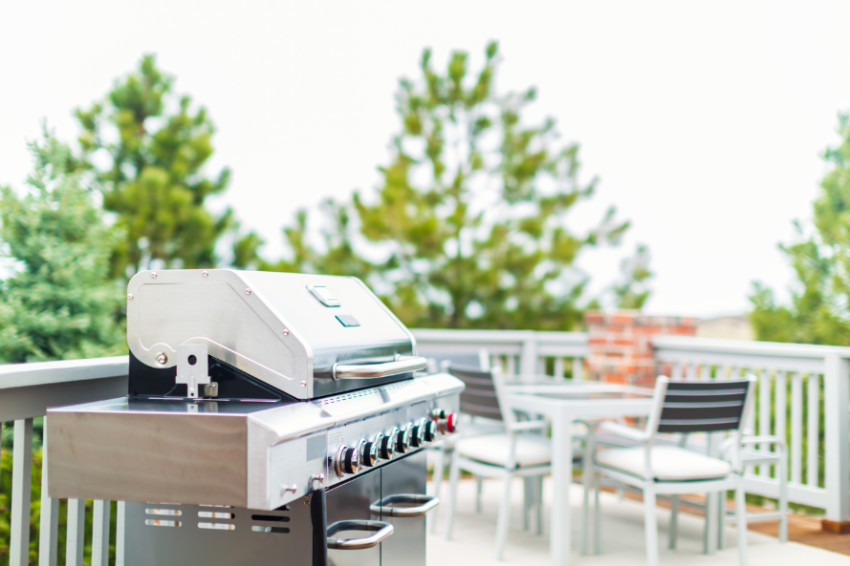 A grill station is perfect for an outdoor kitchen because it's small, mobile, and versatile enough for lots of different cooking ideas. Combine that with a sink and dining area for a mini-version of an outdoor kitchen that is still robust enough for parties or small hangouts, but simple enough that it can even be rearranged when necessary.
Also, due to the simplicity of this set up, it can be arranged on top of a deck or patio, making perfect use of this outdoor space for everyone!
Outdoor bar
Maybe you want an outdoor kitchen for the purposes of hosting awesome gatherings in the future. In that case, consider creating your very own outdoor bar – kitchen and all!
The structure itself isn't much different from a patio outdoor kitchen, the only difference is how the place will be laid out. To create the bar aesthetic, you'll want the proper separators so that you can serve your guests 'bartender style'. The kitchen area can be placed behind a door or just on the other side of the counter for a more practical approach – that way you can still talk to guests while cooking!
Ready to start your outdoor kitchen project? Get free quotes from an additions and remodels expert in your area today!
---
MORE FROM HOMEYOU
10 Outdoor Patio Shade Ideas For Every Budget
10 Home Improvement Tasks That Will Get You Ready For Summer
How To Save Money on Kitchen Cabinets