It's finally time to give your outdoor spaces some love. The season now allows a more pleasant weather to set in and welcomes a good deal of backyard fun and relax with the family. The perfect hangout spot for Spring, if you ask me!
But say you want to revamp or remodel your outdoor space to give it a bit more comfort and visual presence. Are there any budget-friendly outdoor space ideas to pick from?
Of course there are – I'll guide you through my picks for the best outdoor space ideas that you can fit on a budget – there's DIY-friendly, simple remodels, gardening, decoration, a bit of everything!
"Time plays a role in almost every decision. And some decisions define your attitude about time." – John Cale
Paving
Even a small outdoor space can be paved with concrete slabs, crushed rock, or gravel. 
Concrete may be a little harder to set up depending on your options, but it looks really beautiful as stepping stones to guide visitors through your backyard. Plus, it creates a lot of visual interest.
A few other options are crushed rocks and gravel. Fairly easy and cheap to set up, and it gives a lot of texture to your outdoor space. Even better, it can be used to create zones, as to separate the grass from the sitting area, for example.
And finally, there's your lawn, that could be replaced with faux grass if you have a small backyard. The initial cost is low and faux grass, as the name suggests, has considerably less maintenance than real grass. 
String lights
Now here an easy-peasy way to decorate your outdoor spaces – string lights!
It's by far one of the best outdoors space ideas: romantic, adorable, and Instagram-ready if you want to show off your new backyard. String lights are also quite easy to find and pretty inexpensive to purchase and install. They look awesome hanging over a pergola, but they can be attached to almost anything, like the side of your home or wooden poles as seen above.
Privacy screen
Privacy screens have the very practical benefit of, well, giving you privacy. They can be erected near a neighbors fence to shut down their view to your backyard, allowing for some peace of mind and a more relaxing environment for you.
But privacy fences also create a lot of visual interest. When properly decorated with landscaping, the right type of wood and lighting, they look really cool on their own!
And while on the subject of privacy fences...
Vertical garden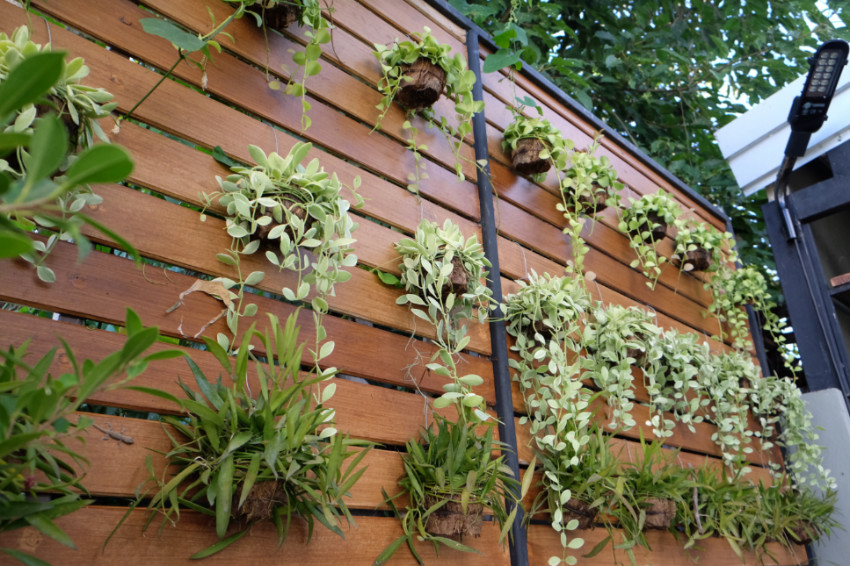 A vertical garden can be DIY'd in many different ways, even indoors. You can use pet bottles as pots, wooden crates, or a small wooden ladder as support for a collection of vases. And of course, you can make one directly on a privacy fence.
The great thing about this is that you essentially get two-for-one.
The privacy fence is a neat practical addition, but it can look a bit lonely by itself. Add the vertical garden and now you have a beautiful and natural addition to your backyard, and also a new hobby!
Shade ideas
Want an easy way to revamp your outdoor spaces on a budget? Consider adding some outdoor shade!
There are many ways to go about it, too: lattice panels, canvas, trees, gazebos, pergolas… trust me, there are options for any budget. They don't even have to be permanent. You can start with a patio umbrella in a strategic spot and later build a pergola, if you want.
Pergola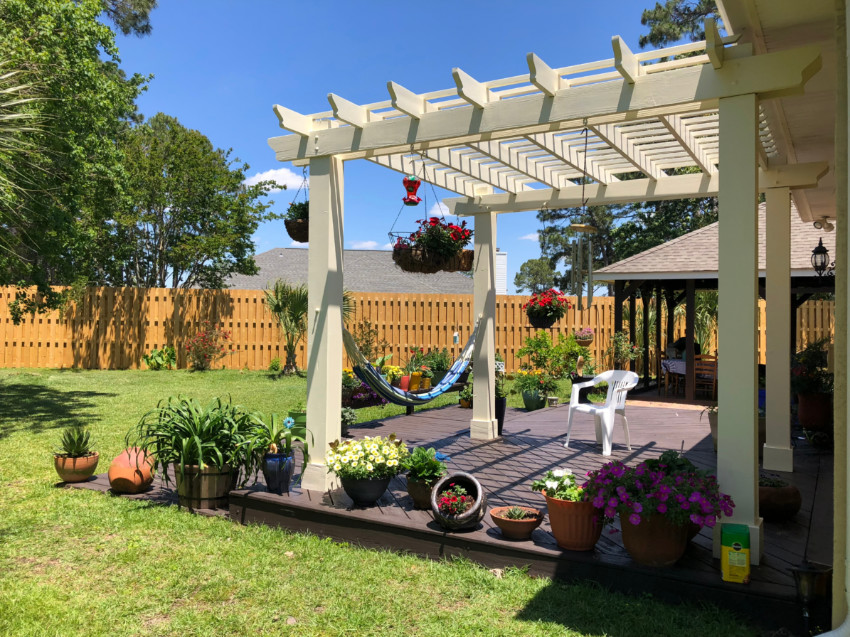 The ever classy and ever so delightful pergola is a wonderful addition to your outdoor space. As mentioned above, it's one of the main ways to add some shade and create a perfect zone for a hangout.
And as far as additions go, it's on the cheaper side too, since it doesn't require any tampering with your home's structure and can be added directly beside it without much problems. It also makes it easier to decorate with plants, lights, canvas, as well as adding furniture under it for a beautiful look.
Outdoor furniture
Finally, the beauty of outdoor furniture. Even if you don't have a pergola or even a deck, if you put a couple chairs together, suddenly you have a hangout spot. But of course you can take that to the next level by getting yourself some proper outdoor furniture.
I highly recommend aluminum or wood furniture because these are very resistant to weather conditions and also fairly easy to customize and care for.
If you want to add pillows and cushions, that's perfectly doable, just remember to take care of them when it rains or snows!
Ready to make an addition to your backyard? Get free quotes today from local addition and remodel pros and plan your outdoor space!
---
MORE FROM HOMEYOU
7 Reasons Why You Should Hire a Landscape Architect
The Essential Guide On Adding a Porch To Your Home
5 Great Backyard Fire Pit Ideas You Can Build Yourself