There are many reasons why a curb appeal boost would be appealing. Maybe you want to sell the house and need to catch some eyes, or maybe you just want your home to look stunning. Regardless of your motive, it becomes clear that costs can ramp up the more changes you want to make, so how to boost your curb appeal on a budget?
Turns out the options are pretty impressive. With these curb appeal ideas, you can get a whole new look while keeping the project under a smaller budget. Take a look and start by the simplest one – the differences will show right away!
"Keep your face always toward the sunshine - and shadows will fall behind you." – Walt Whitman
All about that front door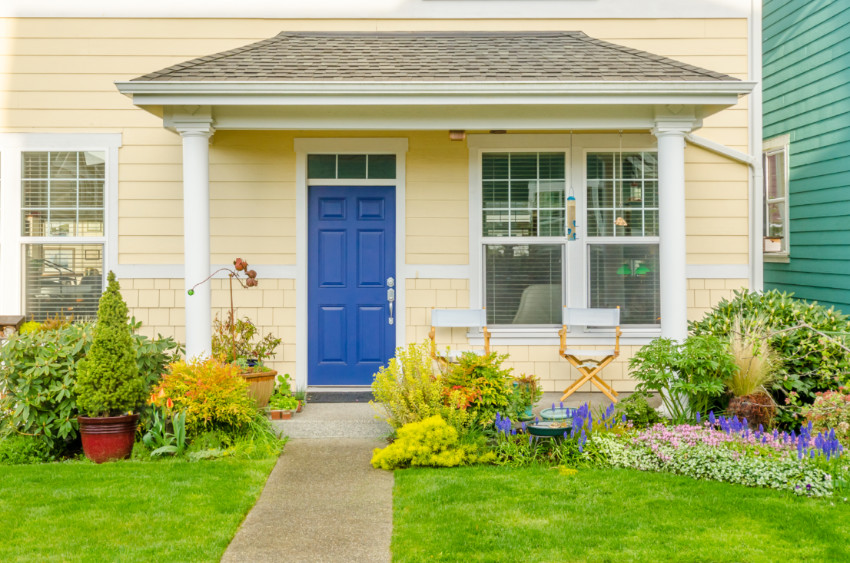 Obviously the front porch is important when it comes to curb appeal, but what can you do to give it a fresh look? I have a few suggestions:

Paint the front door. Perhaps painting the entire exterior doesn't fit the budget, but just painting the front door is pretty doable. It's an instant game changer!
Decorate with a wreath. The great thing about wreaths is that they can be easily swapped for every occasion. New season, holidays, celebrations, whatever the case, you can swap the wreath to always have a new look.
Change the door knob. Kind of an underrated pick, but the door knob can make a difference on the look, especially when combined with a paint job. 
Add a doormat. Doormats can be pretty charming and more often than not they complete the look pretty well.
Landscaping and lighting
A full curb appeal landscaping project would do wonders for your home, but that would probably be a larger commitment that requires a hefty investment. So you can try smaller scale changes that still yield good results and do wonders to improve your curb appeal.
Trim your shrubs and trees. No big changes necessary, but simply trimming everything gives a more "organized look to your landscaping efforts.
Light it well. There's no point setting all of this stuff up if you can't even see it at night. Add a few extra sources (especially if you have some nice landscaping) to make sure it looks great any time of the day.
Invest in gardening. Even a simple garden adds a lot to your home. Consider things like potted plants, vertical gardens, lawn care or even a small flower garden. Not very expensive but extremely impactful.
New house number
This one is pretty straightforward – give your house number a new look. Make it big, stylish, and if possible, give it a light source for when it's dark. A very simple change but neighbors and potential buyers will notice the difference.
Give your porch some love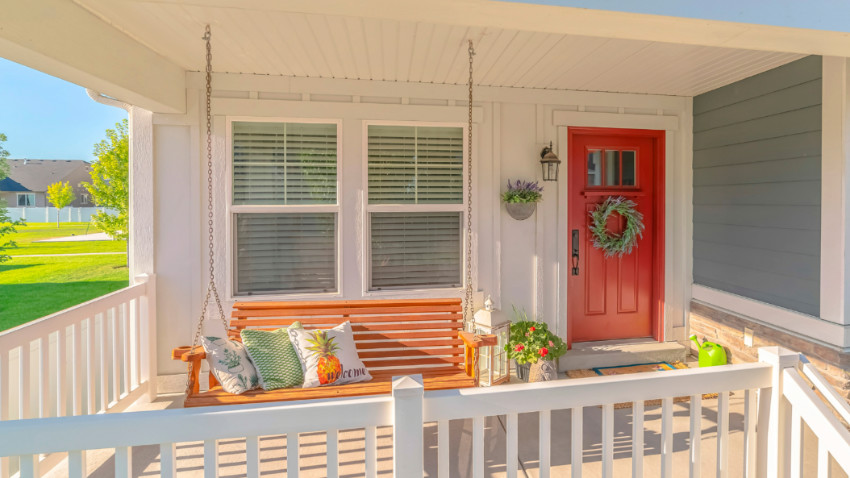 Add a porch swing. They are incredibly charming and that's just a fact. If you have the space, it's a wonderful addition that enhances the look but also serves a practical purpose.
Add a porch bench. Even easier to make it work than the porch swing, a bench in the front porch is the perfect place to chill and it makes the home feel more inviting from the outside.
Invest in good lighting. Installing a few good lights – perhaps even a light fixture – into your porch makes a huge difference. You can also go for lanterns if you'd like something more rustic!
Get a new garage door
The front porch usually takes the spotlight, but the garage door is also an important focal point of your house. A paint job is always a nice way to get a new look, but you can also replace it for an entirely new model. 
Check out these garage door ideas and get inspired!
Try pressure washing
Nothing will give more bang for your buck than pressure washing. If you don't know, pressure washing before and after pictures shows unbelievable results. It's an easy way to make your home look brand new from top to bottom, since pressure washing works for cleaning roofs, walls, sidewalks, decks and porches.
Inspired by that curb appeal boost? Get free quotes for pressure washing pros in your area and start this exciting project today!
---
MORE FROM HOMEYOU
How To Make Your House More Appealing For Sale
10 Gorgeous Garage Door Ideas For Your Home
The Benefits of Pressure Washing Your Home