Selling a house can be difficult, but there are many ways you can improve your odds in this competitive market. This involves making a few clever investments in your home to make it more appealing and even boost its value in the process.
Homeowners are usually skeptical about making investments on a home they wish to sell, but as mentioned before, you're not really losing money because the idea is to ensure your home sells for a higher price than it normally would. 
And of course, this all ties into how to make a house sell faster, because with the added interest from your presentation you're much more likely to land a sale.

"Work hard, stay positive, and get up early. It's the best part of the day." – George Allen, Sr.
First impressions
Nailing first impressions is very important and as you can imagine, we start from the exterior. A common theme when it comes to selling houses is that no one likes to look at a property and immediately think of all the projects it would take to fix it.
Which is why a great way to start is with a refresh on the exterior paint, but anything that can boost curb appeal is fair game. This includes projects like:

Exterior painting

Landscaping revamp

Power washing

New garage door

Painting the front door

Cleaning the windows

Resealing the driveway
There's probably more, but these are a good starting point that should already do wonders for that first impression from the outside.
Painting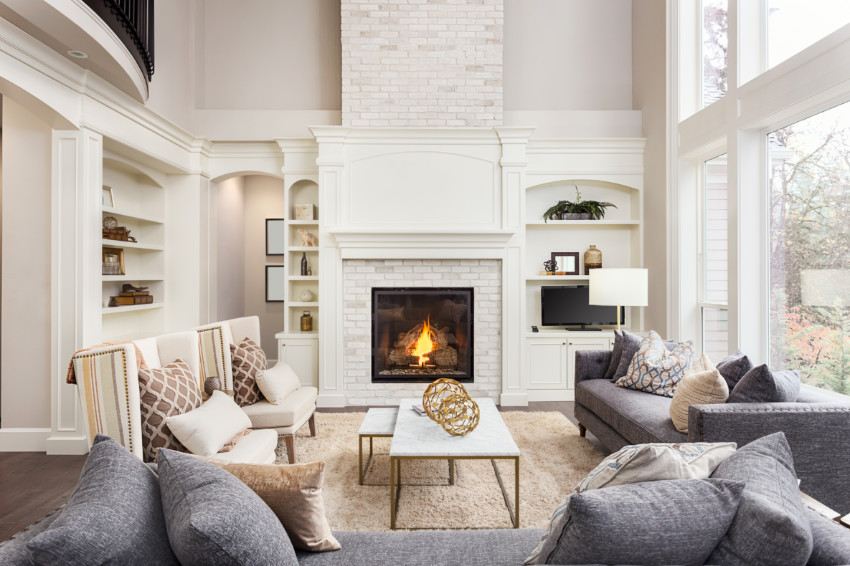 Obviously a new coat of paint goes a long way to make a home feel fresh. It's much easier to sell a home when the paint is pristine, with no cracks or chips anywhere. This goes for the exterior and interior as well, but homeowners usually have the doubt of what paint colors sell more.
Luckily, we've mentioned this recently: white and neutrals sell more.
This isn't really about color psychology, it's just that when buyers are looking into homes they're interested in, white and neutrals are much easier on the eyes and more appealing to every taste. 
That's not to say bold colors can't be attractive or that some people wouldn't like them, but for the purposes of selling fast you want to appease as much as possible, and not everyone is into dramatic colors.
Good lighting
There's no point in revamping your entire home for a sale when nothing can be seen in the evening. Be sure to get some proper lighting installed so that your home looks excellent during both day and night. 
Not only is this a visual incentive, but it offers many practical benefits as well, which can be used as extra fuel to boost your home's value.
Basic repairs
Even the smallest details can be off putting when trying to make a sale. If anything, one of the best investments you can make here is to hire a handyman and take care of any and all small repairs around the house. 
Squeaky doors, leaky faucets, noisy windows, janky door knobs… be as nitpicky as you need to. Taking care of this will be a huge help and it's an easy way to boost the value of a home.
Landscaping
A decent landscaping project will not only help in the first impression department, but also increase the value of your home. In some cases you don't have to make additions for the sake of it, but at least fixing a few notable problems goes a long way.
For example, here are a few landscaping projects that will help sell your home:

Trim your trees and bushes

Fix dead spots on the lawn

Plant a small garden

Ensure the soil is healthy
You can start improving your home for sale with small repairs. Get free quotes from a local handyman today and get started!
---
MORE FROM HOMEYOU
How To Use Paint Colors To Sell Your Home Faster
The Benefits of Pressure Washing Your Home
How To Increase The Value of Your Home (With Small Repairs)