There are many great ideas on how to create shade in your backyard patio, and that's something any homeowner can benefit from. A shaded area is highly desirable to have some outdoor time to relax, celebrate with the family, or just for a nice sunday barbecue.
But where do you start? Trees can be used for shade, but you can also build structures like pergolas or gazebos. Or you might be looking for a less expensive or even less permanent solution, is there a way to solve it?
Yes, there is!
Let's take a look at the best outdoor patio shade ideas you can try!
"It does not matter how slowly you go as long as you do not stop. – Confucius
Mobile and retractable shade
The main advantage of this setup is that you can make it stationary or mobile. If the spot is perfect, it can be attached to the ground and kept there, but if you don't want to commit, it can remain mobile. It's not particularly cumbersome to move either, so it's perfect for any situation or backyard!
Fabric
If you don't want to make a big investment, you can work something out with a large piece of fabric. In fact, if you have some nearby trees or other structures, you can use them as pillars and won't even have to install anything, making for an easy outdoor sun shade.
The idea is to use the fabric as a sun blocker. It's simple enough that you can DIY, fairly cheap and doesn't take a lot of work. You want quick and easy? This is the one.
Lattice panels
Lattice panels have a lot of benefits. For one, they're quite affordable and make for a pleasant visual addition, whether you're going for lattice fences or roofing for your deck. But even better, they don't block vision entirely, while still working as an added bit of privacy for your home without feeling claustrophobic and providing that much needed backyard shade.
Combine lattice panels with string lights and natural vines for a beautiful way to create some shade in your backyard!
Pergola
Pergolas are an extremely versatile addition to your home that serve as patio sun shade. They can be built as an extension to your home, as roofing for your deck, or completely separate from any structures at all. They can also be adapted into almost any size within a reasonable margin, but the point is that even a small pergola is already enough to create a relaxing spot.
Basically, pergolas are common for a reason. The investment isn't as high as a gazebo, for example, but you can get a similar effect that's effective, affordable, and visually appealing.
Canvas
This is another super simple idea that doesn't require a lot of preparation. With the right fabric it can even be made into a permanent addition, but this is a great option for a last-minute celebration.
For example, if you want to celebrate a birthday outdoors, you'll probably not consider building a pergola just for that. But setting up a piece of canvas in this manner is much faster, cheaper and practical, especially since it can easily be removed afterwards.
Partial pergola
A partial pergola is the perfect middle-ground for outdoor patio shades. Affordable, beautiful, and practical – the perfect spot for whatever you need may be. Better yet, you can keep it close to the house as a natural extension, saving a lot of materials and making the overall package even easier to install and use.
Trees
Not everything has to be built, you can instead nurture trees to give you natural shade in certain spots. 
Obviously this is an investment of time more than money, since you will have to grow the tree yourself, but there are ways to make that process a bit faster by choosing the right kind of tree. Some of them are perfect for creating shade and growing relatively fast – even as fast as 8 feet per year.
Here are some fast-growing shade trees for your backyard!
Gazebo
In some ways a gazebo can be considered a pergola, but slightly fancier. It's usually built separate from the house and uses actual roofing, making it a sturdy and reliable backyard shade spot, which can be used for a variety of situations.
Patio umbrella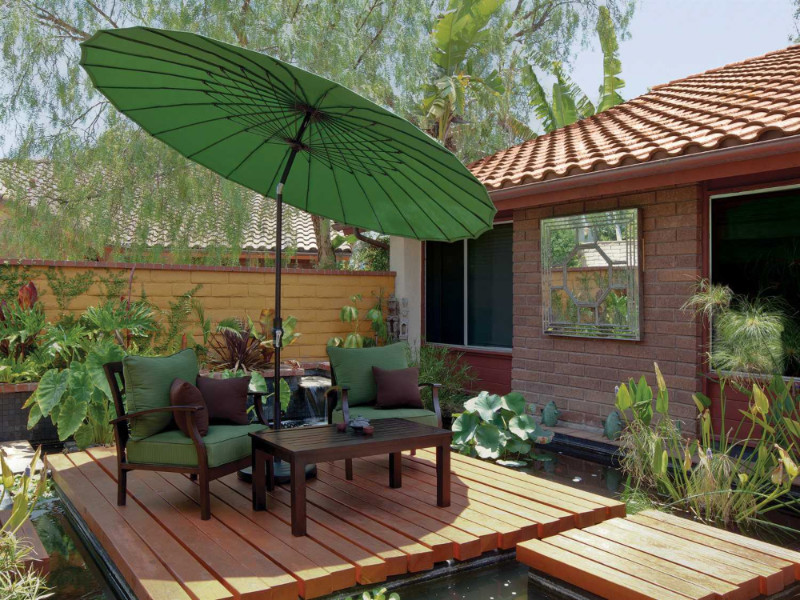 Another fairly simple but quite elegant solution, a patio umbrella can be found in many different colors, shapes, and sizes to suit your needs. 
In fact, one of the main advantages is that most of them are self-sufficient, meaning you don't have to perform any additional installation apart from placing them down. They're also often retractable, making it easy to dismantle and store!
Pavilion
If a gazebo is considered the step above a pergola, then a pavilion is the step above the gazebo. It's essentially a more permanent and sturdy structure that can cover an outdoor kitchen or barbecue area, and much like a pergola, can be built separate from your house or as an extension to it, respecting the same color and roofing choice for a seamless visual.
Looking to add some shade to your patio? Talk to an additions and remodels expert today and get free quotes in your area!
---
MORE FROM HOMEYOU
Fast Growing Shade Trees To Reduce Your Electric Bills During Summer
Top 12 Creative Deck Railing Ideas to Try
8 Shade-Loving Plants For Containers and Gardens