While designing a room, you have multiple styles to choose from and many possibilities for colors, materials, layout, etc. But you do need to take some things into consideration, such as your budget and the room's size, and that may limit your options. 
It may feel hard to style a small bedroom and make the most out of the available space, but you can surely accomplish your vision by following a few simple rules and tips. Today, I've gathered some of the best bedroom ideas for small rooms and interesting features to add that experts highly recommend! 
Light Colors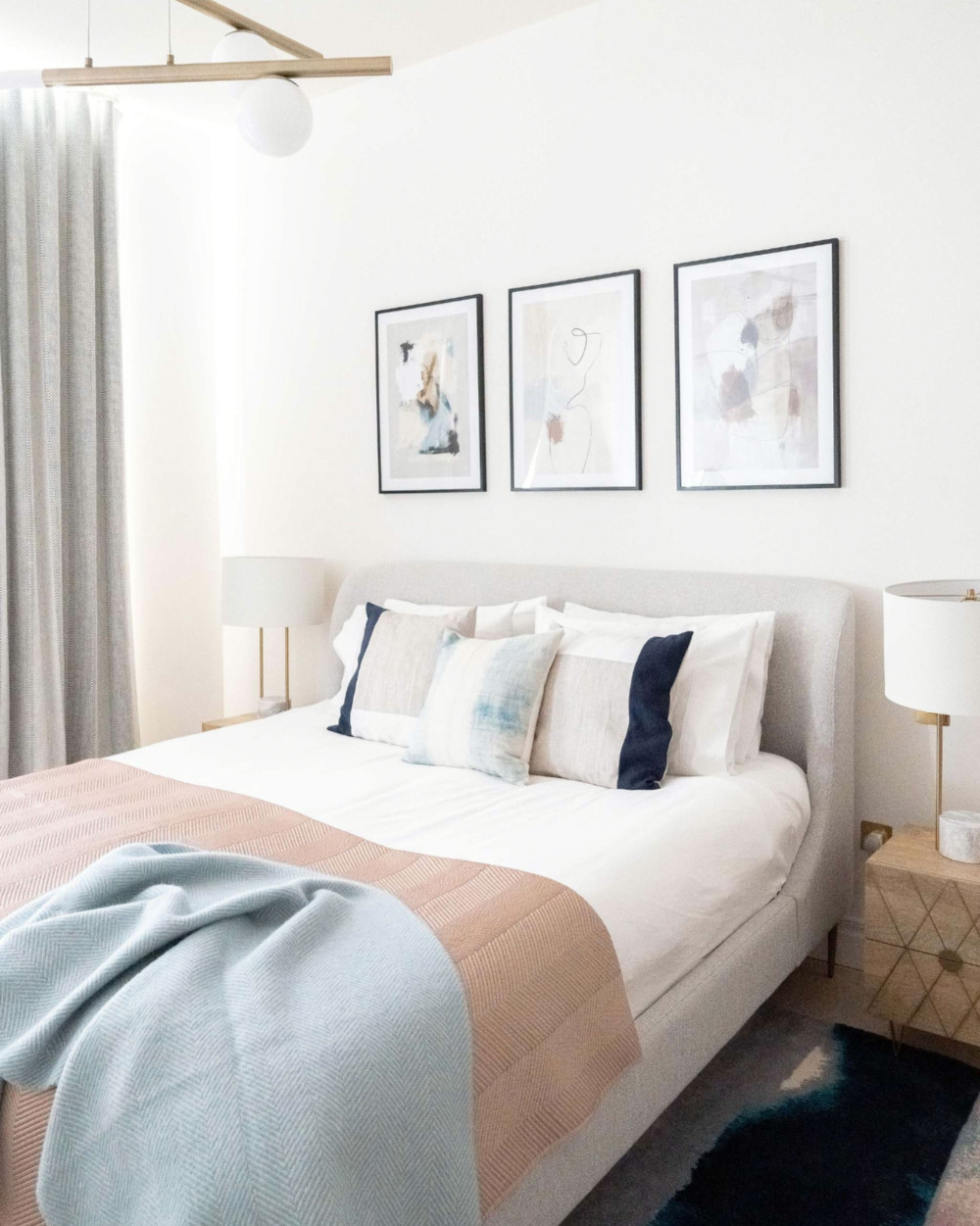 A lighter color palette is the most welcoming element for small rooms, whether they're bedrooms, bathrooms, or kitchens. If you have a small bedroom, choosing light colors to paint the walls is always a great choice. Neutral shades, besides being elegant and classic, are able to manipulate the room's dimension, making it look bigger than it really is.
The most popular wall colors for small bedrooms are off-white, light blue, and beige. They are soft, pleasant, and easy to match with other accent colors in accessories and bedding. Furthermore, light colors also create a peaceful and calm space, great for sleeping.
Dramatic Lighting
Dramatic lighting usually equates to big light fixtures or chandeliers, which can become the focal point of the room. This technique of playing with different sizes of accessories and furniture can actually make the bedroom feel bigger than it really is, while also giving the space some personality. 
Not to mention that styling your small bedroom with big light fixtures on the ceiling is a great way of making it look more charming without occupying the limited floor space you have.
Colorful Accessories and Bedding
Many people think that designing a small bedroom is hard due to the limited possibilities of styling, but that's not always the case. If you correctly use and explore all the aspects of the project you're facing, then you'll easily find different layout possibilities and decorations. You just need some creativity. 
The color combination you choose is a key aspect when designing a small bedroom. Using colors is not just a basic way of styling a room, but also an easy one. How much and the way you use different tones is the key to creating a well-balanced room, which can give you a lot more small bedroom decor ideas to work with.
The bed is probably the biggest piece of furniture in the room, so naturally, it receives the most attention. With that in mind, play around with different bedding decor and combinations to change the look of the room without the need to redecorate.
Elegant Drapes
Drapes don't actually occupy space in a room, so they're often used to change the look of the bedroom. This great tiny bedroom idea hack is an interesting addition that can make the space more elegant and welcoming. 
Sophisticated floor-to-ceiling drapes are commonly found in light colors and can make the walls seem taller. Don't worry though, there are plenty of options for every budget! 
Black Walls
Opposing the previously given idea about light colors in the room, walls painted in black, if used correctly, can give the same illusion of expansion as the light colors do. May not be the most popular small master bedroom idea, but knowing how to use such a dark color is the key.
For example, painting the wall behind the bed is a great way of adding depth and, even if you are not a fan of dark colors, you can match the black walls to accessories with lighter tones. The combination certainly makes the room look more interesting and stylish. 
Looking to take your bedroom to the next level? Consider getting free quotes from local interior designers in your area!
---
MORE FROM HOMEYOU
How To Make Your Bedroom More Peaceful
7 Space-Saving Bedrooms Ideas That Will Make Your Life Easier
10 Ways To Make More Room Without Changing Your Floor Plans