Your home is easily one of the most important aspects of your life. It's where you spend time with your family and where you rest, relax, and spend most of your time. Whether you live with loved ones and/or children, your house probably isn't as organized as you would like. 
Between books, toys, hobby supplies and dozens of other things, you might even hate having to clean it because you don't know what to do with everything and where to put it. The key to a clutter-free living room that you love and makes you feel joyful is organization. Check out some of the top organization ideas for your living room that most experts recommend! 
"The best preparation for tomorrow is doing your best today." – H. Jackson Brown, Jr.
Add a Trash Can
One of the best ways to get a clutter free home is with the addition of a trash can. Look for one that matches the style of your room. While you might pick a plain wicker basket with a plastic liner, there are some fun metal and plastic trash cans that come in a variety of colors. 
One or more trash cans will encourage your family to throw things away and reduce the room's overall clutter, not mentioning that you'll spend much less time cleaning and organizing later.
Adopt a One Item In and One Item Out Policy
A big reason why your home looks and feels cluttered is that you have too many things. Adopting a simple policy of one item in and one item out both saves space and reduces clutter. 
Using this concept is easy. Every time that you bring something new home, you need to take something out. This includes the books and magazines that you read as well as the toys your kids play with and the decorative pieces that you display. Oh, and don't forget it also applies to your clothes! 
Use Double-Duty Furniture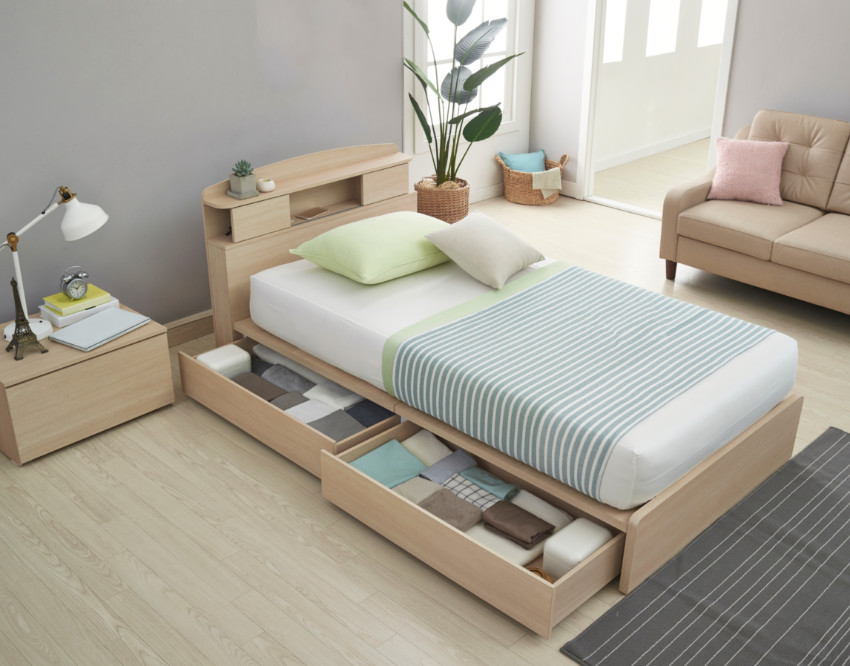 Many of the top decluttering tips that you see on the web tell you to swap out your coffee table and remove some of your old furniture. Using furniture pieces that pull double-duty will both help you save space and give you more room for organizing. 
If you love entertaining, consider a bench that has hidden storage below the cushions. Store the games that you love playing with friends inside and use the cushions as extra seating. 

A desk that folds inside an armoire is a good option for those who sometimes work from home. 

A bed with drawers or baskets underneath can help keeping summer or winter clothes stored when not in season. 
Consider Switching to an Entertainment Center
An entertainment center gives you tons of space for your television and other electronic devices, including a game console or streaming box. Available in different sizes and styles, the right entertainment center will match the room and give you more storage. You will have more than enough room for the movies that your kids love and your favorite video games. Oh, and it also hides the cords to your devices to make the room look cleaner.
Create Separate Spaces
Creating separate spaces is one of the best organization ideas that you can use, especially if some of the rooms are used for more than one purpose, such as the living room as a home office or the bedroom as a study corner.
Let's take the living room as an example: you might designate one corner of the room as your home office and tuck all of your work documents and supplies inside a small desk. Another corner of the room is perfect for kids to play and can feature organizers that let them put away their toys at the end of the day. Make sure that you include a space for relaxing and having fun, too.
Creating a separate space for every purpose will keep the overall house more organized, since every object will have its rightful place to be. There won't be work documents, studying notebooks, toys, and books all over the house anymore. 
Go Through Your Mail
Many living rooms sit near the front of the house. This is often the first room that you enter when coming home and where you probably drop your mail after a long day at work. Going through your mail immediately is one of the best organizing ideas that you can try. Separate the bills and any other mail that you need to keep and put it in a safe spot before throwing the rest away.
Use Organizers
As you look for new and trendy room organization ideas, you will find that some experts recommend the use of organizers. If you have a desk or tables in your living room that have drawers, add organizers that fit inside. Not only do you have room for important documents that you need to keep, but they also give you space for other smaller items. 
Tip: Don't forget about classic organizational tools either such as fabric bins and baskets that you can put underneath tables and on bookshelves.
Do you need some help to keep your home cleaned and organized? Contact a local cleaning company and request a free quote! 
---
MORE FROM HOMEYOU
How To Keep Your House Organized During Holiday Season
10 Ways To Be More Organized With Things You Already Own
6 Steps to an Organized and Functional Kitchen