We all know that storage in most homes is as invaluable as floor space. No matter how hard we try to expand storage options, we always find ourselves short of the mark for one reason or another. 
The great news is that there are actually a lot of creative ways you can explore to expand storage in your home. And we're not talking about traditional storage ideas like cabinets or hanging racks. Today, we will focus on out of the box ideas that help you utilize spaces that you never knew existed.  
Keep reading to learn more! 
"Well done is better than well said. – Benjamin Franklin
The Space Between the Fridge and The Cabinets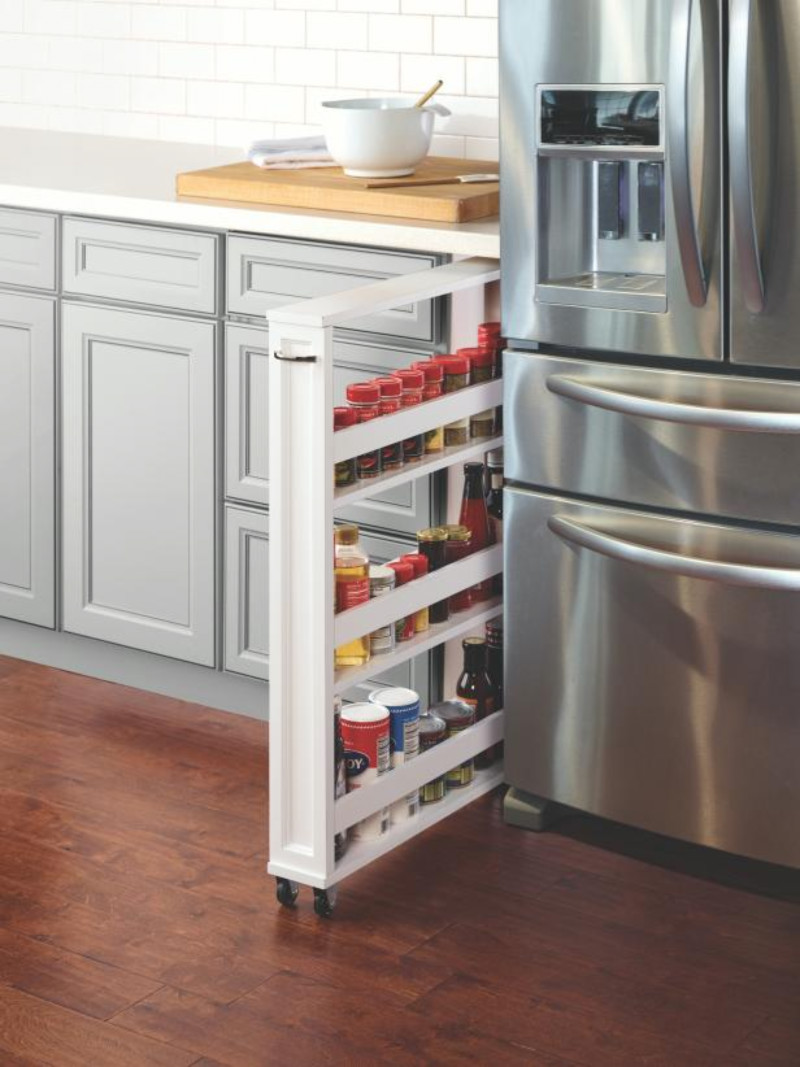 Depending on the size of your fridge, you will notice a small gap between the appliance and the cabinets. This space is often so small that we consider it useless. But it's actually not! 
You can put in an innovative portable pantry in between that space, with wheels attached at the bottom and tiny shelves. 
This pantry is perfect for small things like spices, bottles, can, etc. You just need to pull it as a drawer, get what you need, and push it back into that extra storage space.
The Backsplash 
I know that the backsplash is always the highlight of most kitchens and you would normally want it to stay exposed for all to see. However, if you're running out of storage, then you can use the backlash in a creative way. Simply install hanging racks for cups, pots and pans. 
The trick here is to not clutter the space with large items, but to use the cookware to create an accent effect on the backsplash. 
This means that you should limit the rack to only a few items. This won't just give you extra storage space but it will make the kitchen much more functional and practical.
Over the Sink 
Well, this one isn't really out of the box but the funny thing is, not many people actually utilize the space above the sink. It can be a great spot for simple kitchen supplies including soaps and detergents, or most frequently used items.
To take advantage of this spot and utilize the vertical space above the sink in an efficient way, install a multi-tier shelf, like in the picture above. 
This is one of the best kitchen storage ideas and it will give you room to air dry your pans, place frequently used kitchenware or even enhance the space's look by placing decorative items, such as colorful pans and plates. 
Drawers Under the Cabinets 
If your kitchen cabinets don't touch the floor, then it means there's a little crawl space below there that can easily be utilized. 
Yes, this isn't one of the largest spaces you will find in any home. But it can be the ideal place to store small items, something that ultimately helps to declutter the rest of the kitchen. 
The best way to utilize this spot is to install a pull-out drawer. However, if you don't want to keep bending over all the time to access stuff in those bottom floor drawers, consider getting a toe-kick drawer set for convenience.
Behind the Cabinet Doors
Most creative storage tips you will find online tend to focus more on shelving ideas, but it doesn't have to end there. 
You can still reclaim a lot of storage by using hooks and racks and the inside of cabinet doors offers the best way to do that. 
The most important thing is to ensure you're putting light items on those racks so that there isn't too much pressure on the door. Hooks behind cabinet doors can be used for hanging dried food sachets, cutlery, and other small stuff.
On the Fridge
Imagine your fridge as one large wall just standing there. With creativity, there's a lot you can do with it. But since you don't want to clutter it with too much storage, you can consider simple and specially made stick-on-racks on the fridge for small items in the kitchen. 
If you don't want to get a rack, there are many magnetic hooks that you can use temporarily for additional storage. Either way, you'll unlock some extra storage space in your kitchen for small items.
Behind Doors 
Let's now give you some garage and bedroom storage ideas and there's no better option than utilizing all that space behind the door. 
The only thing you need to do is hang in some hooks for coats, belts, shoes, purses, or even tools, like in the picture above.  
Some people even put up a mirror on the backside of the door to free up more space in the bedroom. It's all about finding creative ways to make that space useful to you.
Need some help to install shelves for extra storage or make your cabinets more practical? Contact a local handyman today! 
---
MORE FROM HOMEYOU
6 Steps to an Organized and Functional Kitchen
5 Custom Closet Ideas for Small Spaces
5 Custom Cabinet Ideas That Will Make Life Easier