New Year's Eve is right around the corner, and there's no better way to celebrate the beginning of a new year and cycle than with family and friends. However, many homeowners are still unsure how to plan their party or are overwhelmed with so many ideas found online. 
Don't worry though, I'm here to make everything easier for you with a simple step-by-step! Take a look below at great ideas you can add to your party to make sure all guests have fun.
Set Up a Theme Party
Start by choosing a theme for your party. This is a great way of making the night creative, and there is no shortage of New Year's Eve theme party ideas. There are several themes available for a good family-friend New Year's Eve night, from White and Gold to '80s theme. 
Here are a few ideas:
Black-and-white ball

Decades

Movie themed

Masquerade

Western

Hollywood themed
Don't forget that besides the theme, you can also choose a different party style for the night. You can go for:
Karaoke party

Backyard fire pit party

Game night party 
Have Mocktails for The Family Kids and Teens
When planning the drinks and cocktails for the party, you can't forget the kids. As the party is family-friendly, it is important to involve all the guests in the fun, and having mocktails is a great way of doing that. 
Mocktails, different from cocktails, are drinks with no alcohol at all. Plus, you can always choose to decorate the mocktails with fun props! 
Add Some Sparkles to The Champagne
Since we're talking about drinks, we can't forget the most important beverage of the night. Champagne has always been a popular and traditional drink to celebrate New Year's Eve, so why don't you add some edible glitter to your champagne glasses, making the night even brighter?
The drink looks amazing, and it will certainly make the night feel even more festive. 
Have Some Games Ready
Having entertaining games at family-friendly parties is always a great chance to involve the whole family, especially the kids. There are several game options for a New Year's Eve night, from "Who Am I to Twister, so you have a successful fun party.
Make a Balloon Drop
This is a great DIY option for your New Year's Eve countdown moment. That's indeed an easy and fun feature for your party and certainly would amuse everyone, especially the kids. 
You can make it yourself at your own home without too much work, and can even involve your kids to help you during the process.
Use and Abuse of Confetti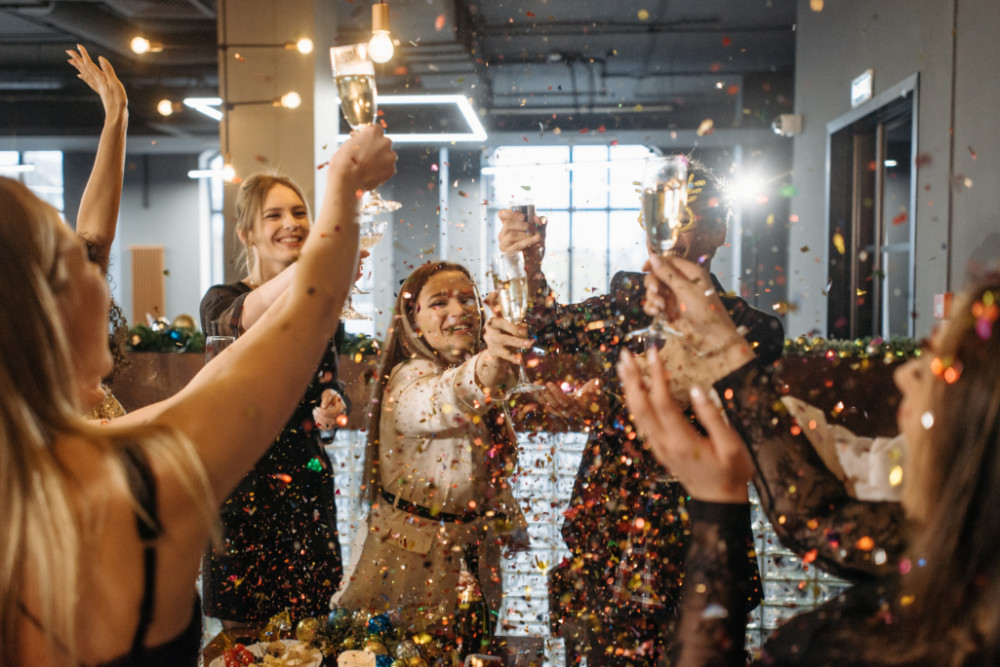 Adding lots of confetti to the party is another way of making the night decoration brighter and more creative. You use and abuse it, by putting inside balloons, on the table, and even using edible confetti on dishes and drinks. 
You can also plan to make a confetti drop for the New Year's countdown! 
Create a Time Capsule
A time capsule may be a New Year's Eve tradition in some places, so it's always an interesting addition to the party. A time capsule is a recipient where you deposit personal belongings and other objects to store or bury somewhere and only dig it up in the following year or after a set period.
That's a creative way of spending some time on New Year's Eve. You can choose any type of personal belongings, from photos, accessories, or just something with meaning for you. This tradition is great for saving memories and remembering them years later or even sending a little note to your future self.
Need some help cleaning up the house after the party? Contact a local house cleaning company and request a free quote for the service!
---
MORE FROM HOMEYOU
8 Quick Ideas for a Last-Minute New Year's Party
How to Pick Achievable New Year's Resolutions
7 Ways to Throw an Awesome New Year's Eve Party